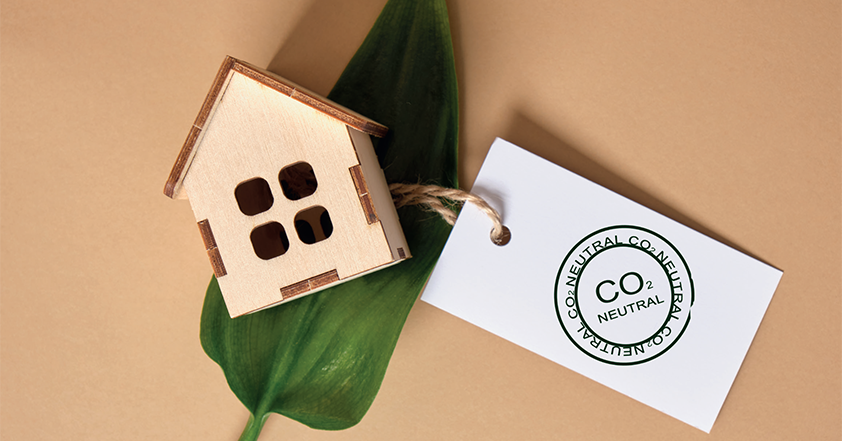 It's been over a year since the government announced its plans for all UK new build homes to be 'zero carbon ready' by 2025. Whilst this is an incredibly admirable and worthwhile goal to strive for, just how viable is it? New buildings would, after all, need to produce a staggering 80 percent fewer carbon emissions compared to their current levels and, historically, the construction sector has been one of the worst offenders when it comes to climate change contributions.
In fact, a recent UN report found that a whopping 38 percent of all energy-related carbon dioxide emissions stem from the construction industry. How best, then, can the sector improve in this regard and help the Government reach its optimistic target?
Accept the reality check
To get anywhere close to achieving these targets, every area of the industry – from clients to contractors – need to accept the reality check. There will be no one part or party involved in construction who can make this shift alone; the whole sector must learn very quickly how to play better as a team. Collaborating with greater thought towards costs and a sustained effort that holds true to the greater cause.
There are the usual popular options and approaches at a granular level, as set out below. These, and many related, issues were discussed at RICS 2021 'World Built Environment Forum'. These ideals have been discussed for decades now and emerging generations must make better sense of them to develop their own objectives as technology advances. They will need to fully exploit their ease of access to global support from like-minded peers, so that the evolution of a 'global mindset' addresses equalities/equity and establishes the essential level of momentum.
Source local materials
When considering emissions – especially in terms of residential buildings – we tend, societally, to think of energy-based emissions. Those produced from lighting and heating, for instance. Our minds rarely wander, however, to the emissions produced in sourcing the materials used in the construction of said homes.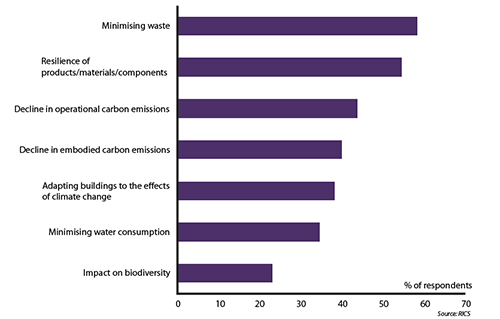 An eco-friendly house, for instance – packed to the rafters with energy-saving technologies – doesn't count for much if the materials it's built from have had to be flown in from the other side of the world. Though an extreme example, perhaps, the point remains – in order for the construction industry to truly 'go green', it needs to source materials as locally as possible, to reduce emissions stemming from transport.
Use prefabricated materials, wherever possible
Once all the rage, then fervently detested; people are now coming back around to prefabricated materials again, and with good reason. Whether an entirely prefabricated home or simply a traditional build making use of more prefabricated materials, prefab construction (in which the materials used are produced off-site to a highly-detailed specification) produces far less waste on builds which, in turn, means far less embodied carbon is being produced over the course of a build.
What's embodied carbon? The easiest way of looking at it is the amount of carbon dioxide emitted in the production of materials. Reducing embodied carbon within the construction industry has, in fact, been cited as one of the key priorities in the sector's goal to operate in a more environmentally-friendly manner.
Accurately gauge your new build project's environmental performance
Even with the best intentions in the world, it can be difficult to accurately gauge just how well (or not-so-well) your projects are performing from an environmental perspective. The number of variables and moving parts that need factoring in makes it a tricky task for even the most seasoned professionals. That's where BREEAM can come in. The Building Research Establishment Environmental Assessment Method is an internationally recognised framework, enabling third-party certification of a project's sustainability performance. Having been first established over three decades ago, BREEAM is now the benchmark for a building's environmental performance.
Another benefit from going down the BREEAM route is that you're not just getting performance indicators in terms of emissions, but for a whole raft of sustainability metrics. Sustainability in every sense of the word, including transport impacts, ecotoxicity, compliance issues and life cycle assessments.
Actively seek out more sustainable suppliers
Sourcing your project's materials locally is just one part of the problem when it comes to sustainable procurement. The other aspect is how the materials, themselves, are produced. You might have found a nearby cement plant that offers fantastic value for money, but if its production methods are particularly energy or emissions-intensive, then it counts for very little.
Once a project is underway, it becomes more difficult to keep tabs on all the suppliers, in terms of which emissions are stemming from where. Much easier is to make sustainability a priority from the offset; selecting suppliers based on their sustainability/ environmental policies. The best way to determine whether a product/material has been sourced sustainably is to check the list of suppliers certified through BES 6001 – BREEAM's Framework Standard for Responsible Sourcing.
There's been a massively increased emphasis in recent years on producing more sustainable building materials. Amongst the most sustainable building materials are recycled plastic cladding, bamboo (widely cited by environmental construction specialists as being one of the most sustainable and effective building materials), so-called 'green' cement and wood fibre insulation.
Lee Hatwell is a Chartered Surveyor and director at Munday + Cramer, a multi-disciplinary practice that works across a range of sectors, advising private and public sector clients on maintenance and improvement of their estates. It has over 30 years of experience in delivering a range of professional services within the built environment and excels in a range of services, from conceptual architectural design, procurement and project management through to day-to-day facilities and property management and beyond.
For more information please see: http://mcessex.co.uk