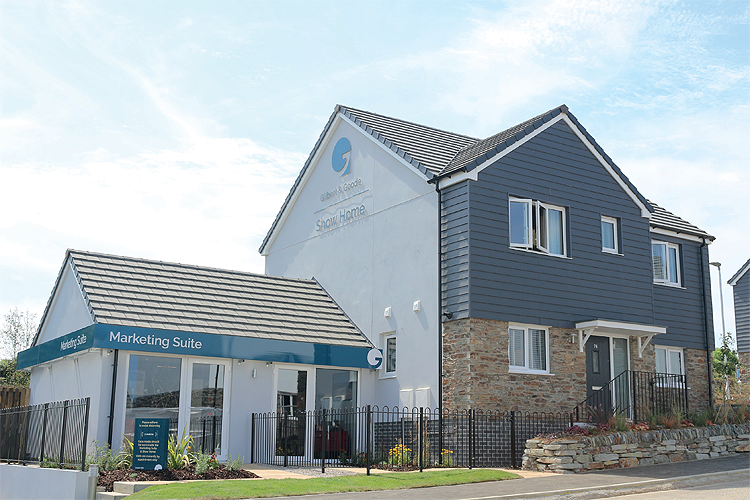 As good as new
With plans to stay pioneering in the residential developing sector, Gilbert and Goode is making innovative changes to accommodate plans for growth that will see the company become a reliable name for a dream home
Gilbert and Goode will be celebrating 50 years in the construction industry next year. Founded in 1972, the construction business was acquired in 2005 by Ocean Housing Group. "Following the acquisition, we launched into our first open market sales and we've continued with those over the past eight years but very much on a small-scale limit," says the company's Managing Director, Peter Sadler, who began his journey with Gilbert and Goode as lockdown commenced in March 2020. "It was a very strange start becoming an MD of a regional house builder when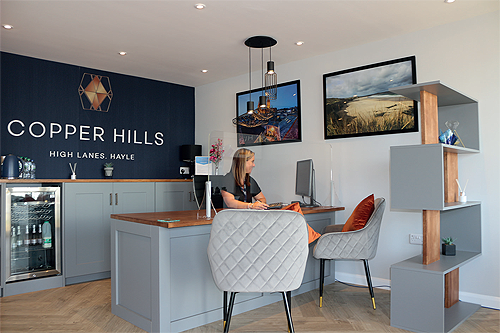 I couldn't actually go and meet the team that I was managing," he notes.
Peter discusses the business' successes as well as its future endeavours. He begins by sharing that last year, a decision was actioned to transition the company from a predominantly contracting business that built affordable homes for Ocean Housing, to a developer that would branch into an open market, sell out homes, make as much profit as possible and then reinvest the excess money back into Ocean Housing to build more affordable homes. "I think that's a big difference for Gilbert and Goode; every penny of profit we make from our open market sales will get reinvested into affordable housing for local people," he adds.
To kick off its move towards strengthening its operations, Gilbert and Goode recently underwent a rebrand that came with an updated website that platforms the company's skills and follows a more intuitive layout for the customer's ease of access. According to Peter, this is to keep the Gilbert and Goode name looking as novel as the houses it builds as well as assist customers with finding their way to the house of their dreams. "What we previously had was quite outdated. So, we developed that into a fresh, new image of ourselves. I have this vision that people who drive onto one of our developments feel a sense of awe, so I'd love for our branding to encourage that. We have also spent additional money on making sure our landscaping capabilities continue to mature because there's certainly something rejuvenating about creating green open spaces; it makes people feel different and that's what we want our developments to be known for," he adds.
An example of this freshness can be seen in the business' Copper Hills development, which is located in Hayle, a town entwined with industrial heritage and a subject that inspired the Copper Hills name. Half of the homes that the business is completing on behalf of Ocean Housing will be for shared ownership sale. "It's a mix of two, three and four bedroom homes and built to a very high standard. The specification on them, I believe, is better than our competition, in terms of the fixtures and fittings. We've had 350 pre-registered enquiries that we are working our way through, and we're hoping that demand will outstrip supply," Peter says.
"As far as additional developments are concerned, the business has three new acquisitions that have come under our belt in the last three months. One at Folly Gate in Okehampton, one on Respryn Road in Bodmin, and we're currently in the process of acquiring St Erth in Cornwall," he adds.
Although the business is reasonably small, according to Peter, this is great for the company's relationships with its staff and customers, which is what has allowed it to successfully fill each of its developments. "I am always reachable and encourage a friendly and approachable atmosphere among the team because I really believe in treating the customers as you would want to be treated yourself. So, if clients are unhappy with any aspect of the delivery that we do, I would urge them to reach out and we will do everything we can to make it right. Our customers are not just a number and that's the separation that we want to create between our experience in buying one of our homes and one from our competitors," Peter expresses.
"In terms of the team that I've been working with over the past year, they've been through a lot of change and yet the support they've provided has been absolutely first class and it's so encouraging to see their passion throughout our transition from a contractor to a developer, and that drive to provide leading quality homes is what will give our customers the homes of their dreams. They are the people that make the business. I am able to help guide it and take them in the right direction but without them, we don't have a business," Peter shares with us.
On the subject of the company's transition to becoming a developer, there are a few strategies that are in place to help hone the business' focus to achieve its goals. The Gilbert and Goode approach is to minimise costs and risks, while also developing a scheme as quickly as possible. "Once you actually shift to a developer mind-set, instead of having one or two clients a year, we're going to be soaring into building close to one hundred open market homes per year, which is all owed to our recent strategy: start delivering volume. There is one thing that I think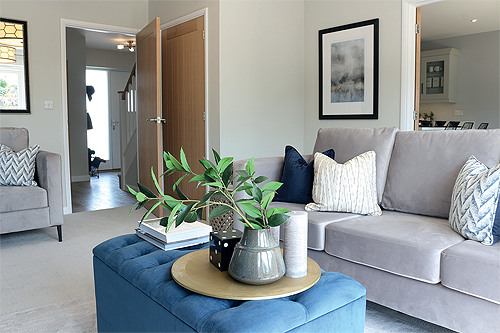 developers sometimes forget, which is that customers' expectations are so much higher. They are investing their hard-earned money for what really is the biggest purchase of their lives and so as far as a cultural shift is concerned, we build our homes with that motivator at the forefront of each of our developments: we're not just building for a client, we are building homes for people that are going to live in our communities," he states.
This transition, coupled with the circumstances surrounding the Covid-19 pandemic, has inspired the business to think more critically of the home space and how it is being utilised for both work and leisure. "An especially crucial area we want to be perfecting is taking a closer look at our house types to ensure that they are the way people want to live now, particularly with more home working. We want to develop them so that they are environments that people can be in more frequently and comfortably throughout the day. We used to be a society that got up in the morning to travel to work and then come back at the end of a long day. However, now a large percentage of couples find that at least one person spends their working day at home, so it is important to create spaces in the home that accommodate their needs and comforts," he says.
Looking further ahead, the business has hopes that in around five years' time, it will be in a position to build between 200 and 250 homes a year, half of which would be open market homes to sell. "This is really to support our mission to start delivering in volume, and considering how brilliant our team has been to date, I have every faith that we can achieve that," he declares.
However, Peter's optimism is not without cautious concerns. "There's a huge skills shortage, particularly in Cornwall and Devon, which means we need to look at how we can create a more sustainable supply chain and delivery of our product. We place all of our orders with as much local labour as possible and look at making sure that any materials we source for our homes are sourced from sustainable sources rather than just the cheapest," he adds. If Gilbert and Goode could incorporate these two facets successfully into its operations, it could propel the business into a pioneering position for the home developer's sector.
Peter is aware that business over the past year would not have been possible without its people. "If you look after your people, they will actually look after your customers for you. Although there has been a number of structural changes that have been implemented within Gilbert and Goode over the last 12 months, everyone has given it 100 percent of their support and we've recruited some excellent new members of the senior management team who are experienced in the development world and are proving to be fantastic additions to our team," he shares with us.
With those sentiments in mind, Peter would also like to see his engaged and loyal employee base continue to strengthen as this will then lead to continued excellent customer satisfaction. "I think, looking forward, it's about creating those developments that you would look back on, as you drive around Devon and Cornwall, and say that's one of my developments and feel proud that it's one of our developments and it's something that you can leave as a legacy for future generations," Peter says. As the business gears up to honour its golden anniversary, there is no doubt that with these goals in its sights, Gilbert and Goode will celebrate many milestones to come.
Gilbert and Goode
www.gilbertandgoode.co.uk
Services: Home developer