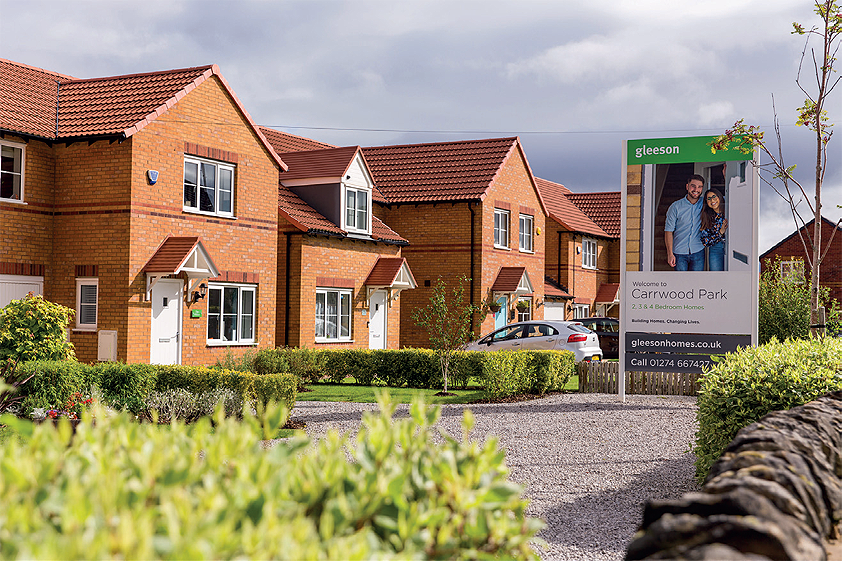 Building Homes. Changing Lives
By investing in the well-being of the communities that move into its developments, Gleeson Homes believes in more than just building four walls
The fastest growing housebuilder on the London Stock Exchange is transforming once-neglected areas into thriving communities. Specialising in building high quality homes, Gleeson Homes (Gleeson) is passionate that the houses it constructs are affordable for the people who need them most.
Mark Knight, the company's Managing Director, tells us about how the business has succeeded in a tenfold growth increase over the past five years by not only providing homes, but also in supporting the communities built around them. "Our business procures its own land and has a team of specialists working with local authorities and private land owners to bring forward
residential opportunities, which, after receiving planning consent, then gives us the go-ahead to develop. We focus on building in areas where there are acute housing needs, where predominately first-time buyers, young families and key workers want to live, and our affordability reflects the locations where we buy land, often brownfield in or near areas of regeneration and need," he comments.
According to Mark, four-out-of-five of Gleeson's customers are first time buyers and two-out-of-three are key workers. "These are the people who are keeping us safe, fed and healthy, and where the average income for a Gleeson homeowner is £24,000. It's also important to add that many of our customers have grown up in the areas that our business develops," Mark says. Of course, for this demographic, the Covid-19 pandemic has been an unstable and stressful period, which meant that the business had to implement changes to ensure it continued building to the best of its ability.
During the first lockdown, the company made the decision to close its building operations owing to the challenges affecting its supply chain. This gave it time to put in place Covid-19 secure plans across the business, which then helped it focus on its future and further growth strategies to ensure it remained stronger as lockdown eased. "The pandemic restrictions continued far longer than anyone expected, but I'm happy to say we used this unique period of time wisely as a team while keeping our people safe, whether working remotely at home or onsite, following strict Government guidance," Mark explains.
Multiple projects
As the planning system was also affected initially, Gleeson's land team found themselves working with virtual planning committees, which did have an impact on acquiring planning permissions.
Fortunately, government agreeing that construction should remain open and permitting those who were moving homes to travel as needed, the housing market was somewhat shielded from the coronavirus pandemic. This meant that construction on site continued and Gleeson was able open new sites as planned, for example, the 130-homes Calverley View project, which commenced construction in May 2019 in Bradford. This scheme, which is surrounded by social and sheltered housing, was formerly used as a community centre that was exposed to frequent vandalism and anti-social behaviour. Since construction began, these acts of insecurity have decreased.
"Then there is also the Meadows at Rosebank project, located in Huyton, Merseyside," Mark continues. "Construction began in 2016 and is set to conclude in November 2021. The land was previously run-down shops and council housing. We have redeveloped and regenerated several areas in Huyton along with work being carried out by the local authority; the area now benefits from thriving communities, a host of new shops, schools and leisure facilities," he shares.
Finally, in December of 2020, Gleeson took on a scheme in Askern, Doncaster. This one proved to be one of the most challenging projects. The land had initially been gifted to the Miners Welfare by the predecessors of the trustees between the two World Wars. However due to the depleting number of members, the grounds of the social club and the building itself became notably run down. With reducing revenues and the club being unable to uphold maintenance, it subsequently fell into a state of disrepair. "Another problem was that we saw how anti-social behavior and campfires by local children in the grounds were damaging the area, and we believed that a housing development would eradicate this," Mark explains. However, the Coal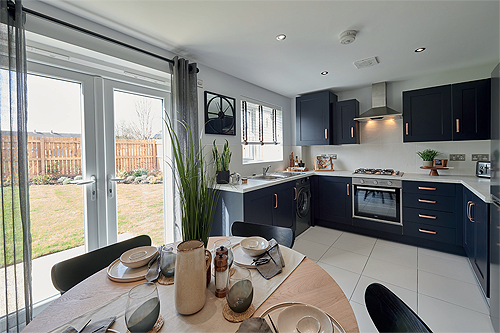 Industry Social Welfare Committee (CISWO) highlighted that a legal agreement existed stipulating that any funds raised through the sale of the welfare land would need to be transferred to CISWO.
According to Mark, the success of these developments would not be possible without the assistance of Gleeson's dedicated team. The business is proud to have an employee engagement that is in the top quartile for all UK companies because it employs fairly, pays well and treats its staff with respect. "Two years ago, we set out to build our vision, mission, and values, which was a project run by our people from the bottom up. We don't have a long list of values but the three simple ones that were chosen that people could see and identify with across the business, they were 'Passionate, Collaborative and Respectful. These are now firmly embedded in the business and everything we do," says Mark.
Sustainable legacy
In fact, just over 12 months ago, Gleeson commissioned external consultants to undertake a detailed staff survey to help improve company culture, engagement and overall understanding of how the Gleeson team felt about the business, its leadership, management and the direction of the business. "Our latest results showed over 89 per cent positive engagement from our employees across the board," Mark explains. He adds that Gleeson is also the first housebuilder to be accredited by the Living Wage Foundation for paying all employees the Real Living Wage and requiring its subcontractors to do the same.
On top of caring for its services, potential homeowners and employees, Gleeson is also determined to lead a legacy of sustainability and this is brought to life through not only its schemes, but also its Community Matters programme. "A young couple can afford to buy a Gleeson Home on any one of our 80 developments, even if they are earning the National Living Wage. By doing this, we meet the first target of the United Nations sustainable development goals for communities and cities, which is to ensure access to adequate, safe and affordable housing," he notes.
Tying in with this, the company recently published challenging sustainability targets that included a 20 per cent reduction in carbon emissions within three years. "We are also building three sustainable homes with air source heat pumps and electric car charging points – trialing forthcoming Building Regulation change," Mark adds that this is to ensure that the business stays ahead of the demand for environmentally-friendly homes.
With the housing crisis in the UK not diminishing, it is hopeful to see a housebuilder with a strong operational platform to continue its sustainable growth. Looking ahead, Gleeson Homes will remain dedicated to invest approximately £1.5 million into sites across the north of England and the Midlands, with a target to build and sell 2000 homes a year by 2022. "We have the land, the people and the customers to help us do what we do best: Building Homes and Changing Lives," Mark concludes.
Gleeson Homes
www.gleesonhomes.co.uk
Services: Housebuilders