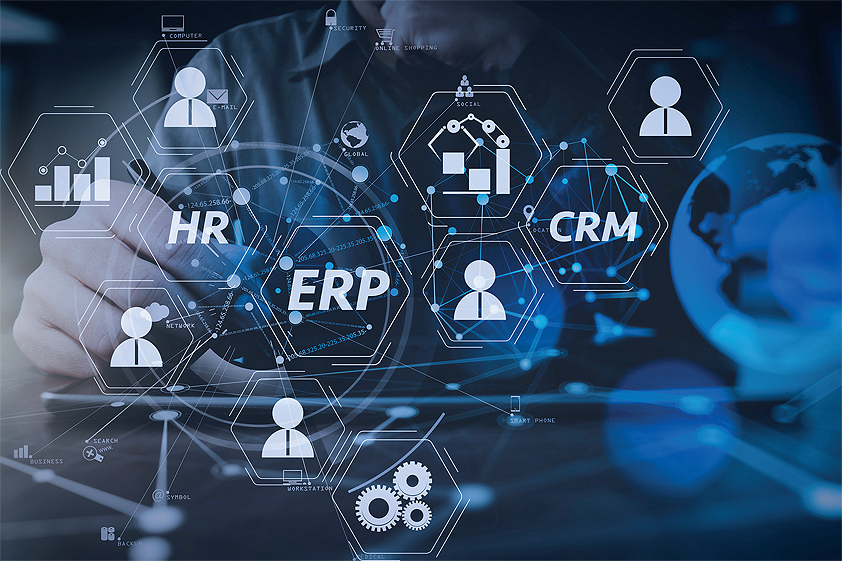 UK builders reported their strongest monthly rise in activity in almost five years back in July, as the construction sector rebounded quickly from the first Covid-19 lockdown, and many firms looked to capitalise on the government's 'build, build, build' rhetoric.
But how can software help put businesses in the strongest possible position to win new work, streamline many of the day-to-day processes draining resources, as well as increase the speed, accuracy and quality of project delivery?
Digital uptake
Despite uptake being slow, more businesses across the sector are now realising the importance of technology both from an efficiency perspective and also as a proven investment to help drive revenue, with enterprise resource planning (ERP) systems rapidly growing in popularity.
The need for capturing key project information using mobile applications has also increased as companies look more closely at the double handling of information, and timeliness for capturing cost related transactions.
Avoiding spiralling costs
According to the Office for National Statistics, monthly construction output decreased by 2.9 per cent in December 2020 compared with the previous month, falling to £13,516 million. This was the first monthly decline in growth since the record monthly decline of 40.7 per cent in April, caused by the enforced closure of all non-essential construction sites during the first national lockdown.
Despite hopes that things will pick up over the next few months, wider economic uncertainties mean margins remain tight, with contractors having to ensure that all costs are accounted for. Clients are also demanding more detailed information around the project cost, identifying variations in real time to avoid end of project disputes. Unfortunately, this is something which will no doubt be an added burden during a time where delayed projects are trying to catch-up.
Software can help avoid this, offering improved visibility to enable more informed decision making and helping keep a track of all costs associated with a project, right through to completion. This stems from the start of the process, engaging with key subcontractors and suppliers to ensure that the outline cost tendered is captured in the estimating solution (not spreadsheet) which can be reviewed as part of the monthly commercial project review process.
Regarded as the 'universal workspace' of the project, the cost value reconciliation (CVR) process can ensure any overspend or under recovery is immediately dealt with. Without a robust CVR process in place, businesses tend to spot overspend or under recovery at the end of the project, when it's often too late. Avoiding costly disputes which risk relationships and future work is important, which is why the CVR process is 'king'.
A fully digitised CVR process can also help project teams better track monthly expenditure and revenue, ensuring project cash flow forecasting information is easily shared with the finance director who is ultimately responsible for the financial stability of the company.
For some projects, capturing costs can be done at standard levels such as labour, plant, material, subcontractor and overheads. However, there are some specialist projects that require a further level of detail assigned to individual cost transactions such as 'activity codes' – also referred to as element or work breakdown structure (WBS).
Improved analytics
In order to improve the quality of project delivery, it's essential that management teams have access to accurate and up-to-date analytics to help inform smarter decision making, as well as being able to drill down into project costs on a per transaction basis.
Dashboards give businesses full visibility of trends, based on actual data. The ability to provide an accurate and up-to-date representation of the project – as well as integrating client, supplier, sub-contractor and consultants' financial information will also save hours of administrative work.
Accessing this information from up-to-date technology via mobile or browser no longer provides the excuse of not knowing performance and avoids waiting to the end of the month for information to be collated by the already busy finance department.
Regular reporting
The production of weekly and monthly reports throughout a project will also help identify what is performing well and immediately raise any concerning trends. Increasingly, senior executives and finance teams are expecting to access key information or reports in real time, so it's important your system is intuitive and easy for everyone to use.
The ability to generate charts and graphs suitable for inclusion in management level reports can also save hours of administrative work, with software allowing you to easily export or filter required information to Microsoft Excel or other platforms for analysis.
Reports may be especially useful to help identify any key learnings or examples of good performance, ensuring that future projects are managed with the same level of success.
Better customer communication
Effectively communicating with existing or potential customers is essential to ensure contract renewals and new business wins.
With a combined ERP and customer relationship management (CRM) system, you can better nurture customer relationships and avoid miscommunications that can result in costly disagreements. The ability to maintain industry contacts, contact notes or find a particular contact or firm anywhere in the system can save you trawling through files or unconnected documents and mitigate disputes that often drain senior managers' time.
Identifying the sub-contractors and suppliers who have provided 17the best quality service and goods, which your teams are able to score for each project using key performance indicators (KPIs), further demonstrates that your business takes project delivery to a very high standard. This is recognised during the quality submission process during pricing.
It is also easy to access contact data, attach notes, documents and assign actions to other system users, helping the marketing team conduct more targeted and specialised outreach, for example.
With many construction businesses looking to gain the competitive advantage in 2021, the embedding of digital technology is likely to accelerate, helping transform how businesses operate, secure new project wins and drive efficiency.
With so much pressure on the industry to improve working practises, traceability, communications and cost control, it's vital organisations look to embed digital technologies into their working practices. By investing in an ERP system, companies can gain full visibility of outgoings, identifying areas where productivity could improve, helping the entire construction cycle run more efficiently and smoothly.
Carol Massay is Head of Construction at the Access Group, a leading provider of business management software to mid-sized organisations. It helps more than 35,000 customers across commercial and not-for-profit sectors become more productive and efficient. Its innovative Access Workspace cloud solutions transform the way business software is used, giving every employee the freedom to do more.
For more information, please see
www.theaccessgroup.com
www.easybuilduk.com