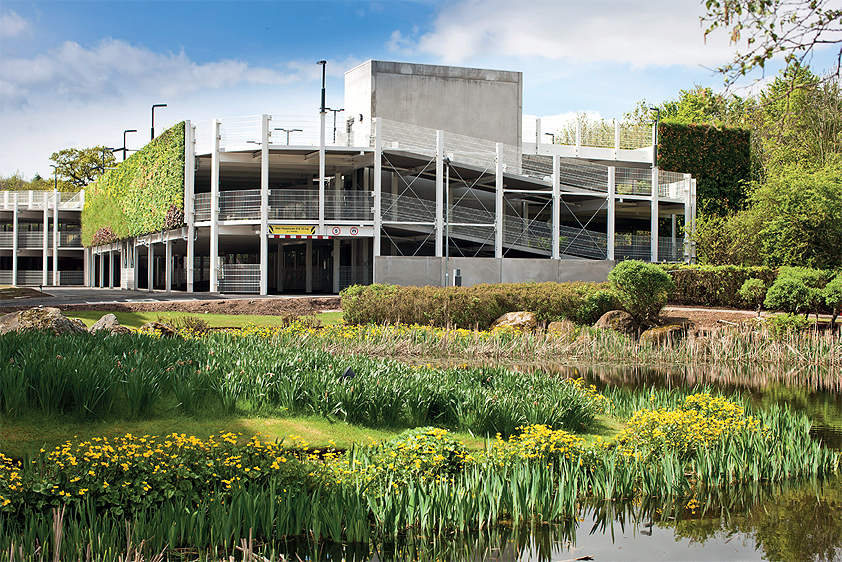 The gold standard
A family-owned German contractor, Goldbeck Construction's turnkey design and build services are proving increasingly popular in the UK
With almost 8000 staff members, 74 branches in Europe, one in China and one in California, nine production facilities, and a turnover of close to €4 billion a year, Goldbeck Construction has firmly established itself as one of Europe's most successful lean contractors. The brainchild of German steel maker Ortwin Goldbeck, the company was founded in 1969 and over half a century later, it remains family-run, known across Europe for high quality and consistent delivery.
A full turnkey design and build contractor, Goldbeck retains the majority of design in-house and manufactures its projects' main structural elements in nine factories across Germany, Poland, Czech Republic, and Slovakia. Wherever it operates, the company is committed to hiring local businesses to perform complimentary or speciality services, such as groundworks, mechanical and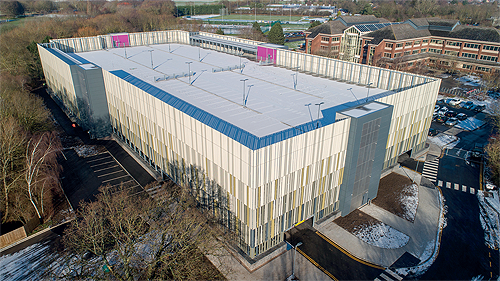 electrical installation, interior fit out and specialist façade installations.
Eager to build on its 51-year legacy, Goldbeck turned its attention to the UK market and recognised a move towards efficiency and system building. Based in Birmingham, the UK branch has been running for close to two decades, but has experienced significant growth over the last five years in particular. The expansion has been led by Goldbeck's UK Director, Craig Davies – a man who has seen the UK branch's workforce quintuple since taking up the role.
"When I joined the company six years ago we only had five members of staff," Craig states. "We are 25 people today, including architects, structural designers, project managers, business development, and office staff. We have grown into a complete turnkey provider here in the UK, with system build we maintain a lean operation providing ultimate value for our clients.
"In Europe, we lead the market with our four core products," he says, "Our main product is warehousing, with the new U Gigafactory for Tesla being a prime and very prestigious project for Goldbeck right now. Next is multi-storey car parks, which is our most popular product in the UK at the moment and the first to be introduced here. Our main focus right now is introducing more of our other main products onto the UK market. We offer various solutions for office blocks, the majority of which can be made with minimal resources required onsite, so they are perfectly suited to a Covid-19 world because it reduces the amount of people you need for construction. Finally, we can deliver schools, working through all stages of development from planning to handing over the keys."
A key driver in Goldbecks success has been sticking to its system design and builds through off-site manufacturing, whilst offering clients the best in quality, delivery and price. Not resting on its laurels, the company is at the forefront of innovation, collaborating on research to gain further efficiencies, reduce the use of natural resources, and drive forward carbon reduction. Goldbeck has set an ambitious company target of being carbon neutral by April 2023. The company's new office in Palo Alto, California serves as a search and cooperation hub for the smartest and newest construction techniques and technologies in the world, with close links to the CIFE Institute at Stanford University.
As a business established in Continental Europe looking to break into a new territory, Goldbeck has slowly impressed itself on the UK market and is beginning to attract contracts from some of the region's most well-known organisations. The company has recently built car parks at various sites across the UK, including Bristol Airport, Gatwick Airport, and Warwick University, and more recently office block projects for one of the UK's leading car manufacturers.
"The UK is starting to realise that everything we do is of very high quality and because we are so lean and stick to our systemised off-site approach, you get good replication and fast delivery, at an excellent price," Craig declares. "On our side of things, there is a big appetite for growth. I love this company and at 40, I am relatively young for the position I'm in. I want to grow the business over the next 20-to-30 years and there are a lot of people around me that want to do the same."
Having previously delivered an average of two car parks a year in the UK, 2020 was set to be a record-breaking year in the region for Goldbeck. The company had secured a £30 million contract with Gatwick Airport and was on target for an annual turnover of more than double that figure – that was, until the outbreak of Covid-19.
"Not long after the onset of the pandemic, the Gatwick contract was put on hold," Craig reports. "Similarly, an office block project we were working on was postponed until the world gets back to normal. Despite all this upheaval, we're proud of how the company reacted. Across Europe, we were united. By utilising our network of locations, we were able to provide regular updates for our employees on what to do and what not to do. Our main parent company in Germany was not affected badly and as a wider business, the pandemic has actually helped us grow. Nobody is flying in aeroplanes and people are working from home at the moment, but the market is still there.
"Opportunities presented by the global pandemic and Brexit have manifested in the warehouse market," Craig adds. "Due to lockdowns and restrictions on movement, more and more people are doing online shopping right now and, in the UK, one third of all retail is bought online, which is higher than any other country in Europe. It means that the demand for warehousing space is very high at the moment and so we want to push our services in that area. There is going to be a life after Covid-19 and Goldbeck is here to stay."
As Summer became Autumn, Goldbeck saw a steady increase in sales with the changing of the leaves. Now, in October, the company is enjoying levels of business activity similar to what they were before the virus hit. Backed by its ambitious and reliable parent company, Craig believes that Goldbeck's UK branch is destined for more success.
"In Germany, Goldbeck is one of the main Tier One contractors," he comments. "Despite its size, it is extremely financially secure because it has always been very sensible in the way it approaches things and that gives the UK business a really solid foundation to build on. The Goldbeck family want to invest in this region and they already have an investment business in London, with a number of office blocks to its name. The next step now is to grow the business and in the coming years look to install a UK production facility to manufacture some of our key elements, which will allow us to even better serve the UK market."
Future growth
As Craig suggests, for Goldbeck's UK business, the next decade is all about growth. Undeterred and unimpeded by the Covid-19 pandemic, the company has recently set up a dedicated sales office in Runcorn, Cheshire, and has also hired a new business development manager to enhance Goldbeck awareness in the south and south-western part of the UK.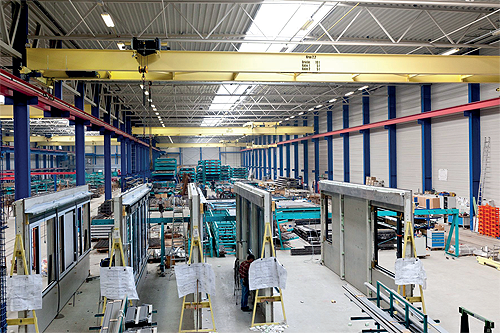 "We've set ourselves up for growth after Covid-19," Craig asserts. "We haven't downsized; instead, we've looked to strengthen. We have enlarged our business development workforce to help increase the amount of hits and wins we are accruing because we know this pandemic will end, things will get back to normal, and we want to be ready for that.
"We are incredibly lucky at Goldbeck because we work for a company that allows us to prepare for the future because we are financially secure. Not one person in the entire company of 8000 people was put on furlough this year, which is an enormous achievement and something to be proud of. We have had to be flexible with initiatives like working from home, but the key thing is that everybody carried on working. Goldbeck has always looked after its staff and when people feel looked after, I think their appreciation is reciprocated in the work they produce."
Having taken the leap from Continental Europe to a competitive and well-established UK market, Goldbeck has become one of the top multi-storey car park contractors in the region, completing an average of three-to-four car parks each year. Now, with its foot in the door, the company wishes to become the contractor-of-choice for customers across the British Isles.
"The UK is a big market, and over the last two decades we have built many great relationships with subcontractors of all disciplines, including architectural, design and consultant firms. We want to build on these relationships and expand our pool of resources in the UK. We are focused on providing clients with a great quality build in a fast time, at a good price. Up to 60 per cent of our current work in the UK comes through repeat clients, so we must be doing something right.
"The UK has a lot of history, far more than many other countries, and in a lot of ways it has become institutionalised, but slowly, clients are starting to see what Goldbeck can offer. When people want a multi-storey car park, an office, a warehouse, or a production, distribution or logistics hall, then we want them to come to Goldbeck UK, like the clients do in mainland Europe. The UK is realising that we provide fantastic quality products, at a great price, very, very quickly. They like what we do."
Goldbeck Construction Ltd
www.goldbeck.co.uk
Services: Turnkey design and build services