Golden Houses Development
With its high level of skill, professionalism, integrity and a can-do attitude, Golden Houses Development has become a company of choice when it comes to high-end construction projects
A golden future
With its high level of skill, professionalism, integrity and a can-do attitude, Golden Houses Development has become a company of choice when it comes to high-end construction projects
When she first arrived in the UK, Monika Slowikowska spoke very little English. What she did possess, however, was a level of drive and determination, and a vision for what a company should be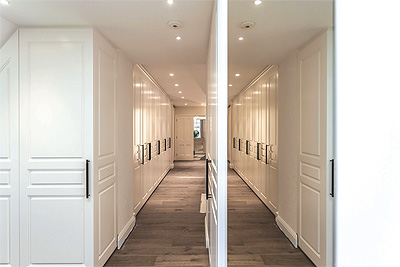 about which has helped contribute to a meteoric rise within the UK construction industry over the past ten years.
Having held various positions within engineering, property developers and construction practices, Monika would go on to work with her brother for a total of five years. It was at this point that circumstances aligned for Monika to go it alone and create a new business Noble Houses, later renamed Golden Houses Development Ltd, and in the process became one of a very select few women to lead a UK construction company.
Nevertheless, and despite the admirable reputation and experience she had built up over the proceeding decade, this landmark move into uncharted territory brought with it some fears and doubts, which Monika is modest enough to admit. "As a single Director in this industry, and a female one at that, I definitely had a number of concerns when I launched Golden Houses," she states. "In spite of these concerns, my sense of duty towards our existing workforce and my own passion to run a business my own way, which is one that is client-focused, efficient, fast and cost-effective, won the day. By surrounding myself with the right people and advisors to guide me through the process, I have been able to build a business that is both strong and resilient."
The company that Monika has nurtured is today recognised as one of the leading specialists when it comes to high-end residential projects of a minimum construction value of £3 million. "From the day I started this business, one of the first decisions I made was that I wanted it to revolve around a dedicated, expert in-house team, one that is able to determine and control the quality of our work, and is not dependent upon outside parties such as external contractors," Monika explains.
Solutions driven
Driven by the thought process of its owner, Golden Houses and its team focus on solutions, not problems, whilst at the same time maintaining a relentless drive towards perfection. "One of the reasons why we have built up the capabilities of the company in-house is because I have a steadfast belief in the need to avoid conflict in all its forms," Monika says. "Together we are one unit, each member of which cares greatly for the rest of the group and wants the whole company to benefit in the long-term. Having this mentality, I find, keeps everyone highly motivated and allows the company to do things much faster than would be possible if we had to put our energy into dealing with matters of external conflict. This is turn results in creating a profitable business, particularly when compared to the average construction company."
For Monika, this approach to business is all about creating, what she calls, 'win-win situations' for every stakeholder and party involved in a given project or development. "By stripping away all of the conflict-driven sources of expenditure, we have ensured that all of our focus is directed towards the job at hand, completing it to the very best of our ability and doing so at such value for money that our clients continue returning to us with new contracts," she adds.
Form and function
Examples of such contracts being transformed into finished works can be found across the length and breadth of London, and beyond, all of which the Golden Houses team are immensely proud.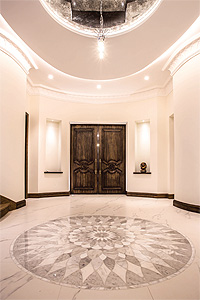 Obviously, each project is of a different size and scale, and often present their own unique technical challenges, but what they all share is that they exist as a result of Monika and her team's ability to see past just bricks and mortar, and to the persons who will make use of one of their buildings.
"Caring about the design of a property and how it looks is hugely important," Monika enthuses. "With all of my buildings, I always have one eye on the end users themselves and how a person, or persons, will be functioning within it. We apply this thought process to our own developments, for example a 10,000-square foot office space that we are creating in the centre of Manchester. Here we are making sure to create a working space that is not only comfortable and cosy, but also inspires its inhabitants."
Award winners
The work of Monika and her team has also been showcased at various industry awards, with both Golden Houses and Monika herself recently winning two prestigious prizes at the 2017 London Construction Awards. In the first instance the company was presented with the London Build Excellence Award, while its Founder walked away with the Women in Construction Award. As is the norm, she was not alone as she was joined by members of her team who regularly attend such events, allowing them to receive the praise and attention that their combined efforts deserve.
The past 12 months has been a strong period for Golden Houses, and one which has also seen it spread its wings in terms of its capabilities with the expansion of its high-end joinery arm that focuses on high quality, unique designs and finishes. Having rapidly outgrown its previous home, the company's fully equipped workshop, which was born to increase efficiency and the speed of delivery of its construction projects, now resides in a new, large-scale industrial unit following a purchase valued at around £3 million.
While this development is considerable in terms of a financial investment, it is another crucial step along the way to Golden Houses firmly establishing itself as a key contractor/developer. "This is a long-term vision for ourselves, but it is one that we are already very excited about," Monika concludes. "Our aim is to be able to deliver the full value that comes with the skills and capabilities that we have to offer, and we know that there are clients out there that are keen to work with us on such projects, and we look forward to collaborating with them in the future."
Golden Houses Development Ltd
Services: Residential construction company