GPF Lewis' refined tender procedure is winning the contractor a lot of new business, whilst the company's commitment to ongoing service development has significantly strengthened its offering in the last couple of years
Open approach
GPF Lewis' refined tender procedure is winning the contractor a lot of new business, whilst the company's commitment to ongoing service development has significantly strengthened its offering in the last couple of years
GPF Lewis is a national contractor known for continually introducing improvements to its service offering and project delivery capabilities. In turn, these are helping the specialist in construction,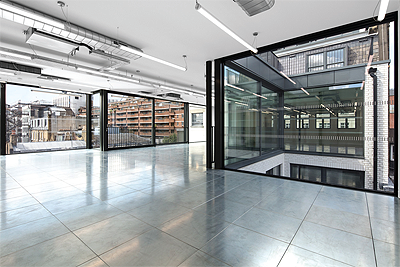 building maintenance, and facilities management services to stay on track to reaching £50 million in turnover by 2020. Two and a half years have elapsed since the company first appeared on the pages of Construction & Civil Engineering and during this time, GPF Lewis has strengthened its proposition immensely to hit the desired growth pace.
Managing Director, Joe Ringart, takes us through the latest developments that the business has experienced: "One of the main highlights for GPF Lewis in recent times, is the first forays we made into the healthcare and education sectors. Traditionally, we specialise in the high-end commercial and residential markets, but by virtue of acquiring a subsidiary, which is now called GPF Lewis Solutions, we have been able to expand into previously unexplored markets."
Aftercare team
In the name of growing its expertise within said sectors, GPF Lewis is unflinching in following its self-established principle of constantly redefining the concepts of 'quality', 'commitment', and 'innovation'. Recent examples of applying this philosophy include the creation of an aftercare team within the business, as well as the appointment of a clerk of works who acts as an external consultant, monitoring all projects on a fortnightly basis.
Joe details: "We have decided to take the aftercare matter into our own hands and establish a 24-hour callout service to ensure that any post-contract issues are dealt with much more quickly. Previously, when we tried to get the subcontractors back to the site if there was a leak, for example, it would take up to a week, which did not benefit anyone. We are much more responsive now, because, as much as we would like to deliver snag-free projects every time, this is not always feasible.
"As for the clerk of works, as they come in and pick up any deficiencies on a regular basis throughout the duration of the project, we are capable of resolving any quality issues there and then, while the subcontractors are still on-site. This results in a lot less problems manifesting themselves after the job has been done."
Niche segment
What makes GPF Lewis a preferred partner in projects, is the company's singular modus operandi when it comes to the tender process. Deploying a considerable amount of resources, it spends a lot of time producing a very detailed methodology as to how a scheme will be delivered. Critically, this is being done to provide clients with clarity over the cost of the project.
"A lot of our customers are developers and they tend to like our approach, because we put together construction plans that demonstrate our complete understanding of all the possible risks and hazards, related to its completion, and that show exactly how we are going to get the job done, and at what cost," Joe explains. "The developers want more certainty and this is the reason why we spend a lot of money upfront to make sure we know what is required and hit the ground running once we have secured the project. We do not want to end up in a situation where we have put a provisional expenditure of £20,000 that then rises to £200,000 over the course of the programme."
As of late, GPF Lewis has managed to slip into a market niche that sees the contractor take on heavy refurbishment contracts valued in the range of £3 million to £10 million. "We found that on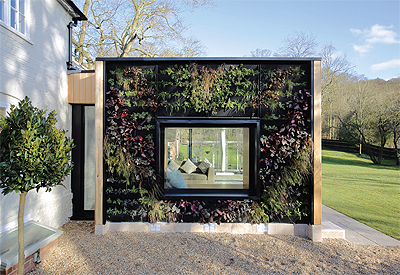 projects that involve cut and carve or façade retention, where there are significant temporary works, bigger contractors will not drop down below £10 million and smaller and medium contractors are not keen to take on this kind of high-risk projects. Thanks to our project managers who are excellent builders, however, we succeeded in firmly establishing ourselves as leaders in this particular segment," Joe discusses.
A £4.75 million commercial development project on Great Marlborough Street in the West End, is an acute representation of GPF Lewis's capabilities in the cut and carve type of work. The recently-completed contract involved the demolition of a building's land-locked rear, extensive temporary propping, the lowering of the basement, and the demolition of the internal floors and roof structure. Then, a new steel frame structure was built at the rear to tie into existing floor levels, followed by the construction of a roof extension, new staircases and lift, and new windows and shopfront. In addition, comprehensive façade repair was executed, as well as full high-end commercial fitout to all upper floors.
Secure position
GPF Lewis' continued growth in recent years has brought the company much external acclaim. In June this year, the contractor was included on the '1000 Companies to Inspire Britain' list compiled by the London Stock Exchange Group, which says a lot about its reputation in the industry, as it has historically been difficult for construction companies to remain successful and achieve steady growth over a long period of time.
"Our turnover is set to go up again this year, so we are clearly moving in the right direction," Joe comments. He concludes, delineating the targets ahead of GPF Lewis, as the business goes forward: "When we get to £50 million turnover, we are planning to steady the ship a little bit, sit back, and reassess our proposition, just to make sure that we deliver the right quality to our clients and meet theirs and our employees' expectations. In the meantime, we are hoping to increase our working capital a little. We are in a very secure financial position at the moment, as we have no external borrowings, so we can afford to do that, in order to get ready to push on to the next level in the next three to four years."
GPF Lewis
Services: Construction, building maintenance, and facilities management services