With recent orders totaling more than £12.5 million, award-winning national contractor GPF Lewis continues to be the go-to company for superior solutions that provide outstanding value
Contracting & beyond
With recent orders totaling more than £12.5 million, award-winning national contractor GPF Lewis continues to be the go-to company for superior solutions that provide outstanding value
Formed in 2006, GPF Lewis has recently celebrated ten years of providing high quality services to a broad range of sectors offering construction, building maintenance services to the commercial, residential and industrial markets, for which it delivers expert solutions through a unique and comprehensive approach to each project.
"GPF Lewis will turn over £25 million+ in 2017 so we have enjoyed relatively strong success since our inception," says Rory Fitzgerald, Managing Director at GPF Lewis. "The business is split into three divisions with maintenance and small works covering works from a reactive £50 call out to a £30,000 project; it is a very mixed bag ranging from small maintenance works and quoted works. Meanwhile, £30,000 to £1 million plus projects are delivered by the project division; this segment of the company predominantly specialises in and focuses on refurbishment works over a number of sectors such as leisure, education, retail and residential. We also have a construction division, the core turnover of which stems from high-end residential projects such as development, newbuild and refurbishment."
Operating from two locations, its headquarters are in Watford, Hertfordshire, and a central London office that focuses on the construction and project division, the company is committed to its mission of delivering outstanding value. To do this GPF Lewis delivers a safe and considerate approach that consistently aims to exceed both the clients', its own and the market's expectations. This drive to redefine the terms 'quality, commitment and innovation' has not only ensured GPF Lewis has increasingly improved its own high standards, but has also caught the attention of a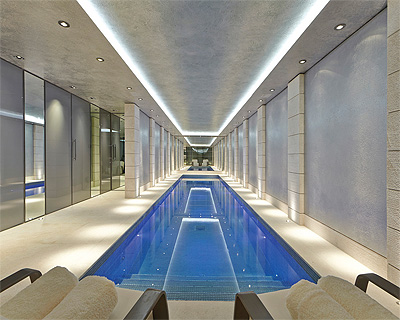 conservative and demanding market.
Following year-on-year growth and success since its establishment, GPF Lewis has been included in the LSE 1000 Companies to Inspire Britain and recently been nominated as one of the fastest growing companies in Europe. Discussing the reasons for this appreciation, Rory comments: "It is largely down to the people we have working for us. In the first four to five years it was hard to attract top-level personnel as we were a new business and found it difficult to pay the wages these people expected or win the type of work that would pique their interest However, over the last five years we have taken on more challenging projects, which has naturally led to more recognition in the market as well as experience and a stronger project portfolio. Because of this, we have become more appealing to top level employees and when you employ these types of people, they want opportunities and to develop, so it is important that we continue to grow and challenge ourselves."
He continues: "We changed our policy on recruiting around four years ago and now seek to recruit the most talented and dynamic people who can deliver."
Indeed, this strategy of attracting the best personnel and taking on complex and challenging projects has proven fruitful for the company, which began 2017 with more than £12.5 million of secured orders. Recently announced projects include refurbishment works at the Ethiopian Embassy in London managed by the Construction Team. Starting in January 2017, the 39-week project will take place while the listed building remains occupied, which means the Embassy must continue to be fully functional during this period.
"The building remaining occupied will be a challenge but it is a matter of accommodating and working with the clients to cause as little disruption as possible. The work is largely internal, with a small amount of external works," explains Rory.
Another notable project that the company has taken on is the refurbishment of an exclusive casino in the heart of London, as Rory notes: "The casino is the Crown Aspinall in Mayfair, it is an exciting job as we haven't worked on a casino before. There was some significantly larger companies were tendering for the project but the client went with us as they liked the construction team that we put forward for the project and they liked the work we had been doing on a project around the corner on Piccadilly; this is a fast track job worth £2.7 million that to be completed in 20 weeks, so it was a heavily structured and complex project."
For Crown Aspinall, an exclusive club that has satisfied the lifestyles of the London elite and international gamblers since the 1960s, GPF Lewis will significantly enhance areas of the club while also providing additional facilities for guests. Works include refurbishment of the entrance, ground floor and first floor restaurant as well as the reconfiguration of the roof to create a terraced gaming room and lounge with glass ceiling.
With a wealth of projects to work on throughout 2017, the future looks positive for GPF Lewis as it continues to focus on providing its high standard of services to the commercial market. "We are confident of hitting around £30 million turnover in 2018 as the commercial world has plenty going on and plenty of work out there for us. The future looks good and the recipe we have at the moment seems to be working well for us, we will perhaps be a bit more selective with the type of work we do with the aim of reaching £50 million in the next five years. This target is achievable, particularly when we are halfway there already. The goal is to grow steadily, remain profitable and continue at the pace we are achieving now," Rory concludes.
GPF Lewis plc
Services: Construction, project management, refurbishment works and planned & reactive maintenance