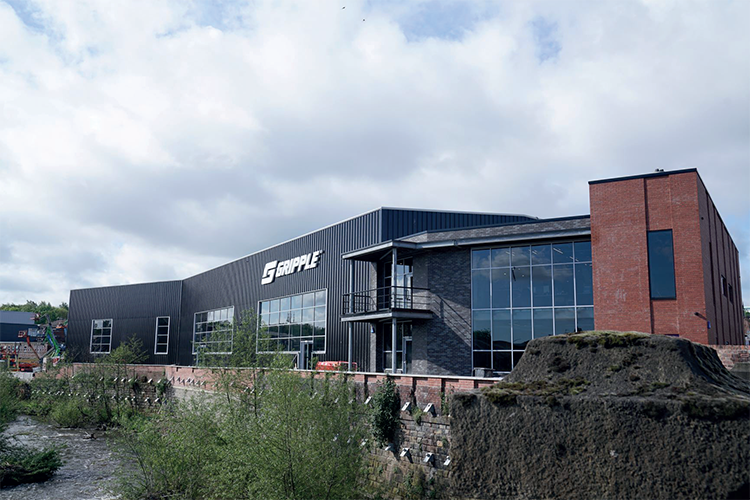 A firm grip on growth
After a positive first half of 2021, Gripple, a globally recognised manufacturer delivering innovative, value- added solutions to construction and agricultural markets, is upgrading its facilities and adding to its product range
Since featuring in Construction & Civil Engineering towards the end of 2020, Gripple has enjoyed a year of substantial demand and significant growth. With sales up by 15 percent compared to the same trading period in 2019, the company's Managing Director, Ed Stubbs, is delighted to have achieved such unexpected success in 2021 so far.
"Quite frankly, we were expecting activity – particularly in the construction sector – to be lower in the first half of 2021 than it has been," Ed reveals. "Obviously, we recorded much better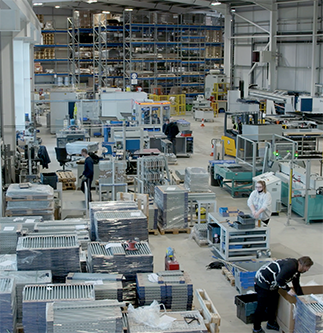 numbers than the Covid-19-disrupted first half of 2020, but to be up on our sales from 2019 is very satisfying.
"I'm delighted with our performance, especially in the context of the incredibly challenging circumstances we've experienced around the globe during the pandemic. Some countries in which we operate, like India and Japan for instance, have been in lockdown for the majority of this year, and we've been hit by unprecedented circumstances in our global supply chain caused by the Covid-19 crisis and Brexit, yet we've overcome these issues."
Resilience, as Ed suggests, has been a hallmark of Gripple's performance over the last 18 months, helping the business to maintain its productivity and drive further growth. By banding together and remaining steadfast in the face of adversity, the organisation was able to focus more closely on the fundamentals, as well as invest in the specific business areas that make Gripple great.
"During times of crisis, you can learn a lot about the core drivers of business resilience and use that information to your advantage," Ed says. "The pandemic helped us refocus on the fundamentals of what we do and encouraged us to continue investing in our products, warehousing and manufacturing. No doubt some of our sales performance in the first half of 2021 has been the result of pushing forwards with development and bringing to market some quite important products, in spite of Covid-19.
"We are keen investors in a diverse geographic market with a sturdy, locally established supply chain. Our 15 percent sales increase has been supported by the fact we managed to complete a very large expansion in the US and the UK, bringing in new capacity for our products and enhancing our ability to guarantee the availability and traceability of supply. The upshot is that, whilst we are being challenged by global supply chain challenges, we are less affected than our competitors because of how locally invested we are in our geographic markets."
Part of the investment Ed refers to has allowed Gripple to complete a 45,000-square-foot extension at its site in Chicago, turning the location into the company's largest single manufacturing facility. With five new fully automated machines – made by Gripple Automation in the UK – currently on their way to the site, the expanded Chicago facility is set to be fully commissioned later in 2021.
"There is still some work to do on integrating the new manufacturing space with expanded offices and the like, which we expect to complete by the end of the summer, but the work is almost complete," Ed states. "We look forward to getting over to Chicago and seeing it and taking part in an opening celebration in early autumn."
Along with substantially increasing the North American production capacity for its wire rope slings used in suspension, bracing and anchoring systems, the investment will create new jobs, improved traceability and increased supply chain security. "Growth in North America is outstripping our global average, but we still have a long way to go to realise our full potential there," Ed argues. "However, the Chicago upgrade should go a long way to doing that.
"Alongside increasing capacity, the investment will create more jobs just outside Chicago, enabling more people to become a part of Gripple, which is, of course, an employee-owned business. For our customers, it means a significantly increased degree of supply chain security, as well as more domestically produced goods.
"Finally, the new automated machinery we are going to introduce will test every single one of our slings to twice the stated working load, which can't be done when you manufacture by hand. It's a really important step forwards in terms of quality for US customers and a sign of more to come in North America in the future."
Once operational, Gripple's expanded Chicago facility will join the company's LA-based sales hub, warehouse and manufacturing center in the company's push for increased traction in the
United States. On a global scale, the US investments follow recent ventures in Canada and Japan.
"At Gripple Japan, we are seeing phenomenal growth, but from a very small base, and that takes some time to achieve," Ed declares. "We have high hopes for real development there now that lockdowns are over and the Olympics has passed.
"Over in Canada, Gripple is only two or three years old and is doing really well. We are expecting to see significant growth there too."
These locations, along with the company's Sheffield headquarters and complementary sales hubs in places like Warsaw and New Delhi, mean that Gripple is well-positioned to serve customers across the entire globe. Ed believes that, above all else, the success of such an advanced and far-reaching international footprint comes down to culture.
"At Gripple, I'm always amazed by how our subsidiary businesses and their employees, despite some not yet having visited our HQ in Sheffield, truly understand and believe in our culture and our values," Ed notes. "A big part of sustaining that global culture is communication and the employee-owned aspect of our operation.
"Recruitment is important too," Ed continues. "We endeavor to hire people with the right values and people who want to work in a EO business environment. We have a very engaged workforce; all of our people are owners of the business. Everyone is bought in and has a vested interested in the quality of products being manufactured, the customer service we provide and business performance. An engaged workforce plays an active part in the future success of the company and that's a compelling message for our customers. As a result, whenever we set up a subsidiary, we usually do it with an existing employee. That is the case in Japan, which is run by someone who worked at Gripple in Sheffield for 20 years, and it's a practice that works really well for us. It means you have somebody trustworthy in there who understands your culture and can build the subsidiary wit that in mind."
Well-established and self-assured, Gripple has raced ahead of its competitors in 2021 and launched industry-defining new products, such as the third generation of its classic Fast Trak suspension system. An iconic product range that has innovated the suspension system landscape for four years, Fast Trak has been revamped for 2021 with a series of new features to make installation even quicker and simpler.
"We are in the process of carrying out a number of product updates and improvements, many of which are centered around moving to a different manufacturing process where we are roll forming the brackets and the tracks rather than pressing and bending them," Ed reveals. "From a product functionality point of view, that has allowed us to make substantial steps forwards in terms of the product's rigidity when installed, the ease and speed of installment and also the product's versatility when it comes to different applications and compatibilities. It might be a thirdgeneration product, but for us, it feels like a huge advancement in design and functionality."
Elsewhere, Gripple has made its first foray into the solar market. Whether for a new project or an existing solar farm in need of maintenance, the company can provide solutions to issues on site using its modern bracing and anchoring products, saving both time and money for clients.
"We are launching a lot of new products that aim to improve value engineering installation of ground mounted solar panels. It's proving very fruitful as the scale of solar PV and installation rapidly increases," Ed explains.
Bolstered by these ambitious plans, Gripple expects to continue growing by around 10-to-15 percent per annum, which, in another five years, could bring the company's turnover to £150 million. At the same time, the organization hopes to remain aggressive on the sustainability side of its operations.
"We are looking to announce Net Zero status on Scope One and Scope Two globally by this time next year and on Scope One, Two and Three by autumn 2023," Ed reports. "We are confident we can make considerable progress from an already strong position because of how vertically integrated we are. The first step is to move to a state of being oxygen positive – rather than carbon neutral – by this time next year, but we are in a strong position.
"On another front, there is going to be vast digitalisation that needs to be carried out in the business. We have come a long way in that area over the last five years, and in the next five we will continue to take actions that will affect how we run the business and the types of products, services and support we can bring to customers."
Relentless in its quest for growth, and dedicated to its customers – both new and old – Gripple will continue to invest in product development, working with clients to solve issues through the use of innovative products. As Gripple embarks on the next stage of its journey, Ed knows that success can only be achieved with the help of the company's skilled and spirited workforce.
"Every single person who works here shares in the business and drives superior productivity and service," Ed proclaims. "I think our effectiveness, and the way we solve customer problems, really makes a difference in this market.
"As a global business and a proud UK manufacturer, we are highly invested in people, resources and capabilities in all the markets we serve locally. On a cultural level, that is significant, but more importantly it's something our customers deserve and need us to deliver.
"All in all, it's a very exciting time for the company. As we enter markets like solar, and launch new products like Fast Trak, we feel we are really pushing the business forward again, not just waiting around for pandemics and supply chain issues to end."
Gripple
www.gripple.com
services: Value-added solutions for the construction and agricultural markets