True entrepreneurial spirit forms the heart of Gripple as it continues to revolutionise markets with its quality and unique solutions
A tight grip
True entrepreneurial spirit forms the heart of Gripple as it continues to revolutionise markets with its quality and unique solutions
The innovation and entrepreneurial spirit that permeates throughout the employee owned company Gripple has been there since day one, when wire salesman Hugh Facey decided that he could do something to solve the problem of joining wires. It was a problem that had been aggravating farmers for years, with the only option being to bend and knot in an arduous and tedious process. That was 1986 and two years later Gripple Ltd was born to launch Hugh's invention – the Gripple, an innovative fastener that simply joined two pieces of wire together. Fast-forward 26 years later and today the company has sold 500 million fasteners into the construction, agricultural, viticultural, seismic and civil construction industries, solving problems across the market with 19 patented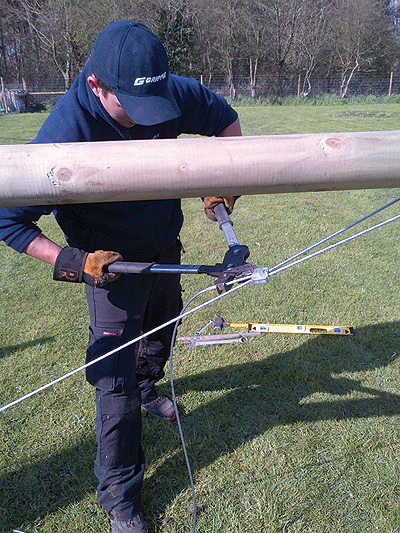 product groups for over 2200 customers in 80 countries. With 500 employees, the company now turns over £50 million with 85 per cent of sales serving the export markets.
"Gripple started life, and continues to do so strongly, by revolutionising the joining, tensioning and bracing of fencing and the installation, tensioning and anchoring of vineyard trellising," explains Hugh, now chairman of Gripple. "Now, the cornerstone of the company's growth is the construction sector which accounted for sales of £32 million in 2014. This sprang from the realisation that turning the Gripple through 90 degrees and combining it with stranded wire rope to make a system, the use of thread and chain was replaced when suspending overhead electrical and mechanic services in commercial buildings by providing a superior solution." Revolutionary is perhaps the most apt word for Gripple, as when the company entered the construction market 10,000m of wire rope a year was bought – now the industry buys up nearly 37 million metres and the company (still only) enjoys a 15 to 20 per cent share of this sector.
"One of the company's key values is challenging convention in everything it does and not being driven exclusively by profit," expresses Hugh. Innovation is the driving force behind Gripple with at least five per cent of the company's turnover dedicated to research and development each year. A team of ten form the company's Ideas and Innovation team which focuses on expanding the company's ever-growing product portfolio. The team will also help budding entrepreneurs to develop and bring their idea to market. With the target to achieve a minimum of 25 per cent of turnover coming from products less than four years old, Gripple now has a portfolio of 2000 individual products protected by 300 patents.
Accompanying a dedication to product innovation is a worldclass focus on automation and manufacturing excellence. Gripple's manufacturing base is located in the Old West Gun Works in Sheffield with operations also in Chicago, Strasbourg and New Delhi. To continuously facilitate the manufacture of innovations on such a large scale, development of production capabilities is also a major part of the company's operations. "Half of Gripple's components are manufactured in South Yorkshire and there is now an in-house automation team, building the company's machinery from scratch," highlights Hugh. "Recently, several supply chain partners have taken advantage of Gripple's machine build capabilities."
Such is the success story of Gripple that it has been the recipient of over 40 awards since its inception. "Each of these means a great deal to everyone at the company because they acknowledge their efforts, even though they are proud enough without any recognition," says Hugh. "The first one in 1990 was the highly prestigious Concours Lépine Gold, which was presented by Président Mitterand. Hard on its heels came the Prince of Wales Award for Innovation, which was presented at the HQ, which he also officially opened. Gripple was then one of the few British businesses to be
awarded the Queen's Award for Innovation twice. To complete the set, we received a Queen's Award for Sustainable Development and a little later for International Trade."
Aside from world-leading product innovation and manufacturing excellence, Gripple's commitment to its people and community is exemplary. The company is 100 per cent employee owned, which Hugh assures is fundamental to its growth. "Staff members must invest £1000 into the company a year after joining, which gives them a collective stake of 36 per cent and a vested interest in its success, with rewards shared throughout the company," he says. "Since 2011, staff have had a say in how the company is run with the formation of the private employee-owned company, Growth Led Innovation Driven Employee Company Limited (GLIDE). Members of the GLIDE's board are elected by their fellow shareholders to preserve and develop employee culture, to look after the interests of its members and to generate engagement by everyone in the Gripple 'family' across all global sites."
Gripple maintains strong relationships with local schools, engaging children in business and organising visits to support this. The company also runs graduate and apprenticeships schemes. "Supporting local charities is also very important, with staff directly involved in group or individual fundraising. Working within the community and giving something back is more than a set objective, it is what Gripple is about," emphasises Hugh. Every year a percentage of the company's profits is donated to charity and, together with the staff's efforts, more than £30,000 has been raised over the last few years. In fact, a number of awards have recognised the staff's charitable activities.
The company's focus over the next 12 months will be on continuing its expansion with new civil and seismic products and markets as particular focal points. "Over the next 20 years, we intend to grow the business between ten and 15 per cent per annum," concludes Hugh.
Gripple
Products: Iconic wire fasteners