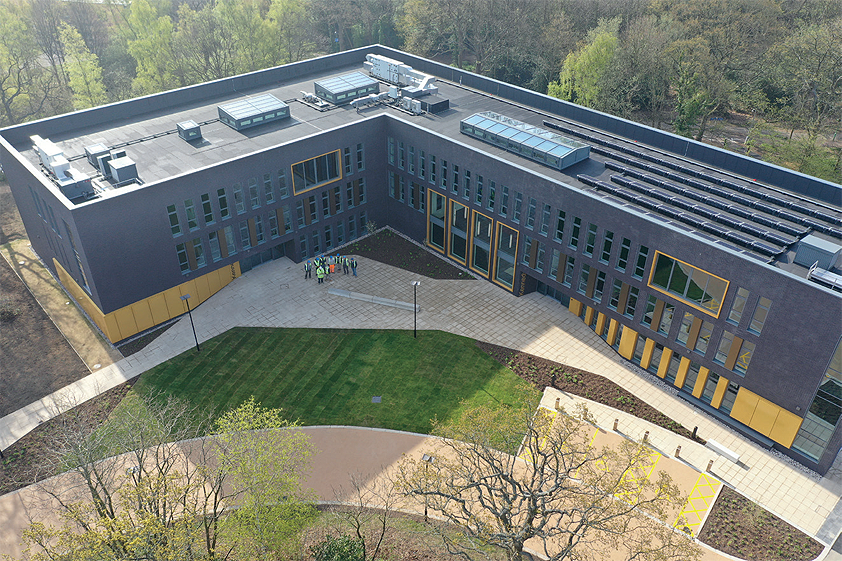 GSE Building & Civil Engineering Ltd/GSE Plant Ltd
Family first
Following a management buyout in the summer of 2020, GSE Building & Civil Engineering Ltd and GSE Plant Ltd have their sights set on the future, and the opportunities that await these integral components of the wider GSE Group
Afamily-run, Kent-based business, GSE Group has been providing civil engineering, construction and plant hire services across the South East of England and London since the mid-1980s. Originally established to meet a shortfall in good groundworks contractors, the group has expanded in response to its customers' growing needs, and now provides plant and machinery across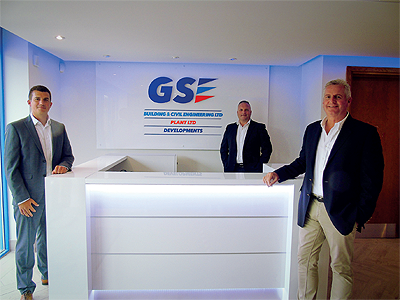 Kent, Sussex and Surrey, alongside its civil engineering services. Acting for national building contractors – as well as local firms – GSE Group has shown itself to be the perfect partner for groundworks projects, taking on high quality commercial, residential and retail developments ranging from £250,000 up to £8 million in value.
In July 2020, it was announced that the man who spearheaded the expansion of the group – GSE Developments' Chairman Darrell Healey – had agreed to sell his shares in its building, civil engineering (GSE Building & Civil Engineering Ltd) and plant hire (GSE Plant Ltd) divisions following a management buy-out. The men to purchase said shares are the group's Managing Director Tony Bowles and Group Director Josh Healey. Darrell will remain as a non-executive director and continue to head up the group's property and developing division.
GSE Building & Civil Engineering Ltd sits right at the very heart of the GSE Group, and was the first division to be formed in 1986. Having grown both organically and through acquisitions in the time since, and with the vast majority of the division's 100-strong team being permanently and directly employed, it has worked on many significant projects, supporting principal contractors including BAM, Baxalls, Castleoak, Kier, Willmott Dixon, Wates, and many more.
GSE Building & Civil Engineering Ltd supplies all aspects of the civil engineering requirements to projects valued between £250,000 and £8 million, and prides itself on the level of repeat business it secures. Today, its teams are on sites across many sectors, including education, health and social care, commercial and office development, as well as prisons and other public sector projects including airports.
Projects completed include the Willmott Dixon University of Kent, Dover Leisure Center and the Chapel Down, Curious Brewery facility. Lasting a total of 34 weeks, works at the Willmott Dixon University of Kent included site clearance, reduce level excavation, mass pouring of concrete pad foundations, and the forming and pouring of 1394-square meters of reinforced structural concrete slab, involving formwork and steel fixing of reinforced steel. From there, it was tasked with the construction of a lift pad involving formwork and steel fixing of reinforced steel, and of concrete upstands. Other works included the installation of a utility service route, the installation of foul and surface water drainage systems, external works such as kerb installation, and the creation of an access road, pavement and cycle way.
Value & quality
During the construction of the Dover Leisure Center, GSE Building & Civil Engineering Ltd carried out all of the associated foundations, drainage and services – from start to completion – which occurred over a period of 72 weeks. It also formed a 25-meter long swimming pool that holds 630,000 litres of water.
In the case of the Chapel Down, Curious Brewery project, it completed all of the foundations, groundworks and landscaping, and installed specialist drainage materials to cope with the chemicals used to wash down the brewing tanks. It was also very proud to have built an Artic Lorry Turntable, which enables gas lorries to be rotated 360 degrees to gain easy access onto and off the site.
Another unique element to the project was the need to reinforce the ground upon which the brewing tanks were to sit on. It overcame this challenge by utilizing a Cordek Filcor (expanded polystyrene) system, which was then covered with reinforced concrete to make it suitable for supporting the aforementioned tanks.
Involvement with its clients at an early stage in the project makes best use of the skills belonging to GSE Building & Civil Engineering Ltd, ensuring value engineering, opportunities, sequencing and program are discussed prior to the contract starting, giving its clients best value and quality service that they have grown to expect when working with GSE. This is further complimented by value engineering each aspect of its services to deliver each project as required.
The GSE Development, Waterbrook Park is making good progress. A mixed-use development of commercial property, Waterbrook's 140-acre site, located close to junction 10 of the M20 in Ashford, will become home for up to 400 new homes, new commercial space that will provide approximately 750 jobs, and a new Ashford International Truckstop with increased capacity for secure overnight parking for 600 HGV's – making it the largest truckstop in Europe. As well as landscaping that is carefully designed to create natural buffers between the new homes, commercial zones and truckstop, a linear park will run through the centre of Waterbrook, creating a natural habitat for a wide variety of plants and wildlife
Announcing the management buyout, Darrell Healey said: "GSE Group is firmly established as one of the leading companies in the construction industry in Kent and the South East. It has continued to grow through some of the most challenging times the sector has ever faced and enters this new chapter of its history on a firm footing.
"The Waterbrook project has taken many years of hard work and determination to get over the line. With work having started on the site, I feel the time is right to take a step back and let Tony and Josh take the business forward."
Support for builders
In the case of GSE Plant Ltd, it too is located in Ashford, Kent, from where its plant team efficiently supplies clients across the county, as well as East Sussex, Surrey and Essex. This service also extends to external hire clients. Operating a £4.5 million portfolio of plant and machinery, GSE Plant Ltd supports groundworks teams for many of the region's small independent residential and commercial builders, independent builders' merchants, and larger main contractors. Plant offered by the division includes excavators, dumpers, dumptrucks, rollers, telehandlers and attachments, with maintenance and repairs of all equipment taking place in-house, ensuring that the highest levels of quality and reliability are upheld at all times.
Family business
Having joined GSE Group 20 years ago and having worked his way from a groundworker role through the ranks of the business to site foreman and site manager, before heading up the project management and contract teams, Tony Bowles has as good of an understanding of the business and its future potential as anyone. At the time of the announcement of the management buy-out, he stated: "I am looking forward to working with Josh, and to the opportunities and challenges ahead, especially having seen the company evolve over my 20 years within the business alongside our loyal office and site based staff."
Josh himself has more than ten years' experience in the construction industry, and has an unrivalled knowledge of the industry in Kent and the South East, having lived and worked in the region all his life. He added: "It is important to us that GSE Group remains a family business. Over the years, we have built a loyal customer base and an excellent reputation and Tony and I will give our all to continue that tradition."
GSE Building & Civil Engineering Ltd/GSE Plant Ltd
www.gse-group.com
Services: Civil engineering and plant hire services