With substantial backing, Guardian Oroshaza is in a strong position to supply the burgeoning Eastern European market
Top glass
With substantial backing, Guardian Oroshaza is in a strong position to supply the burgeoning Eastern European market
Hungarian-based Guardian Oroshaza, part of Guardian Industries' European arm, is the nations only glazing manufacturer and a leading authority on glass science. Forming a vital part of the Group's operations, the company is renowned for producing high quality float glass, mirror, and state-of-the-art basic glass for automotive purposes and thin glass for picture framing.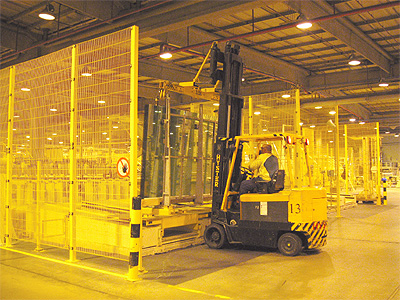 "The Oroshaza site produces 570 tons of float glass a day, measuring from 1.6 to ten millimetres in thickness," explains Oroshaza's charismatic plant manager Zsolt Erdosi. "In addition to fabrication, the site in Hungary also has some small processing activities, like glass cutting and grinding. The company also produces mirrors, and in August 2007, it began a coating production line. Our offering is truly customer friendly, flexible and professional and we are able to provide maximum service to our customers. We also stock and deliver a variety of Guardian's products such as SunGuard, ClimaGuard, Laminated Glass, Body Tinted Glass and Non-Reflective Glass."
Zsolt explains the recent development of Oroshaza's processes: "The new coating production process, which we have just recently invested in, will not increase the overall capacity of the facility, but it will increase plant's fabrication capabilities. At all of Guardian's plants around the world, there are 50 to 60 fabricating machines in total, which means the company can deal with the basic float glass in manufacturing products that have good architectural properties. This relates to products like insulated glass, mirrors, and interior design specifics. These glass finishes, of around two-millimetre thickness, are also useful in windshields for the automotive industry.
"We specialise in fabrication techniques such as coating, and at its other sites, Guardian uses processes like laminating, tempering, and mirrorbased lines. In Hungary, 30 million euros has been invested in new magnetron coating technologies, a process which forms very thin metal layers on a glass surface to increase its inherent insulation capabilities. This means that within an insulated glass unit, two types of glass can be used – a simple float glass, and a low-emission glass, formed out of seven layers of glass covered in a thin layer of silver. Using this low-emission glass reflects heat back into buildings, offering three times the amount of thermo insulation that normal glass structure can offer," Zsolt comments.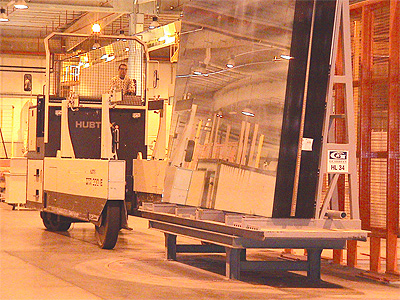 However, the demand for insulated glass has drawn on processes Guardian has used for some time, as Zsolt explains: "These insulation techniques are not exactly new processes, as Guardian has been producing glass of this ilk for the last ten years. Around 95 per cent of that insulated glass uses some form of the techniques that Guardian uses. This layer of coating is not visible on the surface – it does not affect the light transmission – it is almost invisible. This technology works on the infrared frequency, so heating costs can be substantially reduced.
"The company works on a wholesale process; it deals with customers that require a large quantity of glass," Zsolt states. "Guardian's philosophy is to provide glass-based solutions for customers on a mass scale. The emphasis is upon mutual growth between customer and Guardian, working together to achieve goals. The company's main customers are fabricators that are producing different products, such as insulated glass, windshields, and office building walls and windows. Other customers buy glass on wholesale, and produce their own fabricated products. Guardian sells around 30 per cent of its products in the domestic Hungarian market, with the remaining 70 per cent being exported to around 25 different countries across Europe."
Zsolt outlines the structure of Guardian's European operations, and how this benefits the Oroshaza site: "Guardian Europe is always around to provide overall support, as well as providing funding for expansion. Each factory has its own business unit, which sets its own purchasing, supplies, and sales prices, so independence within the company is an important factor, which also spreads to the flexibility of the customer support and service networks. This removes the need for a constantly opened dialogue with the European and US head offices. The Guardian Group's European division is itself split into five parts: Guardian Oroshaza deals with Hungary, Romania, Bulgaria and the ex-Yugoslavian countries. The company has a strong geographic location in dealing with all these countries demands swiftly – Guardian's factories are in a vital position to deal with the entire Eastern European market. To be a member of Guardian Europe gives the Oroshaza site great support and confidence within its market dealings. If the factory runs out of a particular product, it is straightforward to order the necessary goods from the company's sites in Germany, Luxembourg or Poland. Equally, any problems that may occur at one plant can be immediately supported by the work of another, giving Guardian flexibility within manufacturing. Guardian also utilises its company link in Spain for the delivery of semi-transparent glass (called SATINDECO). If the order is requested in Hungary, the company arranges for the necessary goods to be delivered by truck."
Guardian Oroshaza's position in Hungary puts them in the prime position to offer the highest level of service to its customers, as Zsolt reiterates: "The company has found success domestically because it is the only producer of glass in Hungary, with the closest float glass manufacturers being located close to Bucharest, Romania. This is Guardian's nearest competitor in this region. The company is favoured by customers because of the quality of its glass products, as well as the high level of service flexibility. For example, should a non-complex order come through, Guardian can guarantee next day delivery. The company is reliant on rail transport for delivery, so
it works round the clock to ensure deliveries are processed to optimum speed. Guardian also prides itself on its high level technical support and after sales service, as well as keeping its customers abreast of the new technological developments within the industry. The company liaises with its customers to continually offer them
service for all their glass requirements, utilising its extensive knowledge of glass techniques."
Zsolt attributes the success of the company to the following reason: "The employees at the company have been the decisive factor in the success of the Oroshaza plant, with some people working here for up to 17 years. The experience of these employees, combined with some of the more recent staff additions from universities, has ensured the competence of the company's practices," he concludes.