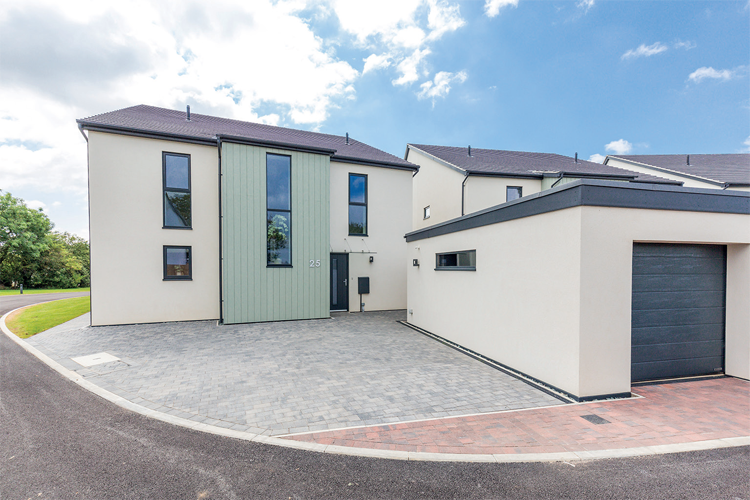 Innovating green
With a vision to build a healthy, sustainable future, Gusto Group is determined to minimise its carbon footprint and leave a legacy of which future generations can be proud
Steff Wright began Gusto Homes, now part of the Gusto Group with his brother at the sprightly age of 18 years old with nothing more than a wheelbarrow and a van. "I did a building diploma at college and when that chapter ended, I then started taking on small building jobs, and the business grew off of the back of that," he begins. Since then, the business has continued to grow from strength-to-strength.
"We purchased and converted an old shop and sold two of the flats that we developed, kept one of them and then did the same thing again; bought another property, subdivided it into three different units and then moved into barn conversions. We bought a few dilapidated barns and farm buildings locally to work on and then a few years later we did our first new build and realised that new build was actually a lot easier than an entire renovation," he continues.
The business changed course when talk of sustainability began to permeate the industry. "Prior to the Rio Summit, I was pretty much like every other builder; frustrated with the idea of more building regulations when they asked to increase the insulation in the houses. We had been so used to just chucking concrete floors down on stone without insulation. Then, once I started to get my head around the whole sustainability agenda, I realised other countries were building houses to a far better specification than we were doing in the UK," he shares.
This sent Steff into a wave of research to understand the best practices being implemented across the globe. "Then we bought a site, which we called Millennium Green. It was our first development built to an enhanced level that surpassed the requirements of building regulations," he says.
At the time, building regulations required a cavity of 50mm for insulation. However, Gusto Homes increased that to 150mm, and improved the performance of the glazing, while also installing thermal solar panels on the houses.
"We installed rainwater harvesting systems in the houses, as well as heating and cooling ventilation systems. These sorts of technologies were quite cutting edge 20-or-so years ago and certainly weren't being delivered on any sort of mainstream level, so as a small company trying to innovate, I think we were doing pretty impressive work," he says. He continues to add that the business has worked commercially without receiving any subsidies for its developments.
For Gusto Group, the future of the business is just as important as its history. Currently, the company is in possession of a 36-unit planning application for the Melton Borough Council in the East Midlands. "We have agreed to deliver this as a net-zero-carbon development, which will obviously cost more to deliver than the standard building regulations development and to fund the extra costs, Gusto are asking Melton Borough council to remove the requirement for affordable housing on the site," shares Steff.
The reason that Steff has strong beliefs about the future of sustainability is owed to the legacy that he feels every business should be leaving for the next generation. "I have four kids and the direction of travel for the way that we use the planet is not sustainable, and it is important that we start to understand that, especially when building new properties and then expanding that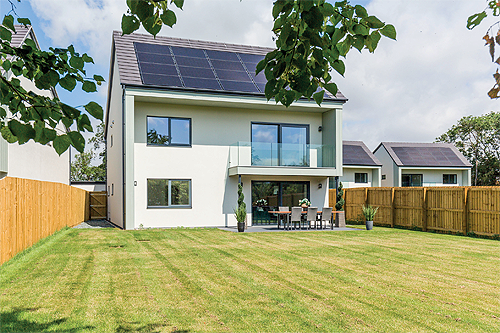 out to building new communities. It just makes so much sense, because it can all be done in a way that is going to minimise the damage the environment. We need help with this transition towards a zero-carbon world, but no matter what, we've got to do it – it's as simple as that," he declares.
Coupled with his sustainability values, Steff has also implanted care for the community within his company's culture. This can be seen in the sort of work the business takes on, as well as the supportive inter-dependence within his team. "As developers, we can really do it all. We buy land and design our developments, we have our construction company that allows us to build on our own sites using local trades, but above this we also have a non-profit community and estates company, which oversees the continuous management of the sites. The people that buy our properties will also get a share in a resident's owned management company for their development. This enables residents to manage the open space on the development, with support from the Gusto community and estates co. giving developments the ongoing support to not only manage the estate but also build the community," expresses Steff.
This is just one of the aspects that set the business apart. When it comes to open space across the UK, there are plenty of estate management companies, yet very few of them focus on developing the community aspect of the development. "This is another angle that we want to focus on and specialise in and so far, that is coming together fantastically," he says.
Looking further ahead, Gusto Group, which includes a manufacturing business called Rototek, is restructuring its management team for growth. "The group has grown to around 180 employees but has been run very much as a small family business. However, we are restructuring at the moment for growth. We're doing this because we want to move from our current position as a £35 million turnover company, to having the structure of a £100 million one. This is going to enable us to propel forward in our growth trajectory for the next five or so years," he shares. "We have an excellent team of people across all part of the business, and I am keen to empower them to take the business forward.
"Added to that, we are taking the group down the route of becoming a B-Corp, which is an accreditation that companies can sign up to that looks at every aspect of the business in terms of its impact on the environment, mental health and wellbeing within the company, and
its social impact. This, I believe, will push the business to look at a triple bottom line rather than just generating shareholder value," Steff expresses.
On the innovation front, the business is more determined now than it has ever been to pioneer the journey towards 2025 and achieve net-zero for itself. "We're putting our plan together at the moment that will enable us to achieve that carbon zero goal. It will definitely have an impact on the whole of our supply chain regarding the types of properties that we want to build and the materials we want to use alongside the performance of the properties on completion. One of the bigger Gusto Group challenges that we face is within our manufacturing company, Rototek Ltd, which is currently using more gas than all of the houses we have ever built. Our Rototek business manufactures a wide range of rotationally moulded products including sailing dinghies. We aim to transition to a unique type of manufacturing technology that will be electrically powered, and then we will use renewable electricity to power the manufacturing process going forward," he explains.
It is through these adjustments that Gusto Group believes in its capabilities to pivot and innovate in order to bring about positive change, however Steff claims that it is not only up to business alone to support the UK's drive to eliminating carbon emissions; everyone has to contribute. "For the last 25 years, there has been some resistance, but I think people are realising the importance of tackling the climate emergency and are going to make changes more so now than they would have done a few years ago," he says.
"We need to see a step change from the larger developers. As a small company, we have strived to push our boundaries when it comes to innovation over the past 25 years. As a result of that, loads of people are enjoying living healthy more sustainable lives within our low energy homes and communities. Without sites like that on the ground to learn from it is difficult for the construction industry to change and make a meaningful contribution to sustainability. The bigger developers have put so much effort into lobbying against change rather than actually embracing it and in my opinion, that is criminal," Steff states.
When the plan to make homes in the UK carbon neutral was first launched with the code for sustainable homes in 2006, the aim was to reach net zero by 2016 as its target year. However due to industry lobbying there was a push back against it and the code was scrapped. Steff admits that although the plan was not perfect, it was a great road-map to help guide businesses towards sustainability. "It was really upsetting for all of the planning and progress to then be kicked into the long grass because it gave the larger developers a way out that avoids implementing the measures required to meet that goal," he exclaims.
"Whilst it is important to understand the powerful lobbying which has delayed the improvements to the performance of new homes, it is also time for the industry to work together towards a zero-carbon future. As David Attenborough recently stated, we need to move beyond guilt and blame, and get on with the job in hand."
This is what is driving Steff to push Gusto Group to be leaders in green building and manufacturing. He is motivated to hit his target of a net zero carbon group by 2025 and is confident that residents living in Gusto Homes will enjoy the healthy, sustainable lifestyles they deserve.
Gusto Group
https://gustogroup.co.uk
Services: Residential developers