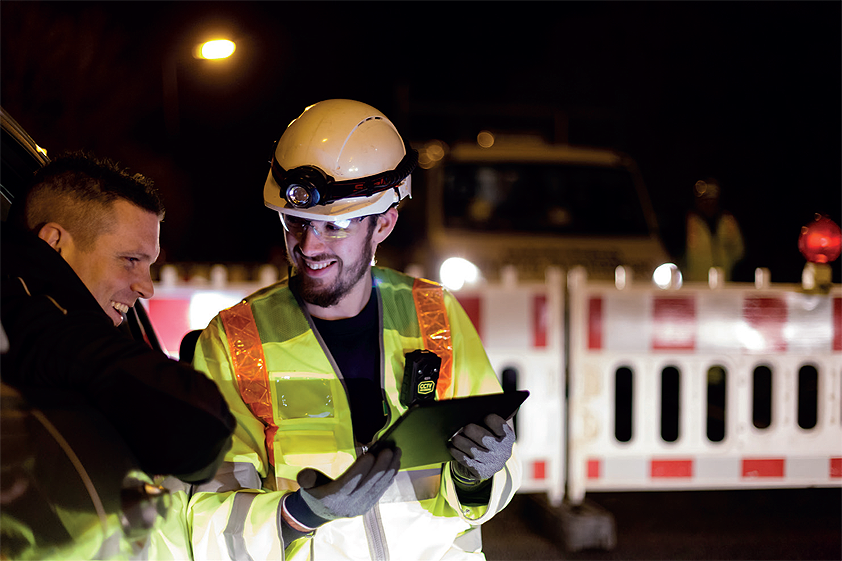 H W Martin (Traffic Management) Limited
Sustained results
In spite of the immense challenges posed to it in the last 12-to-18 months, H W Martin (Traffic Management) Limited enjoyed arguably its busiest ever year operationally – and in terms of tendering for work – in 2020
The last time that Construction & Civil Engineering spoke with David Shaw –Director at H W Martin (Traffic Management) Limited – it was the summer of 2019. It goes without saying then that, upon catching up with David in April 2021, a great deal had occurred in the intervening time for the national traffic management experts.
Commencing our conversation with a summary of what the past 18-months-or so have been like for the business, David immediately points out its ability to continue delivering strong,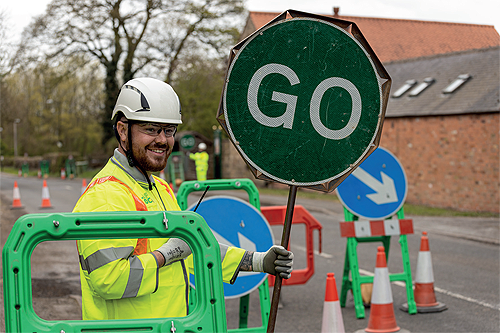 sustained results during an at-times highly challenging period. This has included its on-going work as part of its Construction Works Framework contract with Highways England. "We are looking to build on our relationship with Highways England over the next six-years, so a great deal of effort has been made in the last year or so to maintain our exceptionally high levels of performance in order to set ourselves up as being a supplier of choice in the years to come," David begins. "In the meantime, there are a few other exciting opportunities on the horizon for us that are enabling us to diversify our client base. Despite the obvious challenges of 2020 we're optimistic about the future."
The last six months in particular have also seen the company establish a new safety culture. "We have developed a safety culture that we are calling 'Safe by Choice'. It has been created collaboratively through engagement and consultation with some of the sectors most experienced subject matter experts, and it's designed to empower leaders at every level of our organisation," David confirms. "Central to this initiative is the continuous development of our people's interpersonal skills and behavioural maturity which will be done in association with our People Development Academy. This in-house training hub has delivered brilliant results for us over the years that have been critical to the successful growth of our business – because progress thrives off great people. We have also embarked on a partnership with the Supply Chain Sustainability School. Their extensive suite of learning resources is crucial to our personnel development programme and promoting our vision of an inclusive, sustainable and socially responsible sector. Teaming this with the personalised pathways we are planning for our people through Highways England's Road Academy, we aim to be investing in the sector leaders of the future."
Optimum balance
Of course, almost no conversation about the last 12-months can avoid the subject of Covid-19 and the impact it has had on various businesses and industries. In the case of David and H W Martin (Traffic Management) Limited, however, it is pleasing to hear how the company showed great agility, awareness and care in keeping its people on the front line safe and secure whilst maintaining the expected high levels of service. "Spring of 2020 really demonstrated the resilience of the construction sector and it was inspiring to witness the remarkable outcomes client groups and contractors can achieve when we collaborate and support one another," David continues. "These extraordinary circumstances can only be managed effectively through cross-sector collaboration. Our own evolving strategy during this time has depended on advice and recommendations from our clients and influential bodies such as the Construction Leadership Council (CLC).
"Ultimately, our priority is always our people, and we responded to the changes by rapidly developing and implementing new procedures, methodologies, and techniques, using the guidance and recommendations from the CLC, to keep everyone safe and secure. There were naturally changes that needed to be made in the ways that our people performed their duties, but we have always prided ourselves on being a very agile organisation, able to pivot quickly to respond to change or unforeseen situations with a health, safety and wellbeing centric solution. It goes without saying that bespoke measures, arrangements, and support has been provided for those employees in high risk and vulnerable categories.
"The health and wellbeing of our people is one of our central values and back in 2017 we invested in a number of solutions, such as access to a dedicated workforce wellbeing coach. Access to BUPA's suite of mental health services was added to this offering for all staff in 2020 to support them more proactively. Evaluating the effectiveness of these solutions has never been more important. And in the past 12 months our Health & Wellbeing strategy has been geared toward engaging with our teams to address any concerns and ensuring the resources provided have supported their individual needs." 2020 has also allowed H W Martin (Traffic Management) Limited to once again demonstrate its ability to respond with an effective, targeted solution when presented with a complex problem. "Our clients regularly reach out to us to support them in reaching their key goals and milestones. The A14 Huntingdon to Cambridge was no exception, and we were committed to supporting the A14 Integrated Delivery Team (A14 IDT) in achieving its ambitious 'open to traffic' date in 2020," David states. "The project is a complex mix of online and offline construction which inevitably required sophisticated traffic management solutions. During spring and early summer, we collaborated successfully with the IDT to develop solutions that optimised productivity for the final push required to deliver the project goals. I firmly believe that an effective temporary traffic management solution is underpinned by excellent collaborative working, with an effective logistics and resource plan that enables the optimum balance between efficient journey times and productivity, whilst keeping everyone safe and well."
New facility
In addition to coming off what has been one of the business' busiest years operationally in its history, David also reveals to us that 2020 was arguably its most active from a bidding perspective also. So, what factors have been key to juggling its workload so successfully? "Where we have excelled in recent times is in mobilising our experienced, direct workforce in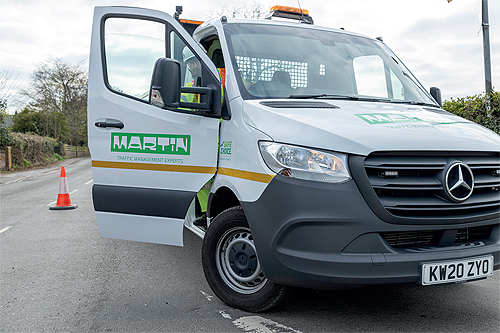 different locations in a fast, effective manner, and it is these people – and their work and dedication across the UK – that we always look to try and celebrate," he says. "It is they who have really shone for us over the last 12-months, and together they have reaffirmed to myself and others how fortunate we are to have such a fantastic team flying the flag for H W Martin (Traffic Management) Limited."
The efforts of the company's people have also resulted in the company being shortlisted for – and indeed securing – several notable awards in recent months. One of note was presented to H W Martin (Traffic Management) Limited from the Highways England Awards 2020, when it was named as a winner in the sub-category of 'Customer Focussed Network Management'. The awards highlighted the power of collaboration and teamwork, which are vital components in allowing the company to plan traffic management through the eyes of road users to improve their collective experience.
A key message that David is also keen to share is the fact that the company continues to build for the future, investing in not only its people but also its infrastructure. For example, in the last several months, it has opened what is its tenth facility, this one in the West Midlands. "This new facility will exist predominantly to support our clients in the delivery of projects in the Birmingham and wider West Midlands areas," David details. "Naturally, we have designs on continuing to grow organically as an organisation, but we also want to remain local to our clients, whilst at the same time minimizing the amount of travel that our people and teams have to make in order to deliver our services. This in turn creates a number of benefits, not least of all by aiding in the generation of local employment, and by helping to reduce our carbon emissions and environmental impact."
Developing relationships
As the business looks towards the future, David highlights some of the ways that H W Martin (Traffic Management) Limited hopes to build further upon its successes to date. "There are a number of large projects throughout the country that we are looking forward to getting off the ground in the coming months," he says. "From a company perspective, we are committed to developing and strengthening the relationships we have with our diverse client base, delivering key infrastructure projects that will support economic growth for UK PLC." David continues: "We are excited about the development of automated and digital temporary traffic management techniques in the forthcoming years, there is a strong desire for cross industry collaboration. As we've seen on previous occasions the sector really thrives when we work together to create a range of innovations and initiatives that when weaved together, enable us to evolve our techniques and methodologies into safer, smarter and more efficient solutions.
"We also believe that key to our future growth is our ability to give our clients solutions that are based on reliable, up-to-the-minute data, as opposed to those based on forecasts or estimates. This forms part of our drive to get traffic management ever-more embedded and aligned to our client's digital initiatives. We at H W Martin (Traffic Management) Limited are unique in that we look at the road user as being a customer of our clients, and we are driven by the desire to provide the best solutions – delivered in the most efficient way – so as to cause the least amount of disruption to the daily lives of said customers."
At the time of our conversation with David, the company had finalised its strategy for building upon its strong relationship with Highways England. The intention is to support the organisation with its Road Investment Strategy for the second five-year road period (RIS2). It is hoped that if successful this strategy will make a defining impact on what the coming years will hold for H W Martin (Traffic Management) Limited. "We are confident that we have brought together all the important lessons, knowledge and experience that we have gained in recent years and continue working toward Highways England's ultimate vision of a safe, reliable and efficient network for everyone. We are all very excited about what the future holds for H W Martin (Traffic Management) Limited."
H W Martin (Traffic Management) Limited
www.hwmartin.com
Services: Traffic management