H W Martin (Traffic Management) Ltd
A key part of the hugely successful Martin Group of companies, H W Martin (Traffic Management) Ltd delivers unparalleled service and cost effective solutions to all of its clients, by targeting projects of all degrees of size, complexity and capital investment
Managed success
A key part of the hugely successful Martin Group of companies, H W Martin (Traffic Management) Ltd delivers unparalleled service and cost effective solutions to all of its clients, by targeting projects of all degrees of size, complexity and capital investment
When Harold Martin established a small commercial fencing works business from his home in the village of Brinsley, Nottinghamshire, in 1972, he set the wheels in motion for the creation of what would come to be known as The Martin Group. Today, more than 45 years later, a certified workforce of more than 1000 men and women help to deliver public and private works contracts and support services, from design, through to build and onward maintenance for the transport and waste recycling infrastructure of the UK. Working across a number of specialist industry fields, the Group now has 16 operations centres located across the UK.
Formed in 1988, H W Martin (Traffic Management) Ltd was created to provide other companies within the Group with an in-house traffic management service. However, thanks to a programme of organic and controlled expansion growth, during which it concentrated its efforts on providing industry leading performance in terms of safety, quality, reliability and service delivery, it has evolved into the UK's largest independent traffic management provider, with a current turnover of approximately £45 million.
"In addition to traffic management, we are able offer an integrated suite of contemporary services, including temporary road markings, temporary vehicle restraint systems, variable message signs,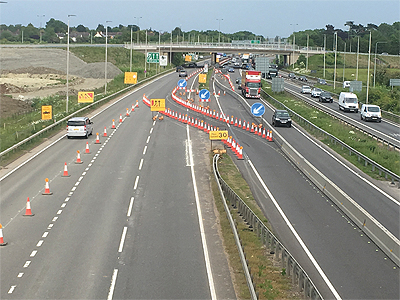 TASCAR, CCTV and vehicle recovery to provide a one-stop-shop for our clients," begins H W Martin (Traffic Management) Ltd's Managing Director, Grahame Beswick. "Furthermore, early contractor involvement by our experienced and qualified operational managers and TTM designers has ensured our integration early into project teams to embed our expertise, and to ensure selection of the optimum traffic management solution whilst supporting our clients delivering to Highways England's three key imperatives."
As one can probably imagine, with its depth of strengths and expertise the company has been involved in countless projects over the years. "Some of the biggest projects that we have worked on recently have included SMART motorway projects, managed motorways, complex infrastructure undertakings and asset support contracts," Grahame explains. "All of these are multi-faceted and include the operation of a regionally based logistics hub to provide skilled resources and specialist vehicles to support our client's dynamic programmes with agility and pace."
Partner of choice
In 2017, H W Martin (Traffic Management) Ltd was selected by a joint venture of the UK's four largest highway contractors to deliver the traffic management for the A14 Huntingdon to Cambridge Widening Contract, the largest single TTM contract ever awarded. The company's performance to date on this hugely important project has resulted in numerous awards and accolades, both from the joint venture team and externally, and further cements the reputation of a company that has also been made the partner of choice to deliver other complex schemes such the improvement of the M1 J19, the A21 Pembury Widening and the M4/M5 managed motorway.
"People drive our business and from an early stage, we recognised the importance of a skilled, competent and dedicated workforce to delivering our key objectives," Grahame states. "In 2002, our specialist traffic management training centre was formulated by promoting a key member of our workforce, Kevin Richardson, to National Training Manager which resulted in the company receiving a National Training Award in 2007. From continued investment in training evolved our Capability Academy to ensure that our personnel are not only highly skilled traffic management specialists, but now undertake a professional, public facing ambassadorial role on the strategic Highway Network, something which differentiates us from our contemporaries.
"To ensure we continuously improve the skills and competencies of our personnel, the Academy team identify training personnel requirements and, if not self-delivered, training delivery partners. The Academy facilitates progressive careers at H W Martin, which has enabled us to 'grow our own' over many years. Some 70 per cent of our management team have been nurtured from grass roots, having come to us with no previous experience, and through education and training our Academy provides greater capacity within our business, which enables us to diversify the skill sets of our people."
Strong commitment
As well as continuously investing in its people, the company also maintains a strong track record for doing the same with its infrastructure and facilities. "H W Martin continues to invest around £3 million per annum in its specialist vehicle fleet, consolidated by its acquisition of King Highways, which included Safety Vehicle Hire, the recognised market leader in the provision of Impact Protection Vehicles," Grahame says. "Meanwhile, following the success of securing Highway England's Construction Works Frameworks in Area 13 (NW) and 14 (NE) during 2017, we purchased freehold premises at Widnes and Chester-Le-Street respectively to support the regional needs of our clients and further strengthen our commitment to providing sustainable local employment."
Evolve and lead
For the latter half of 2018, the company's aims are much the same as those that have contributed to its success in the past. These include keeping its people safe at all times, continuing to deliver its commitments, fulfilling its people's development through its Capability Academy and secure new opportunities that it is strategically targeting. "The UK government's Road Investment Strategy will continue to provide increased opportunities for the highway industry, particularly the traffic management sector," Grahame enthuses. "This coupled with other major infrastructure schemes, such as HS2, will impose further capacity requirements for skilled and competent personnel, specialist vehicles and equipment, which we are well placed to deliver.
"In the meantime, we will continue to develop the business sustainably by investing in TTM solutions that will work in synergy with how the road network will be used in the future. In understanding this we can also invest in the next iteration of people development by integrating new technologies, thus supporting the developing needs and aspirations of our customer base. As we have always done, we will evolve and lead the way in training and upskilling our people to ensure that they have the skills and expertise needed to continue providing industry leading performance in our sector."
H W Martin (Traffic Management) Ltd
Services:Specialist traffic management