H W Martin (Traffic Management)
Prioritising safety, customer experience, and outstanding service delivery, H W Martin (Traffic Management) is developing solutions that upskill its people, reduce the company's environmental impact, and take advantage of the Industry 4.0 revolution
Managing the future
Prioritising safety, customer experience, and outstanding service delivery, H W Martin (Traffic Management) is developing solutions that upskill its people, reduce the company's environmental impact, and take advantage of the Industry 4.0 revolution
In order to remain the UK's largest independent provider of specialist traffic management on motorways and high speed roads, H W Martin (Traffic Management) – part of the highly-successful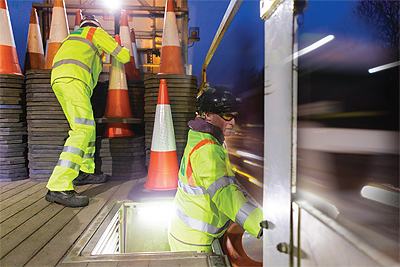 Martin Group – is actively seeking to incorporate innovative solutions into its service offering. Keen on addressing the most pressing challenges almost every industry has to face as regards environmental sustainability, also looking to make the most of the opportunities provided by digital technology, the organisation has got a number of initiatives underway as of late. Following their successful implementation, H W Martin (Traffic Management) is confident the company's expertise will grow further and it will become an even more sought-after partner in the market as the management of the strategic road network, in particular, becomes digitally enabled.
Earlier this summer, the business became the first traffic management organisation to scientifically trial electric vehicles for temporary traffic management (TTM) in conjunction with Highways England and the University of Bath. The five-month trial period is set to conclude in November, its goal being to ascertain what proportion of traffic management works can be completed with an electric vehicle and encourage the reduction of certain activities' environmental impact within the sector.
"We are looking at a diverse and detailed dataset from the trial and this includes data from two electric vehicles (the trial vehicles) and two diesel vehicles (the control vehicles). The dataset includes details about the vehicles and their usage (charge, range, speed, throttle, braking, load being carried, use of heaters, light, and other ancillary systems); the charging points, i.e., how long they are charged for, where they are charged, and any challenges that they encountered; and the drivers and their behaviour," explains David Shaw, Director at H W Martin (Traffic Management).
"The trials are still ongoing, but they have already allowed us to understand how the vehicles compare to the performance levels detailed by the manufacturer and how our unusual usage scenarios for traffic management affect their performance," David adds. "We have also had our thoughts about the influence of driver behaviour confirmed by the initial stages of the trial. We are convinced that this is the most influential characteristic, outweighing the load carried and the weather conditions. With the optimum routing, driver behaviour, and vehicle load, we have found it possible to reach 95 per cent of the stated range."
While it seems unrealistic to conduct every traffic management operation in a carbon-neutral way in the immediate future, H W Martin (Traffic Management) holds that through consistent efforts, it can increase the percentage of activities done with zero-emissions. To this end, the company is committed to regularly renewing its fleet. "Over the past two years, we have invested around about £2 million in the most environmentally-friendly vehicles that we could get, and this is an important element of our CSR that highlights our willingness to constantly move forward with our initiatives in the area," David comments.
Extensive training
Safety, customer experience, and delivery are the three tenets of H W Martin (Traffic Management)'s proposition. "This is due to the specifications of traffic management, which make the job high-risk, time-critical, and often involving complex tasks, but also due to our understanding of it being a more customer-facing activity, we have taken it upon itself to provide exclusive, industry-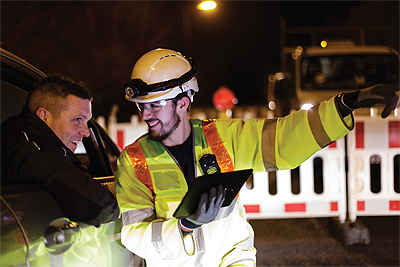 leading training to our workforce.
"To deliver leading performance in safety and customer service we must ensure our personnel have the full range of practical, technical and customer interaction skills," David observes. "To enhance the skills of our frontline leaders and equip them with a broad range of leadership skills, we have developed our Formanplus training to provide a supplementary training syllabus to the Sector 12 training for Traffic Management."
2018 saw an extensive rollout of the training across the country. Foreman Plus is characterised by four elements – Leadership, Organisation, Communication, and Knowledge. These encompass a wide range of skills, which the operatives need to master, in order to handle the various types of challenges that might occur during the job. Among the skills that are being bolstered are mentoring, time management, planning and programming, data collation, effective briefing, conflict management, and customer service. Notably, the latter three demonstrate H W Martin (Traffic Management)'s understanding of the service it provides as being customer-facing and creating a positive perception of its clients to the roaduser.
Going digital
David continues: "Another important feature of our training programmes is the use of digital E–Learning tools whenever possible. We have supplied our staff with tablets where they can access modules specifically formulated for them. By doing this, we can ensure that they are up to speed with the requirements they need to meet and aware of certain methodologies, policies and processes. It is also a way to provide continual skills refresher training aligned to the classroom-based sector 12 training syllabuses developed and administered by Lantra Awards – the governing body for training in our industry.
"Digitalisation presents many opportunities for the sector and we certainly are not confined to utilising IT solutions only in our workforce training," he points out. "For example, it also allows us to provide our planning, design, and commercial information to our clients in-real time. Furthermore, with the requirements of BIM stretching into the temporary works sector, the digitalisation of our systems and processes will enable us to provide that single source of the truth in a common data environment."
To David, there is no doubt that traffic management is bound to become an industry with very different requirements from the ones that exist today. In his opinion, it will be a lot more data-driven and automated, which will open the sector up for a greater number of young people who will be able to apply their IT savvy to an industry they do not necessarily see as a stimulating or progressive career at the moment.
"We have to evolve the sector so that it becomes appealing to a much broader pool of talent and attracts more participation in the sector from groups of society who are currently underrepresented. The stark reality facing the sector is there is unlikely to be the quantity of future employees available to maintain existing levels. The sector needs to evolve so that it can deliver the same with less; the people of the future will require additional skills and knowledge and those in post currently will be upskilled to meet the needs of the future."
Maximising productivity
H W Martin (Traffic Management)'s strive to streamline its operations spreads beyond the digitalisation efforts undertaken by the organisation. Recently, it opened a new facility in Peterborough with a view to facilitate its logistics processes. The new site is fully bespoke, allowing the loading of equipment efficiently is enhanced by fully adapting a manufacturing and production line ethos. Andy Graham (National Operations Manager) explains: "Traffic management is a logistics-based operation and, therefore, speed is key to maximising productivity for ourselves and our clients. Our new facility has enabled us to streamline the number of yard staff required to load vehicles, but, crucially, we have we have upskilled to them Temporary Traffic Management front line personnel and increased the capability and capacity in the East of England."
Taking a look at the future, David insists that improving safety performance will remain on top of the agenda for the company. "Meanwhile as automation and digitalisation develops, we still have to manage delivering an excellent service to our clients whilst ensuring safety is our primary focus. Our personnel will continue to operate within a high risk environment in the foreseeable future, so of course, we will continue developing solutions that remove or significantly reduce the risks present within those environments."
H W Martin (Traffic Management)
Services: Traffic management