Halspan has developed the most comprehensive offering in the supply of fire and non-fire rated door components, complemented by an unrivalled focus on safety and quality, and an unswerving commitment to continuously achieving third-party certification from approved bodies
To the core and more…
Halspan has developed the most comprehensive offering in the supply of fire and non-fire rated door components, complemented by an unrivalled focus on safety and quality, and an unswerving commitment to continuously achieving third-party certification from approved bodies
The introduction of 3-layer particle board door blanks in the 1990s revolutionised the world of timber door manufacture. Thanks to the relentless entrepreneurial spirit of John Martin, who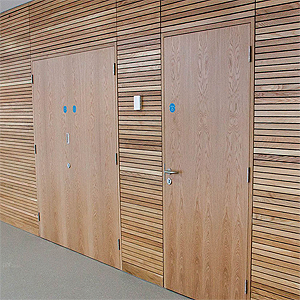 founded Halspan in 1999, an entirely new way of constructing doors using these pre-tested blanks was developed.
"John, who is now our Chairman, was the man who instructed the original fire test in 1995 and went on to establish the company four years later to promote the fire door blank," begins Halspan's Managing Director, Andrew Wallace. "Halspan was also the first company to offer a full range of door testing – we didn't just test one door blank to see whether it could be used as a fire door, we tested every conceivable configuration and mode, providing customers with complete peace of mind."
Two decades later, the organisation has invested millions of pounds in testing, demonstrating its commitment to a rigorous and ongoing programme of third-party certification designed to ensure its products continue to meet the changing demands of regulatory bodies worldwide. Having continued to explore and develop new products, today, Halspan is a recognised global leader in the supply of quality door components – from fully-certified fire door blanks and cores, seals, and hardware, to steel door frames, glass, and more.
"A lot has happened since we launched Prima – 'the original door blank'," Andrew continues. "After starting life in Bo'ness in Scotland, we've opened offices in Stansted, Dubai, and Linlithgow, won business all over the world, completed in excess of 650 product tests, and continued to extend our market-leading range to meet our customers' needs. One of our key strengths is the fact that our 3-layer particle board products are all sourced from and manufactured at a single mill, whereas our competitors use several mills. This single-source supply ensures consistency of product quality and integrity, which is paramount when it comes to door fabrication processes and reliable fire-resistance performance," he explains.
Growth areas
Owing to a knowledgeable customer base that understands the critical need for fire protection provision in buildings, the UK and the Middle East have been a source of good growth for Halspan in recent times. "While both could now be considered mature markets, they offer consistent income streams for the business, as we serve the varied requirements of specifiers, regulators, fabricators, installers, insurers, and building owners," Andrew comments. "In addition, the company's continuing growth is fuelled by the exciting potential in emerging markets, such as India and Egypt. In these countries, we're seeing the implementation of stricter regulation regarding fire protection, as well as the adoption of more automated techniques, both of which increase demand for our products."
Quality assurance initiative
In fact, the demand for greater consistency and quality in door manufacture from the Indian market has led Halspan to open its newest branch in the country – in Gurgaon, Delhi. The official opening took place in September and was attended by Andrew himself and Technical Director, Rhodri Williams. The modern office space is believed to offer the ideal environment for the company's newly appointed Business Development Director, Ashok Malav, to grow the business and bring Indian clients up to speed on the benefits of Halspan's product range.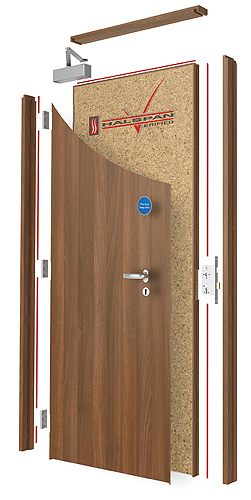 "Another recent infrastructure development was the opening of a new training facility at our Stansted office," Andrew continues. "The remodelling works involved the construction of a purpose-built training room and new office space to accommodate our growing technical, compliance, operational, and sales teams. The training centre will enhance our customer service offer, as we meet the growing demand for training from clients, specifiers, distributors, and fabricator customers, especially in light of the Grenfell Tower inquiry."
Following Grenfell, the construction industry is being urged to act on the lessons learned from the disaster and to adopt a lot more stringent fire safety measures. In order to ensure that the highest standards are met throughout the entire door supply chain – and not just the production, testing and supply stages – Halspan is just about to launch an industry-first quality assurance initiative called Halspan Verified, which will guarantee quality is maintained from specification and manufacture to installation and ongoing maintenance.
"It's a much-needed initiative that covers the entire supply chain, answering the call for a more joined-up approach to regulatory compliance in which all the partners in a supply chain take accountability for the delivery of quality doors," Andrew points out. "Complementing existing third-party certification, Halspan Verified provides a verification scheme for the supply and fabrication of door components, as well as tools and guidance for the installation and ongoing maintenance of doorsets and door assemblies."
Company rebrand
A major milestone for Halspan, 2019 has been an opportunity both to celebrate the many achievements of the past 20 years and to develop a new vision for the business, underpinned by a set of core values that will guide the company in the future. "Along with all this year's other developments, we've undergone a rebrand that included the creation of a new logo and strapline that reflects our extended and evolving offering: Halspan to the core and more… We've also launched a brand-new website. As well as showcasing our full product range, the website includes pages tailored to our different audiences, sections on our vision, mission, and values, and a host of useful technical and other resources that will make working with Halspan even better," Andrew adds.
"Looking to the immediate future, we expect existing markets to continue to deliver steady income throughout 2020. Meanwhile, we'll be focusing on developing emerging markets like India and Egypt. To us, the way forward has always involved commitment to innovation and the development of products in the fire and acoustic sectors that offer true excellence, in line with Halspan's vision and mission," he concludes.
Halspan
Services: Quality fire and non-fire rated door components