Hamilton Court Developments
Hamilton Court Developments blends pioneering design with the needs of modern living to create outstanding residential and commercial buildings in the heart of London
Living and breathing creativity
Hamilton Court Developments blends pioneering design with the needs of modern living to create outstanding residential and commercial buildings in the heart of London
Run by development mavericks, Hamilton Court Developments (HCD) has quickly distinguished itself from its peers on London's construction scene. An uncompromising emphasis on achieving the perfect synthesis between a building's aesthetically pleasing view and its functionality, has become an unmistakable trait of HCD during the first six years of the company's existence.
"Our philosophy revolves around creating fantastic designs that give an impressive appearance to our buildings, whilst ensuring that the units are also excellent places to live. We are not afraid to take our time when designing a property, just because we want to make sure that the entire layout works seamlessly, thus providing the future tenants with a lovely abode," expounds Jonathan Ellis, Founder and CEO of HCD.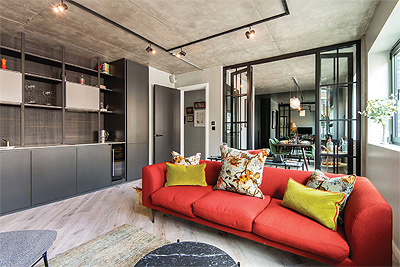 To keep the fountains of creativity flowing, Jonathan and his team keep their eyes peeled at all times, following ongoing construction trends closely and being keen to get hold of new innovative products that might be incorporated in some of the company's developments. Jonathan adds: "We travel a lot, attending different shows around the world where new products and developments are being presented. One such journey inspired us to use a specific type of brick slips for one of our schemes in Camden, so it is really all about having an open mind about what may work for us and knowing how to fit it into our buildings."
Bold choices
Since 2013, HCD has compiled a respectable portfolio of completed projects in the Central London area. This includes the company's largest development to date – that of Canterbury House on Canterbury Road, which entailed its conversion into 23 apartments, whilst retaining the building's charming Victorian façade.
"If I were to single out a project where we have truly excelled in our design skills, then it must be the work we have done on Curtain Road in Shoreditch," Jonathan remarks. "The property is a collection of one-, two-, and three-bed apartments and showcases nuances and features that are rarely seen in residential developments – from the exposed concrete to the high-level cisterns. In addition, the hand-made bricks we used from Petersen bring extra character to the building," he adds.
Having recently overcome one of the biggest challenges associated with development in Central London – namely, obtaining planning consent – HCD has started work on what promises to be the business' most innovative project to date. "We are all brimming with excitement about our latest site at Hackney Road where we are going to apply a whole lot of creative practices that will make the property stand out from our previous works," Jonathan enthuses.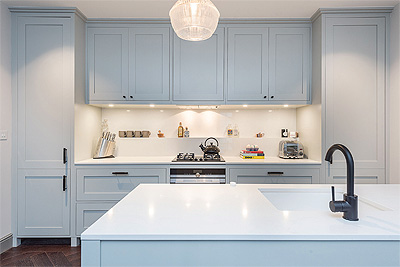 "There is an apparent drive across the construction industry towards using more sustainably-sourced materials and we are trying our hardest to utilise either recycled materials or such that are sourced from local suppliers," he goes on. "For the Hackney Road project, we are looking at laying a natural rubber, instead of timber floors, which will be a very bold move, as it will create a very different look to what is perceived as conventional. But we have always been known for our love for the original. Furthermore, we are planning to leave the concrete ceilings exposed and that will be another element of the interiors that will turn the nine-apartment development into one of the most striking constructions in the entire Hackney area."
Local suppliers
Advancing the previous point he made about HCD's willingness to integrate sustainable solutions into its operations, Jonathan also highlights the developer's eagerness to collaborate as much as possible with local craftsmen in the areas where it is present. "The Hackney Road development provides a great example in this regard, too," he says. "Both the flooring specialists and the kitchen and wardrobe suppliers we are going to work with are based on Hackney Road, almost directly opposite the site. Similarly, the bathroom worktops we are planning to install will also be supplied by a company from East London. A lot of it comes down to understanding your area and we are really looking to work with local experts, rather than casting a net farther and wider, working with anyone and everyone just to drive the budget down."
While HCD's general approach to development is not set to undergo transformative changes in the future, the company has now identified a new business area that could allow it to expand its overall proposition. Jonathan elaborates: "We have launched two services, Artform Project Management and Artform Construction, on the back of a growing number of requests we have received from smaller developers or private individuals to manage their buildings on their behalf and maximise their value. It looks like an interesting opportunity for us where we have the edge over traditional project management and construction companies in that we have already gained extensive experience of managing our own properties and learned how to take responsibility for their development."
It will be safe to say that, six years after its establishment, HCD has made a name for itself in arguably the most prestigious region a developer can wish to work within. Notwithstanding the stringent process of obtaining planning permission in Central London, the company has been able to earn the trust of local authorities with its ravishing designs that reveal the flair it has for interpreting the history of a site and its surrounding architecture. Sticking to its core principle of living and breathing creativity, HCD looks poised to continue building upon its fame.
Hamilton Court Developments
Services: Residential and commercial building development; project management; construction