The roots of Hasslacher Norica Timber can be traced back overa hundred years to a small rural wood processing company started by Jakob Hasslacher
Strong roots
Innovation, sustainability and quality are at the heart of Hasslacher's vision to be a leader in the timber industry
The roots of Hasslacher Norica Timber can be traced back overa hundred years to a small rural wood processing company started by Jakob Hasslacher. Today the company has grown to be one of Austria's largest specialists in wood engineering, operating across seven locations and providing jobs to over 900 people. People are central to the business for Hasslacher and this can be attributed to the fact that it is still owned and managed by the founding family. The company specialises in the production, preparation and processing of sawn, planed and glued timber, as well as pellets,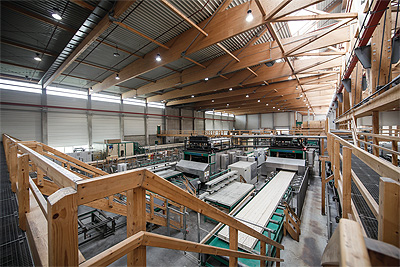 panels, and pallets for the global market. A commitment to environmental sustainability also sits at the heart of the business, majorly informing the company's approach to its operations. The company is also a producer of green energy – combined heat and power, solar, photovoltaic and hydropower.
Looking forward, Hasslacher aims to maintain its position as a leader in the timber industry through continuous development of innovative approaches to wood usage and construction techniques.
A major part of Hasslacher's operations is its timber construction systems. It is able to utilise its extensive range of expertise, experience and a diverse product portfolio to develop unique and innovative solutions to any design. So far these systems have been successfully applied in bridges, hotels, warehouses, sports halls and residential housing. Notable projects include building the world's biggest chair in partnership with furniture manufacture XXXLutz, the iconic wave structure at the Austria Center in Vienna and the distinctive Mountain Hotel in Malta. As well as these, the company has also helped manufacture timber systems for passive houses, office buildings and a number of industrial facilities including warehouses, retail centres and sports halls.
In addition to expertise, part of how Hasslacher is able to achieve this diversity in systems is its continuous commitment to innovation. The company is always looking for new processes and technologies it can use to develop and produce some of the world's most advanced timber products and systems. In order to achieve this its research and development team works closely with a number of experts and organisations.
Of significant note with regards to innovation is the company's development of cross-laminated timber (CLT) systems. Investment in a Kallesoe CLT press means that Hasslacher has access to the most efficient machine on the market for the production of prefabricated wall elements. Hasslacher's product, CLT NORITEC X-LAM, consists of solid, multilayered panels that can be used to produce prefabricated wall sections, particularly applicable to the residential industry. The unique physical and mechanical characteristics of CLT means it has exceptional thermal insulation properties, can transfer forces in several directions, and provides good sound installation as well as earthquake and fire safety. These properties make it ideal for fast construction. With the rise in demand for environmentally friendly buildings and timber designs, the use of CLT is a rapidly growing area in the timber industry at the moment.
For Hasslacher, the efficiency supplied by Kallesoe's press and the ability to deliver CLT, glued laminated timber, structural frames and cladding make the company a very strong player in this emerging market. This strength is represented by a number of large contracts to supply the vast European housing market in 2015.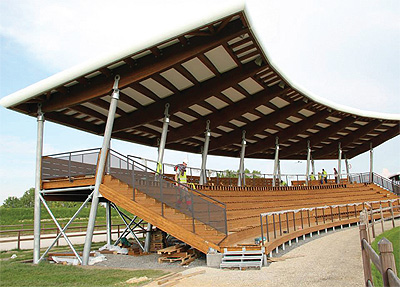 At the heart of Hasslacher's innovative vision is a focus on the sustainable use of wood as a renewable building source. The company prides itself on its sustainability policy making sure it uses 100 per cent of the raw wood material it takes from fully managed forests in Austria. All sawn timber is used, either turned into one of the company's products, or integrated into a construction system. Bark is burnt in biomass power plants and converted into organic heat and green electricity that is used both in the company's own facilities for drying processes and also to heat nearby homes. Sawdust waste is processed into pellets that can then be sold on for industrial use, and photovoltaic power provides electricity for 750 households.
In addition to its responsible approach to the processing of wood, Hasslacher has two biomass CHP plants that turn 180,000 tonnes of biomass into green energy a year in an environmentally friendly way. Heat produced from these plants is used in the natural drying process of timber, and excess is supplied to the surrounding area to provide green heat to local residences. Maintaining a relationship with the local area appears to be a big part of what Hasslacher aims to do, this is not a surprise considering the nature of the family owned company that holds employees in high regard. Aspart of its core values Hasslacher commits itself to providing a comfortable and supportive working environment, rewarding high performance and providing training and career progression opportunities. With 900 employees the company is a large part of the local economy and targets its own economic success not only for the company's long-term existence but also for the prosperity of the region.
Hasslacher's future vision places it as the leading complete supplier to the timber construction industry. It aims to get there through constant innovation and adherence to exceptionally high quality standards. To date, the company has used this approach to develop a comprehensive and sturdy product range. A strong year in 2015 in the European housing market will allow it to develop its project portfolio, and a confident hold of the CLT market looks set to provide it with more opportunities. Ultimately, a strong integrity and commitment to its values will put Hasslacher in a strong position to achieve its vision.
Hasslacher Norica Timber
Services: Wood products and timber construction systems