With more than 120 years experience in material handling equipment, Haulotte Group has become the European leader in its field
Platform for growth
With more than 120 years experience in material handling equipment, Haulotte Group has become the European leader in its field
Focused on continuous improvement in the lifting equipment creation field, the group provides customers with a broad range of over 60 models to meet all unique requirements. "Haulotte Group began as a crane company at the start of the last century and remained focused on cranes until the 1960s when it became more of a service provider. Throughout the 2000s, until the economic crisis in 2007, we extended our operations worldwide and now have 20 facilities all over the world as well as major subsidiaries," begins Stephane Hubert, European sales and marketing director at Haulotte Group.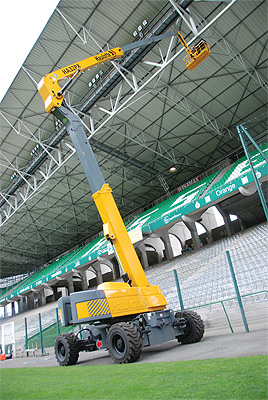 He continues: "In 2007 we achieved a turnover of 800 million euros, however once the crisis hit we had a big downturn with 2010 being our worst year for the access platform business. Since that difficult time we are now back on trend, with a turnover of 355.7 M€ for 2012, we are in the top three worldwide giants of the active platform business and have between 20-60 people working on site at each of our locations where we offer services such as repairs, training and after care. Our work is divided across four major regions, North America, Latin America, Europe and Asia-Pacific, a structure that illustrates our vision for 'customer proximity.'"
With a distribution network of 20 subsidiaries and offices based in strategic markets around the globe, the ISO 9001 certified Haulotte Group has coverage of more than 100 countries and the facilities to provide the best possible product solutions to its partners and customers. "We have six different factories, three of which are in France, one in Romania, one in China and one in the US; because we work in a commodity driven market, we believe innovation should be focused directly on the benefits of the end users and what you can provide to them, as well as on the optimisation of the Total Cost of Ownership (TCO) for our key customers the Rental companies," says Stephane. Furthermore, by working closely with rental firms, Haulotte Group is provided with accurate information from professionals that use its products; thus enabling continued improvements that can further meet the requirements of its diverse customer base.
Returning customers for the group include military forces located around the world who require a broad range of high quality equipment, such as earthmoving equipment, telescopic handler and aerial work platforms (articulated and telescopic booms, scissors, vertical masts). To meet specific military requirements, Haulotte Group has an R&D department where it can develop tailor-made solutions. Designing its products to be user safe, cost-effective, easy to maintain and ready for future operations, the group is committed to offering customers total reliability and efficiency.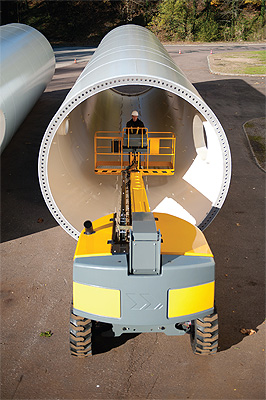 The group's most recent innovation, the telescopic boom HT67 RTJ (HT23 RTJ: name for ROW) offers the best performance in its class and breaks records at all levels. With a platform working height of 73ft5in (20.5 metres), a horizontal outreach of 60ft (18.3 metres) (an increase of approximately three foot compared to industry standards), optional dual load capacity that offers a maximum lifting capacity of 450 kilogrammes and an incomparable lifting speed of just 56 seconds to reach full height, the HT67 RTJ (HT23 RTJ) telescopic boom is an incredible achievement that is already generating positive attention.
"The new telescopic booms HT61 & HT67 RTJ (HT21 & HT 23 RTJ) are remarkable products that are probably one of the best rated by our customers. A heavy-duty machine with an automatic differential lock, it has a high rough terrain capability, a high level of precision and control and highvisibility. They are the first machines to have the new Haulotte modular basket, which makes it possible to replace the damaged component instead of the whole basket. The maximum height is the best ever and it is a cost effective option on the market as well; it an outstanding machine that has achieved worldwide interest with strong success from users," enthuses Stephane.
Due to be launched at the ConExpo-Con/Agg trade show in Las Vegas in March, the HT67 RTJ (HT23 RTJ) will be one of a range of products to be exhibited by the technically innovative group. "We see strong potential in the US market as the country grows and begins to recover from the economic crisis; with the
ConExpo-Con/Agg trade show coming up we anticipate a lot of interest from companies participating. Throughout 2014 we aim to boost our network and brand awareness in the US as it is such a big country and a challenging territory. Even though we acquired Bil-Jax Inc, the largest scaffold manufacturer in the US, in 2008, this area is still a market to conquer for us," says Stephane.
Despite a challenging market in the US, the future looks positive for Haulotte Group as it continues developing its foothold in Latin America and Europe, as Stephane concludes: "We want to ensure we are party of Europe's economic recovery by focusing on the training and capabilities of our staff in this area; furthermore, we aim to maintain our strong position in Russia, Brazil and Argentina while also paying attention to Asia over the coming years. Due to regulations and lack of investment on assisted platforms yet in this area there is huge potential in this still emerging market; we want to be part of this over the coming years."
Haulotte Group
Services: Material lifting equipment specialist