Haven Fire & Safety L.L.C.
Committed to all aspects of quality where the objective is complete customer satisfaction, Haven Fire & Safety has an unmatched reputation in the UAE marketplace for the successful completion of fire protection projects, no matter how large
Safe and sound
Committed to all aspects of quality where the objective is complete customer satisfaction, Haven Fire & Safety has an unmatched reputation in the UAE marketplace for the successful completion of fire protection projects, no matter how large
In the 20-plus years since it was founded in its present form by Gerry Boux in 1997, Haven Fire & Safety has grown into one of the region's leading fire protection, engineering, supply and service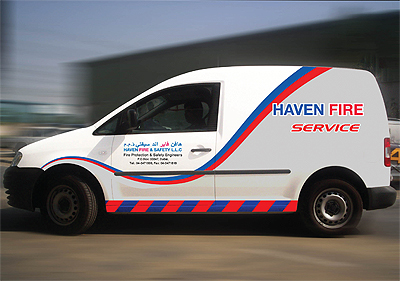 providers, offering its clients a one-stop-shop of system solutions and equipment needs. With facilities based throughout the UAE, including branches in Abu Dhabi, Dubai, Sharjah, Ras al Khaimah and Fujairah, the company has successfully implemented a wide range of important projects. These include the retrofitting of total fire and safety systems for offshore drilling/accommodation facilities, the supply of high and low expansion foam system to the aviation sector, the installation of industrial/commercial fire detection and voice alarms systems, and kitchen hood fire suppression systems to a number of landmark hotels.
"It has always been our goal to exist at the high-end of the market when it comes to delivering quality fire and safety products or solutions that embrace the latest innovative technologies," explains Lewis Alexander, Haven Fire & Safety's Sales and Marketing Manager. "Working with a host of leading UK and European brands, we bring their respective products into the UAE and market these to a variety of industry sectors, before carrying out extensive, installing, testing, commissioning and servicing."
The different brands and businesses that Haven Fire & Safety work with are what it commonly refers to as 'partner companies'. Together the two parties work to identify gaps in the UAE market to target with cutting-edge solutions, before going on to agree on pricing and targets, before exclusivity is awarded to Haven Fire & Safety to showcase, market and sell the solutions to customers across the region. In working with a host of leading names, the company has become a veritable one-stop-shop for customers' fire and safety needs.
There are plenty of examples of these partner companies that one could draw attention to, in order to showcase Haven Fire & Safety's passion for promoting technologically innovative products. One such example is Autronica, a brand that is part of United Technologies Corporation (UTC) and has been leading the way in safety system development for the last five decades. "In many cases, fire detection equipment can be cheap and simple, and thus can become desensitised over time and require considerable maintenance. In the case of Autronica, what it has done over the years is consistently seek improvements to enhance a safety system's capabilities in detecting real incidents, while at the same time suppressing non-hazardous events from creating false alarms," Lewis states. "It was also been responsible for creating the first integrated fire & gas detection system, which includes a fully addressable solution providing high resolution diagnostics, and full detection chamber self-testing and calibration every 24 hours."
A further example comes in the form of Bull Products, an independently-owned manufacturer and importer of life-saving products for the construction industry, specifically construction sites. In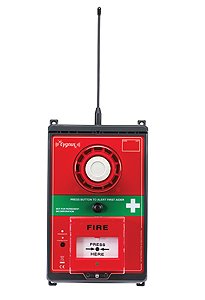 addition to its core range of fire protection and fall arrest equipment, this UK-based business has also created the innovative Cygnus brand, which focuses on wireless fire alarm technology. "The Cygnus system is a dynamic innovation that we are working to promote for on-going, high-rise construction site projects as a means of protecting those working on site," Lewis continues. "Cygnus is able to link up to 480 units, including fire alarm call points, first aid alert points, smoke detectors, heat detectors and interface units, in 15 different zones. This means that the system expands as the building in question grows, and we are working very hard to promote its use and incredible benefits."
One of the secrets to Haven Fire & Safety's success has been its ability to diversify its offering to incorporate numerous industry sectors. This has allowed it to ride out downturns in particular segments by transitioning to those industry sectors experiencing an upturn in activity. This ability to service different industries can be seen via a quick comparison between its oldest and most successful partner company, Ansul, and one of its newest, GLOBEX Evacuation Solutions.
In the case of the former, Haven Fire & Safety has been successfully marketing and selling Ansul's Kitchen Fire Suppression Systems for a number of years, to the point where it is today one of, if not the leading solution of its kind in UAE, and can be found in kitchens throughout the restaurant and hotel sectors. The systems are certified by UL300 with a two minute pre-burn and Civil Defence approved, and use cartridges instead of cylinders to minimise the risk of any leakage. The latest Piranha system has many distinctive advantages in the market including rapid flame knockdown, overlapping coverage, agent-plus water hybrid technology & high nozzle installs for kitchen practicality. Ansul also support Haven Fire with a wide range of Vehicle Systems, Foam Agents & Hardware, Detection, Control and Industrial Suppression Systems. Meanwhile, GLOBEX Evacuation Solutions is a UK business providing unique solutions to ensure the safe evacuation of mobility impaired persons up and down stairs in the event of an emergency. It is one of only a handful of companies to have its solutions personally endorsed and approved by the London Fire Brigade and is being promoted in line with Dubai Universal Design Code, which aims at improving accessibility for everyone in Dubai and recognises that Every Person who enters any building, facility or public area, whether temporary or permanent, has the right to be able to leave safely. This is why Globex Evacuation Solutions are an integral part of all evacuation plans and procedures.
"In the case of all of our partner companies, whatever their respective specialty may be, it is Haven Fire & Safety's role to extol the wide range of benefits that our partner's unique products and solutions bring to the end user," Lewis states. "We ensure that the products we come to promote and sell are of only the highest quality, and while they may face competition from some cheaper alternatives at times, we do everything within our power to show the customer why choosing quality over cost is more often than not in their long-term best interests."
With Dubai gearing up to host the universal exposition, Expo 2020, in less than two years time, huge construction, public service and power generation projects across the surrounding region continue to provide considerable opportunities for many, not least of all Haven Fire & Safety. With this in mind, it plans to continue to market the products of its many partner companies to those customers engaged in said projects.
"In addition to this," Lewis goes on to add, "we will also be turning more of our attention in the coming months to better develop our services and maintenance offerings. We already offer such services, not only for products that we have installed ourselves, but also for those of other companies that are not part of our family of partners, and we foresee that the demand for these will only be increasing over time, even after the current boom in new projects settles. In the meantime, however, we are very happy to continue to ride the wave that we are presently and continue to capitalise on our earlier success."
Haven Fire & Safety L.L.C.
Services: Fire protection, engineering, supply and service provider