As the UK's largest inventory supplier, Hayley Group remains committed to its customers through innovation and service development
Taking stock
As the UK's largest inventory supplier, Hayley Group remains committed to its customers through innovation and service development
People, stock and service – these are the three keys to our success," begins John Holden, National Accounts Director at Hayley Group, which has grown to become the UK's largest independent engineering inventory supplier since its formation 1976. "Our nationwide network of over 40 branches provides a combination of product supply and technical expertise 24 hours a day, 365 days a year, to both MRO and OEM customers. As such, we have the ability to meet both urgent demands as well as more predictable scheduled demand."
With annual turnover of over £115 million, Hayley Group has become a market leader because of its continued focus on making the lives of its industrial clients as easy as possible when it comes to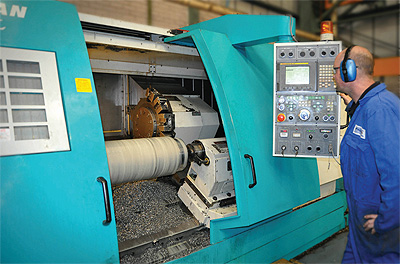 inventory management. As appointed distributors for an increasing number of established manufacturers with international repute, the company is able to supply all types of MRO products from bearings, pumps and lubricants, to fasteners, drives, power transmission products and tools, as well as its own inventory management services and stores solutions.
"Inventory is perhaps the most central strength of the business, with a company-wide stockholding in excess of £27 million and each of our 40-plus stores carrying a minimum of £300,000 of stock," John explains. "Alongside this we have a dedicated, committed and highly-experienced team of people, and our staff turnover level is less than seven per cent, meaning that our customers know who they are dealing with at both a local and national level. Crucially, it also means that we can provide an unrivalled combination of product supply and technical expertise 24 hours a day."
Complementing a core of standard product supply and engineering services within Hayley Group, is an exemplary responsiveness and flexibility. This is the result of an extremely flat management structure that empowers branch managers to take decisions at a local level, eliminating unnecessary bureaucracy and time delays and allowing the company to stick to its promise of delivering whatever the customer needs within the timeframe required.
One particular service that defines the group's ability to respond to market needs and deliver a timely and professional service is its 25,000 sq ft gearbox, motor and pump refurbishment centre, which handles everything from installation support to special design. "We are effectively able to offer a one-stop-shop approach for gear box repairs and new units and offer a comprehensive range of new gear boxes and reconditioning services," outlines John. "Thanks to a wealth of skilled and experienced engineers we are able to cater for any gearbox specification and our service range
includes strip down, inhouse and onsite repair and installation and the ability to build gearboxes from modular subassemblies that make 10,000 gear unit solutions from stock possible within two hours. Hayley Group has available stockholding on this product of £3.1 million."
However, the group is keen to continue its tradition of delivering an outstanding service to its customer and as such remains committed to innovation and development. "We continue to work with manufacturers to indentify new innovations and ensure that our customers are kept informed of any new developments," John highlights. "We have been selling pumps, for instance, throughout our branch network for many years, but as one of the fastest evolving technologies in the industry, we believe we can demonstrate new cost saving technologies that customers are unaware of and bring new ideas and new practices to them that our competition are failing to fulfil."
Furthermore, it is not just in supporting the ongoing innovation activities of its suppliers where the company is able to improve its customers' performance, but also in the development of its own services and management processes. The most recent example of this is the Hayley SmartVend solution. "One major problem that customers have always experienced is the amount of inventory carried to ensure less downtime when breakdowns occur and the control of assets, plus the consistent availability of health and safety products to a workforce," John describes.
"Hayley Group has developed SmartVend as a simple and affordable solution that can provide a lean and controlled flow of product to the point of use, at a total operating cost of just pence per hour. The technology is based on an internet appliance platform, and enables the customer to monitor and track the usage of a product, allowing for a reduction in inventory and an ability to manage assets and access health and safety products at any time. Since the introduction of this inventory solution the company has grown its sales to over £100 million and customers have enjoyed benefits such as 25 per cent reduced consumption and more immediate availability, asset control and automated ordering."
As it moves forward, innovation, ease-of-availability, technical expertise and energy efficiency will all remain key focal points as Hayley Group looks to improve the performance of customers in all sectors up and down the UK.
Hayley Group
Services: One of the fastest growing engineering inventory suppliers in the UK