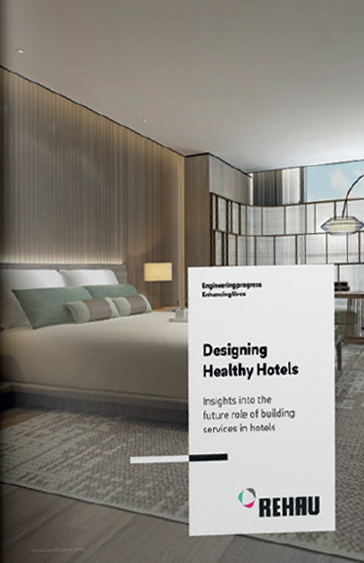 This comes as research from a survey of 130 M&E contractors and architects working in hotel construction revealed that over half of respondents believe wellbeing is 'value engineered' out of projects later on in the build.
Designing Healthy Hotels, the latest report from REHAU, has been released to demonstrate the role of designing guest wellbeing and comfort in attracting more custom.
With around 700 hotel projects currently in planning and bookings being up 300 percent this summer compared with 2019, it is clear there is high demand from consumers in the UK for hotels. However, according to hotel technology provider Avvio, inner city hotel books are down 30- 40 percent, underlining the gaps where hospitality recovery in urban areas is still in progress. Therefore, attracting guests with high quality design represents an opportunity for professionals in the sector to harness this boom as tourism returns to cities.
The guide outlines potential solutions for new build and renovations hotel developments in all applications.
To download the report, Designing Healthy Hotels, visit: www.rehau.uk/designinghealthy