Hedalm Anebyhus is helping to provide a sustainable future
Eco-Warriors
Hedalm Anebyhus is helping to provide a sustainable future
In a world that is becoming increasingly aware of the importance of minimising environmental impact, it is Scandinavia, a region steeped in tradition, which Europe is looking to in order to learn how to develop low cost, low energy housing.
It is well known that the Scandinavians are world leaders in the manufacture of low energy, low cost housing. Norwegians, for instance, demand low cost, low energy housing that is warm in the winter, yet cool in the summer, well constructed and pleasant to live in. This represents a huge challenge for the house builder; a challenge Hedalm Anebyhus has been able to successfully meet for the last 40 years.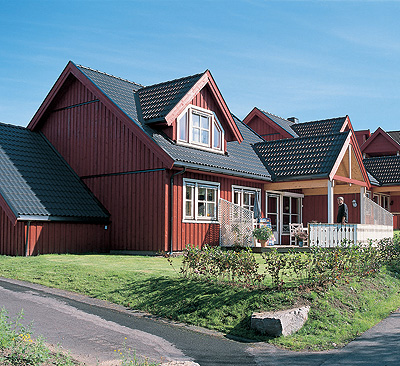 "Hedalm Anebyhus is owned by four forest owners that have a long-term policy and manage big resources of forest. We build houses that utilise the Hedalm Anebyhus building system, a unique blend of natural wood and modern technology," explains Christian Borresen, managing director. "Our houses are manufactured in a modern factory to very high degrees of specification and precision, while we use only the best Norwegian spruce and pine, which has taken over 90 years to grow to full maturity. Hedalm Anebyhus AS has since 1967 built homes specially developed for Norwegian conditions, and that is deeply rooted in Norwegian building traditions."
One of the leading timber framed housing manufacturers in Norway based on service level, technical offering and competitiveness, Hedalm Anebyhus is helping housing associations and house-builders meet the severe shortage of new homes in the UK. The company has developed a range of standard house types, each of which has been designed to achieve the most efficient application of Hedalm Anebyhus timber technology, for the UK market, and all comply with Housing Corporation Scheme Development Standards.
"Our system is one of the most advanced timber solutions in the market," says Christian. "We have created an advanced Building Kit system by developing a real value added offering that includes staircases, windows, doors and our well proven Timber Cladding solution as well as utilising other more traditional cladding methods."
The use of Hedalm Anebyhus timber technology offers many environmental benefits, creating sustainable communities for generations to come. Christian adds: "We are well aware of environmental issues and the long-term environmental performance of our housing is vital. As the most sustainable building material, wood, which has a low environmental impact when compared to concrete or steel, is a natural, renewable material. Manufacturing in a controlled factory environment also reduces our
environmental impact by reducing onsite work, waste and energy usage. In this sense we are able to create a truly eco-friendly home." All new homes in England will have to be carbon neutral by 2016, under government plans to combat climate change. BBC Journalist Rajesh Mirchandani recently visited Hedalm Anebyhus to see the timber houses that may provide inspiration for homebuilders in the UK. Christian tells us more: "As far as I can see, the UK market represents a huge opportunity for us, in the way that it is a market with a high demand for new, yet environmentally friendly housing.
"The UK market has enormous potential and for us it represents a great opportunity. We are meeting regularly with existing and potential UK clients in order to help kick-start the carbon neutral scheme, which is an important part of plans to combat climate change and will see all homes in England become carbon neutral by 2016.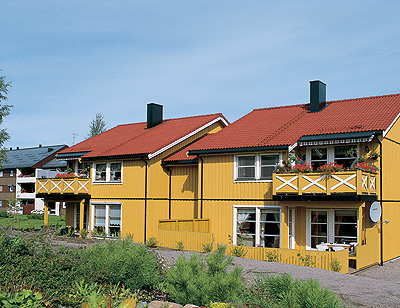 "The UK is committed to its climate change initiative and as a result the government is looking at so-called modern methods of construction. It is well known that Norwegians are world leaders in the manufacture of low energy, low cost housing, so it seems natural that we would be involved in the process. I think the UK will welcome our products and construction methods, but of course when you enter into a new market with a new product, especially a nontraditional one like timber, we have to respect the experience the UK market has with regard to that material, which in the case of timber is not that good. Saying that however I would say the quality we have today and the quality that we are coming in with will surprise everyone in the UK."
In order for companies like Hedalm Anebyhus to achieve success in the UK, the somewhat traditional construction industry will have to accept that fresh ideas are necessary if the increasing demand for new houses is to be met in an environmentally friendly way. Christian explains: "The UK market must be a little bit more open-minded with regard to using new materials, especially timber. It is true that the UK construction industry is somewhat traditional and one of the main constraints we have is that we need to convince the large majority of people of the benefits of this type of construction. Having said that, we have a target of delivering 500 units into the UK market, and I believe that is possible in a total market of many, many thousands.
"The idea that all houses in England will be carbon neutral by 2016 is extremely positive, as it will persuade people to look at the benefits of constructing in the way we do it in Norway. This will force the UK landlords, developers and housing associations into looking at new construction materials, as well as modern methods of construction. Here in Scandinavia we have a tradition of building timber houses, which dates back hundreds of years, so building a carbon neutral house is not a problem for us."
He concludes: "We always deliver high quality housing that satisfies the needs of our customers. The most important factor for us is the customer and we endeavour to meet their needs. We are also a company which has advanced knowledge of this type of construction and that gives us an advantage, particularly in the UK."
According to Christian the UK timber housing industry is very buoyant at the moment and there are many opportunities for further growth for Hedalm Anebyhus. The company's long-term ambition is to convince the UK market of the benefits of this type of construction and to achieve this the company will continue with its discussions to persuade members of the UK construction industry that this is the way to go. Hedalm Anebyhus was filmed in January by the BBC for a documentary, which once screened will improve the company's recognition within the UK market therefore increasing its profile with new and existing clients.