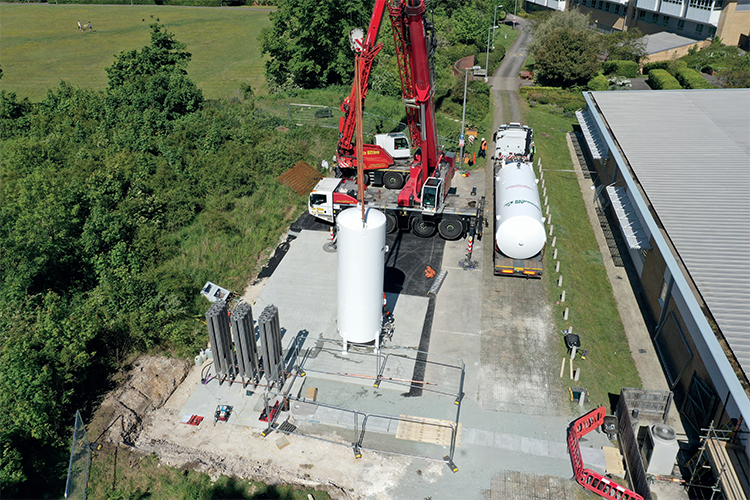 Innovative construction
A collection of three companies, Henderson & Taylor is renowned for delivering work on time in the disciplines of highways civil engineering and groundworks and highways term maintenance contracts, as well as invasive weed removal
Founded in 1964, it was in 2000 that John Lynch and his wife, Michelle, purchased the civil engineering firm, Henderson & Taylor (H&T), and since then they have continued to improve its annual growth. Their original civil engineering company, Lynch Ltd., was founded in 1992, and within four years the business was identified by the Sunday Times as the 67th fastest growing company in the UK. The owners applied the same enthusiasm and appetite for growth to H&T, and have expanded the business exponentially over the last 20 years. Now, across its remit, the company specialises in local authority highways term maintenance contracts, S278 contracting work, roads and structures, new builds, groundworks and drainage schemes, car parks, highways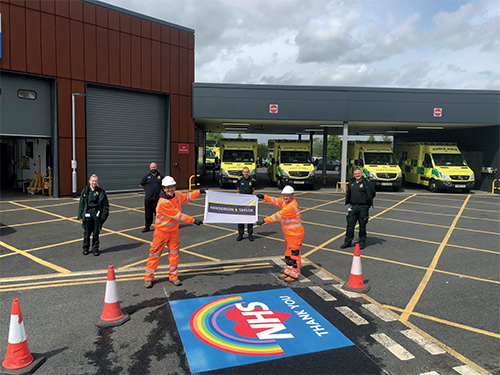 machine surfacing, and Japanese Knotweed removal.
Working predominantly in the public sector, H&T consists of three businesses that collaborate across multi-disciplinary projects in the civil engineering industry. Each of them – Henderson & Taylor Public Works Ltd, Henderson & Taylor Facilities Management, and Lynch Ltd. – has a long and successful heritage. John discusses with us the firm's best practises in overcoming the challenges of recent projects, as well his future plans, as he remains determined to keep the company name a prosperous one.
"We recently completed a big job in Bedfordshire on the A6 that was worth close to £5 million for Bedfordshire County Council. With the tender documents and works information we won the contract. When we began work on site, we came across a massive problem. The sub-grade under the existing road was not a hard material, it was clay and had to be removed completely. So, we put our heads together to produce a solution. Two days later, we sat down with the council, along with our geotextile specialist, to give them our proposal, and we came to a reasonable conclusion. Our approach in handling the situation was to remain honest, transparent, and practice clear communication, which eventually brought the project back on track," John says.
"In addition to that, we also built a new council depot and salt barn for Bedford Borough Council," he adds. "That was also a £5 million scheme, and it looks great. The drainage under the ground proved to be much more of a challenge than we expected, but it was quite an impressive project."
He continues to state that this particular project is an excellent demonstration of the level of innovation upon which H&T prides itself. "From an R&D perspective, we try to be as cutting edge as possible, certainly when it comes to geotextiles. Land drainage is one of the key factors taken into consideration for a developer. We assure our clients that all our sewer and drainage pipe work is of the highest standards, with no corners cut. With the salt barn's drainage scheme, for example, we were able to make proposals that accentuated the strengths of our value engineering team. We look to save money for our clients, and, in a way, we also helped to reduce the risk of the project," he explains.
In terms of the company itself, H&T is built on a legacy of expertise that has manifested in the size of the business, the projects it undertakes, and its loyalty to remaining socially responsible. In 2009, Matthew Lynch joined the company as Managing Director, and has been a driving force behind its recent growth. "Over the next five years, we have secured long term contracts that total approximately £150 million, and obviously, to make this happen, we need a brilliant team!" Matthew says. "We have a workforce of about 250 employees, some of them are sub-contract workers, and our depot n Essex is about 26 acres in size."
John goes on to say: "We are also very committed to recycling, which is something I have been advocating for over 30 years now. I remember doing a presentation to Essex County Council engineers that was based on recycling concrete and stone. Upon explaining the advantages of reusing the materials to the audience, one of the engineers said that he did not want to use old stone. I looked at him and asked if he realized it was already 27 million years old, which is something we do not often take into consideration.
"So, at our depot in Essex, we bring in all the materials we've collected or used, such as concrete, asphalt, gravel, and sand from roads and footpaths for example, and we screen it, crush it, blend it and we put it back out into the project we are doing, and its fully recyclable. Practises like this have such a great impact. In another instance, in Thurrock, we were able to prove that we save 8000 lorry movements a year and about 20,000 tons of virgin material that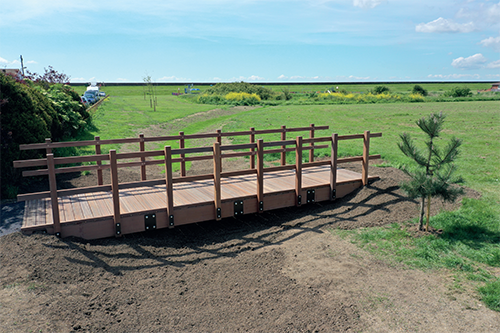 would usually go straight to landfill can be given new use," John elaborates.
Complementing its environmental endeavours, H&T is also proud to a company culture of growth and engagement in which employees are provide with the necessary tools to achieve their goals. He shares an example of an engineer who was handpicked to be part of the business and went on to become an industry award winner. "We were asked to look at a station in Thurrock called Stanford le Hope, and the engineer looking after it was a woman by the name of Ayesha Basit. Out of frustration in the lack of progress, she handed in her notice, and I offered her a job to work with us. Then, within two years, we put her forward for the 'Women in Construction 2021 Award' at the Southeast Construction Expo, and she won it!"
With industry innovation, and a highly skilled team, John is excited about the future of the business. For the next three to five years, the company will be focusing on sustaining its long-term growth, while remaining eager to take on more challenging projects, such as the Lower Thames Crossing.
The project, which has been dubbed a £6.8 billion Net Zero 'pathfinder', linking Kent and Essex, is still within the early stages of planning. However, it is set to slash emissions during construction by over a third through the careful design of its route and structures alongside the incorporation of zero carbon energy use, and the recycling of waste. "There have been a few challenges in getting this project going. We haven't yet won the tender for it, but we are going to continue pursuing it, considering it could make such a fantastic difference to the congestion that is so easily created at the Dartford Tunnel," he divulges.
"That aside, what we are looking to do is expand into more of Bedfordshire, and also strengthen our presence in Essex. We have grown in turnover by about £5 million in 2021-22, so by the end of March, we will go from £30 to £35 million. I would very much like seeing us grow at this controlled pace.
"We need to be careful about our expansion because we need to be prepared for projects that requires to pay out of our own pocket, which is sometimes the case with public works. Fortunately, that is where my and Michelle's knowledge comes in. From the extent of our experience, we know what can go wrong, and growing the business organically in the existing market is very tricky at the moment, owing to the fact that it is becoming increasingly difficult to recruit engineers, quantity surveyors, site managers, and supervisors. This means that in the coming years, we are going to remain observant of these challenges, and do our best to be agile in our ability to adapt to them," says John.
"We have also been looking at possible acquisitions, and we are growing into machine surfacing to deliver that ourselves, and tender for other people. But like I said, the ultimate goal for the next five years is increasing our turnover, and I would like to see us reach over £100 million a year in revenue," John concludes. With a goal to improve the lives of its clients by creating better and safer environments in which to live, work and learn, it is clear from our conversation with John that H&T takes exemplary pride in the work it does, and will remain doing so for many years to come.
Henderson & Taylor
https://henderson-taylor.co.uk/
Services: Civil engineering contractor