Highwood continues to break new ground in property, whether that be through the construction of award-winning new homes or care developments, or as a result of its forward-thinking approach to land acquisition
An intelligent approach to construction
Highwood continues to break new ground in property, whether that be through the construction of award-winning new homes or care developments, or as a result of its forward-thinking approach to land acquisition
For Hampshire-based property developer Highwood, the end of February 2020 will mark the close of its financial year. At this time, what is one of the fastest growing property businesses in the UK is expected to declare a turnover in excess of £68 million, marking another hugely successful 12-month period. "2019 was certainly a good year for Highwood, with profits increasing, the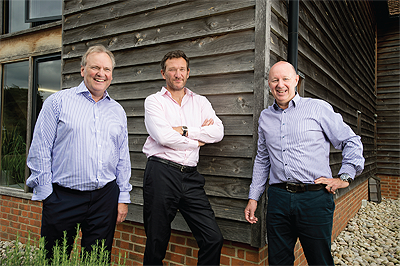 company moving forward nicely when it comes to its strategic land interests, and with these trends showing no obvious signs of slowing down in the near term," affirms its Chief Executive Officer, Nigel Meek.
Highwood has been delivering distinctive and responsible housing projects, underpinned by sustainable development, since 1987. In that time, its operational reach has extended out across the south coast of England, from Weymouth to Chichester, and north to the M25. Built upon the specialist areas of expertise of its founding directors – namely land acquisition, planning and the delivery of large-scale sites – Highwood's unique business model, which blends contracting and house building seamlessly, continues to break new ground to this day.
Next level
Our discussion with Nigel comes approximately a year on from our previous conversations, and when asked to detail some of his stand out moments from 2019, one that immediately springs to mind was the appointment of Martin Hawthorne as Planning Director. With over 30 years' experience as planner and lead consultant on a number of major residential developments and large-scale urban expansions, Martin came to Highwood having previously been Head of Planning – South for WYG.
"For a 'small, regional business', as we have been known in the past, to attract an individual such as Martin is truly astonishing," Nigel enthuses. "When you couple that with the appointment of people such as Mark Baskerville, who came on-board around two years ago as Chief Financial Officer following a five-year directorship post at McCarthy and Stone, it is they and their colleagues who are helping to take Highwood to its next level of development."
So, what is it about Highwood that attracts such talent? Nigel has several suggestions. "Firstly, Highwood is known for being generous in terms of how we reward and incentivise our people," he details. "We are also somewhat unique in that the owners of the business are still active within the business, and therefore reactive, and it is this lack of bureaucracy that makes us fleet of foot and that gives us a huge advantage over our larger competitors. As a result our reputation for conversion and delivery in the sector is exemplary."
Award winners
This advantage that Nigel speaks of has manifested itself not only in the form of increased profits and turnover, but also in the continued success that Highwood has had in receiving industry awards and accolades. One recent example would be the company's winning of the 'Housebuilder of the Year' category at the 2019 South Coast Property Awards. The company also celebrated the new year by recording a second consecutive listing on the highly reputable Sunday Times Fast Track 100 league table, climbing to the ranking of 53 having first appeared at number 74 in 2018.
As Nigel goes on to state, success breeds success, and Highwood's reputation continues to grow in line with the number of important projects that it is the process of delivering. "As a result of our achievements with developments such as North Stoneham Park – a magnificent new community of apartments and homes within a historic deer park setting in Eastleigh – we now have in excess of another 1000-plus secured, long-term development opportunities across the south coast," he says. "These range from plots of 150 units up to around 400, of which most we try to accommodate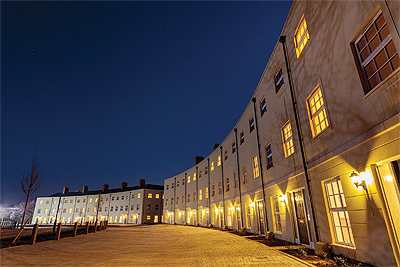 care facilities where we can."
In addition to this, Highwood is also at the forefront of the Eastleigh Strategic Growth Option (SGO), which aims to deliver 5200 new homes and a key link road to the area. Here, the company has secured its largest ever strategic land interest, with its land control extending to circa 3500 new properties. "The local plan for the Eastleigh SGO went before the government's planning inspector in late autumn 2019," Nigel adds. "The interesting thing about this development is that it is uniquely transport led, predicated on the completion of a bypass to Eastleigh that will help alleviate existing traffic volume issues. Our track record shows that we look to improve transport links, wherever possible, when we undertake a project, and another example of this that will come to bear in the near future will be our work in Botley, Hampshire. Here, we have a site of circa 140 units that will complete the link for the Botley bypass, which – one finished – will fundamentally change the area forever!"
Business diversity
Highwood's diversity as a business has long been one of its strongest traits, and this has been re-emphasised in the last year with its care activities being placed firmly back on its agenda. "We see care as representing some 40 per cent of our total business going forward," Nigel predicts. "Among the care projects that we are currently working towards completing are a substantial care village within North Stoneham Park – which goes to committee in March 2020 – and a similar sized development in the village of Horndean, which is in application lodged status as we speak. These two large turnkey projects represent some £80 million worth of work, alone, and we look forward to working closely with our key care providers to deliver them in due course."
The diverse nature of Highwood means that the outlook for the next two years looks particularly bright, with Nigel revealing that the company is in line to increase annual turnover to approximately £85 million in 2020, and over £100 million in 2021. "Any company that is multi-faceted is better able to ride out the economic challenges that exist today. In our case, if we do encounter difficulties within the housing sector, we know that we can turn to our care side, and vice versa. With an ageing population, the demand for quality care homes – from high level dependency care through to equity release retirement villages – will only increase, and Highwood will be on hand to service this demand. All in all, this makes for a very exciting future for us indeed."
Highwood
Services: Land purchasing and planning, and property development