Time and again, Highwood has displayed effective negotiation skills in acquiring strategic plots of land, which have subsequently been developed into state-of-the-art care homes and residential properties
Building homes, building relationships
Time and again, Highwood has displayed effective negotiation skills in acquiring strategic plots of land, which have subsequently been developed into state-of-the-art care homes and residential properties
Two company traits stood out as the main drivers of growth for Highwood during our conversation with Nigel Meek – one of the three Founding Directors of the Hampshire-based property developer. Setting up, nurturing, and maintaining exemplary business relationships with all key stakeholders involved in any given project has earned the company a host of loyal partners it can rely on over the years. Meanwhile, its own resourcefulness and diligence, even throughout hostile market conditions, has enabled Highwood to emerge as one of the fastest growing property businesses in the UK at a time when uncertainty is ruling over the country's construction industry.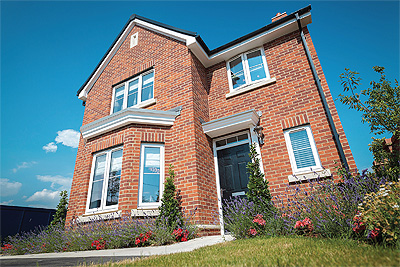 "Our first project launched back in 2004. At first, we focused on land-led schemes and we gradually built up the business to specialisepurely in the provision of affordable housing," Nigel begins. "The process involved sourcing parcels of land, taking them through the planning system, and then designing and negotiating package deals for complete turnkey developments with our clients, which were predominantly registered providers (RPs)."

Valuable relationships
Out of necessity, caused by the recession that hit the construction industry several years after the founding business, Highwood was launched, the company shifted its focus away from the housing market. "We decided to look into other sectors where our skills of providing turnkey solutions could still apply, and care (particularly elderly care), turned out to be the logical choice," Nigel explains how the company established a presence in a sector, which, to this day, remains one of the most successful activity areas for the business.

Entering a new market did not change Highwood's approach at all. The company continued to build valuable relationships with other stakeholders, striving to ensure as close a collaboration between the different entities engaged as possible. "Most of our care home projects have been a great success and their value typically amounts to about £10 million as a turnkey. We tend to build on brownfield sites and we place strong emphasis on identifying the right location that suits the particular care scheme we want to implement. It is essential that these care operations are in places where our partner operator can get good staff and where there is the right demographics that justifies the development of a care home," Nigel points out.

"At approximately the same time as our first ventures into care homes, we also started working on retirement development and one of the great results we have achieved was with the 50 one- and two-bedroom retirement flats we built in Langstone Court, not far from Portsmouth," he draws our attention to the programme that has proven an ongoing success for Highwood.

Built within a delightful setting, the project's focus was on safety, security, comfort and peace of mind – everything that elderly homeowners value, thus offering a new generation of retirement living. Nigel adds: "I am convinced that the landscape, in which we invested significantly, has helped the scheme to mature in such an impressive way. Interestingly, we have seen the flat resale values go up, which might seem a bit counterintuitive, because, normally, the value of retirement developments tends to go down after the second occupation."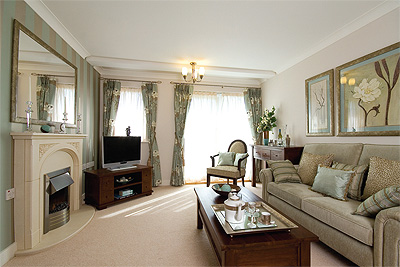 The development incorporated 24-hour emergency assistance, hairdressing facilities, a small gym, and a family room. Langstone Court also provides a number of relaxing communal areas for residents to entertain family and friends along with guest accommodation for overnight stays, The Waffle's lounge on the top floor with extensive terrace with far reaching views being one of the unusual 'special design' delivery points that sets the Highwood scheme apart from the competition. What is more, this project became the first in Hampshire to incorporate a retirement complex and a care home on the same site. Highwood delivered the 60-bedroom specialist care home 'Hamilton House' early in 2007 and was handed over 'turnkey' (including furniture, plates, cutlery and stationery) to the company's development Care partner a year later.

After the recession, the company also developed an interest in the field of strategic land acquisition. "Our first major commitment was at North Stoneham Park in Eastleigh (other interests were secured but smaller in nature of between 100 and 150 dwellings), where we managed to secure a site of a considerable size, spanning about 230 acres. We had to negotiate with some 15 different landowners, which was a challenging task in itself, but as we pride ourselves on our fair treatment and honest relationships with landowners, we succeeded in assembling this significant land asset," Nigel recalls.

Industry recognition
Alas, the company's plan for the development of the site, which involved it trading (a significant part) to one of the UK's major national developers, were hindered by the result of the Brexit referendum. "We got very close to negotiating a deal, but the vote forced the purchaser to pull out. It was a major blow for us at the time, but the recovery we made is a testament to the determination we have as a business," Nigel praises the team's efforts to quickly get Highwood back on track.

"We had to roll up our sleeves, assess the situation, and act. It was decided that we should go back to our roots and look for a joint venture partner and, within six months, we transacted on a new deal to develop Stoneham Park. This also proved to be the crystallisation of our speculative housing brand – Highwood Homes, which has since grown at an exceptionally fast rate."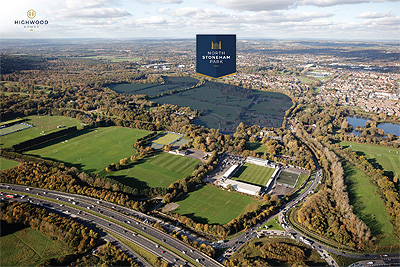 Highwood a year earlier, had attracted a specific individual to oversee the operational side of its construction activities and, as Nigel puts it, "bringing in Guy Hayward as a Managing Director was a correct and critically correct decision." In the meantime, Nigel and the other co-founders of the business – Nigel Shannon and Malcolm Mintram – have remained fully-focused on the long-term expansion of the company, and one cannot say that they are not being kept busy. At the moment, Highwood is building over 600 homes as part of the Stoneham Park project, complemented by another three care homes in other locations.

"It is clear that we have put ourselves on the map, courtesy of the major infrastructure we are creating in Eastleigh. We have also secured a further 4000 plots of strategic land in the borough, which we owe to our unique proposition when looking for new parcels. Our philosophy is always predicated on finding transport solutions that can relieve existing traffic problems, rather than add to them. This is an approach that has resonated with Eastleigh Borough Council and its vision on how their sites should be developed," Nigel comments.

Highwood's work on North Stoneham Park was not left unnoticed by the local industry, either, as the company scooped two high-profile awards at the 2018 South Coast Property Awards ceremony held in July last year. The business was declared winner of the Development of the Year (Residential – Large) category for the aforementioned project, as well as named Fast Rising Property Business of the Year for the increase of its sales, headcount, profitability, market share and geographical expansion over the past three years.

More impressive still, was the company's inclusion on the Sunday Times Fast Track 100 league table and on the 2018 1000 Companies to Inspire Britain' list, compiled by the London Stock Exchange Group. Nigel shares his sentiment on what all this external recognition means for Highwood: "We are happy that we were able to generate some publicity, because we have always been a quiet company that has not been in the limelight at all. With the growth we are experiencing at the moment, we certainly expect to be even higher on the Fast Track table in 2019."

Tremendous reputation
His positive outlook stems from the increasing sales figures and the continuous strengthening of the Highwood Homes brand. According to Nigel, the company has put together all the pieces of the jigsaw to pursue further growth and solidify its position in the marketplace. "Looking into the next ten years, I think, we will be able to deliver between 300 and 400 units per year. Naturally, market demand and the general condition of the construction industry will have a say in whether this will be possible, but our desire is to head towards this goal within the next couple of years.
"Our core strengths in design and planning, as well as in maintaining excellent relationships with our suppliers and subcontractors give us the edge over other developers. We are very much driven by design and, by demonstrating incredible attention to detail, which will always be a step ahead of regional builders," he remarks.

"In addition, we keep a tremendous reputation with our subcontractor and supplier base and this has paid off repeatedly throughout our history. We are one of the most reliable payers in the area, with payments made in accordance with agreed periods, which, consequently, has made it a lot easier for us to find quality staff, suppliers and subcontractors to work on-site, because they know we will pay them on time. Further within the business itself, our staff retention is unusually high for the sector. We are very fortunate that most of the people who work for us were former colleagues of ours at our previous company before we established Highwood. Moreover, Guy brought in people he had worked with previously, so we have now assembled a team of trusted professionals who ensure that our sites are well-run, which is a true guarantee for success," Nigel concludes.

Highwood
Services: Land purchasing and planning; property development