As infrastructure developments experience a boom in investment across a number of markets, Hill and Smith Ltd believes that innovation, quality and passion will ensure that the their solutions will be the clear choice for a conscious industry
Securing the road ahead
As infrastructure developments experience a boom in investment across a number of markets, Hill and Smith Ltd believes that innovation, quality and passion will ensure that the their solutions will be the clear choice for a conscious industry
Hill and Smith Holdings Plc has been established now for over 125 years, serving infrastructure networks with innovative products. Presently, the group, which is headquartered in Solihull, turns over in the region of half a billion pounds a year with around 3900 employees spread across 54 sites in the UK, France, USA, Thailand, Sweden, India and Australia. The group's operations are split across three business segments: infrastructure for utilities and roads, and galvanising services, providing everything from street light columns and bridge parapets, through variable road messaging solutions and traffic data collection systems, to GRP railway platforms and road safety barriers.
"Hill and Smith Ltd, which is my concern, sits under this holdings umbrella," explains Commercial Manager, Miles Boyd. "We specialise in the design, manufacture and supply of permanent vehicle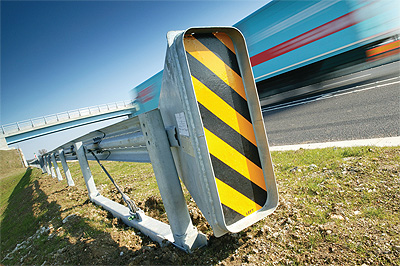 restraint systems primarily to the UK market but also globally to the Middle East, Asia, India, Central Europe and the Baltic states." Primarily, Hill and Smith supplies steel and wire rope barriers, and hybrid impact protection, which is a combination of the two, for the highways, as well as industrial barriers for off-road applications.
As one of the leading vehicle restraint systems companies in the UK, Hill and Smith has developed a strong manufacturing ability that allows it to compete well within a demanding market. "We are one of very few UK based manufacturing companies," expresses Miles. "Based centrally in the UK, we pride ourselves on our ability to react almost overnight to our clients' requirements. We have the capacity to manufacture and deliver quickly." Accompanying this is a strong commitment to British industry as it looks to procure most of its steel from sustainable sources and employ from within the UK.
"We believe that with the current and future investment into road infrastructure programmes and projects throughout the UK, we will see a more buoyant market going forward," highlights Miles. "However, this does not negate that it is still a very competitive market and companies will succeed over the next ten years through innovation and the ability to service a very demanding market place."
Demonstrating the company's own approach to innovation is the recent launch of its web-based portal, Xtratech. "We have now decided that our commitment to the market should be more than just supplying products," outlines Miles. "It should be based on the fact that we have more than 30- 40 years of technical knowledge of vehicle restraint systems, and we want to offer our client base unparalleled access to that knowledge. Xtratech is a webbased portal that gives our clients the ability to register and access all of our data. For instance, all of our system drawings and all of our test data, footage and data is available for our anyone to access." Launched in May 2015 the portal has amassed nearly 2000 subscribers within six weeks and the number is climbing every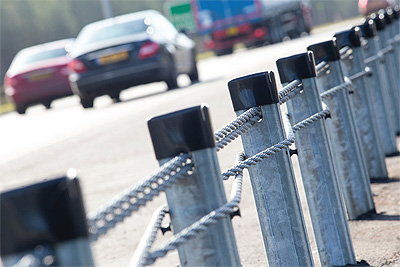 day. "We hope that it will become the vehicle restraint designer's 'bible'," adds Miles. "Irrespective of whether they then come to us for the end product or not, they will be able to use our knowledge when they are designing schemes and be confident in their approach to the challenges in front of them."
Asked how important such an innovative and generous offering is to the industry, Miles explains: "It's our way of contributing to the industry. We want everybody to be able to use our knowledge and be confident in their ability to design schemes. This is a relatively free service that we owe the industry because it has supported us a lot over the last few years – it is us giving back. It also safeguards the safety of the people driving on the network on a daily basis."
Over the last year, Hill and Smith has continued to prove its worth within the national market supplying to some high profile projects such as the extensive refurbishment to the M1 corridor, the A11 redevelopment and phase one and two of the M6 scheme. "We are also key supply partners to numerous of the highway agency maintenance areas," notes Miles. However, as the industry moves forward he is expressly aware of the danger in standing still. "The challenge that we face moving forward is maintaining our development process and innovation in the market place," he says. "We have to be open and we have to be reactive to the requests of our client base – through our R&D programme we have to second guess the new trends in the market and be ready for them when they break."
As far as the next 12 months is concerned Hill and Smith will be focused on ensuring designers are made aware of the best barrier designs through its portal to make sure that the best and safest products are implemented in the network. For the longterm future the company is very much focused on cementing its global footprint. Miles concludes: "We're looking at export market growth with significantly large schemes in the Middle East. We are looking at supporting Qatar in the development of their infrastructure programmes, as well as in Saudi Arabia and the UAE countries. We are also looking at bolstering our position in India with our manufacturing plant there and we are focused on supporting our sister company, ATA, in Sweden to develop the Scandinavian markets."
Hill and Smith Ltd
Products: Specialist safety barrier systems