Offering a wide range of construction services, Hilti&Jehle is aiming to penetrate the UK market
Sturdy foundations
Offering a wide range of construction services, Hilti&Jehle is aiming to penetrate the UK market
Established in 1876, Hilti&Jehle has developed a long-standing reputation for innovation and performance in the construction industry. As a private company, it has strived for continual improvement and expansion for the last 132 years, and presently stands as a competent partner to many of the sector's largest organisations. It boasts a particularly impressive service portfolio, excelling in structural and civil engineering, special excavation, foundation works, concrete extrusion and domestic architecture. The headquarters of the business are located in Feldkirch, Austria, where 650 people are employed, and it recently achieved an impressive turnover of some 100 million euros.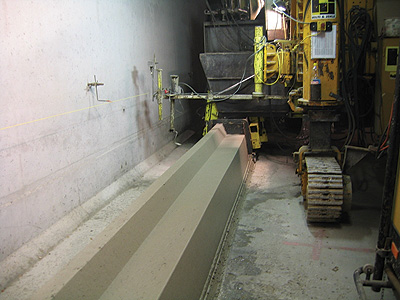 Elaborating on the operations of Hilti&Jehle, Alexander Stroppa, managing director, says: "One of the key strengths is in the area of foundation works, where we offer very flexible and innovative solutions. Assuming that the right concept is applied, every foundation can be used for domestic, business or industrial architecture or for transportation construction. Using special techniques Hilti&Jehle has the ability to pass soil layers with no or little bearing capacity, and to centre the building weight on stable soil layers.
"The application of full displacement piles results in a massive reduction of vibration and noise through the usage of high frequency vibrators. Another advantage is the adaptation of the pile on the geologic and static circumstances with respect to the diameter and the length. A further core competence of Hilti&Jehle is the application of double rotary head drilling systems, which is a low vibration and silent technique, while the piles are produced directly on-site of existing buildings."
The speed of development that these processes allow is, according to Alexander, key to the prosperity that has typified the company's operation to date: "We have been able to establish ourselves in the market very successfully," he comments. "This has been achieved through the special processes that afford us the ability to produce in a very effective, timesaving way. The machines are designed and tailored to the needs of our customers, allowing us to satisfy their wishes in terms of high efficiency and outstanding performance."
Before the first foundation is laid in earnest, Hilti&Jehle liaises with its clients to determine their exact needs and expectations. Explaining the advantages of this approach, Alexander says: "Since our first line of contact includes talking with planners and engineers, we have the advantage of discussing technical possibilities during the planning and design phase. Additionally, practical on-site experience and problem solving gives us an insight into the actual wishes and demands of our customers. We also monitor the related market developments and trends very closely to get a full picture of the sector."
Furthermore, the organisation has benefited from its ability to complete concrete paving jobs of a truly seismic scale. Noteworthy projects include works to install 22,000 km of concrete beams for the tram network in Augsburg, Austria in 1994, with 5000 km of further beams added to the route in 2001. More recently, Hilti&Jehle completed a project to install 3200 km of cable troughs at Vienna's city airport, which took place between 2004 and 2005. In 2006 the Lausanne tunnel in Switzerland also benefited from the company's expertise and know-how, when 6700 km of cable troughs were fitted.
Its credentials were further enhanced recently when it played a leading role in the construction of a leading chain store, located in Domdidier, Switzerland. "The soil quality was quite poor, meaning the project had to be carried out on some 7500 piles, and we faced a very tight schedule," says Alexander. "We therefore decided to carry out the work in two separate shifts, which ultimately saw us complete our part of the work in just seven months. The advantages of the on-site vibration pile were crucial, while the insertion of pipe work was exemplary. It assures a high performance and means that no water can ingress the pipes because of the dense construction."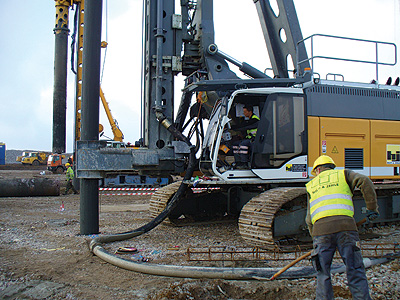 Having secured prominent market positions in a number of countries on the European mainland, the next area of focus for Hilti&Jehle is to establish a foothold in the lucrative UK sector. This ambition has been boosted by the work the company recently secured for a project to build one of Europe's largest paper mills in King's Lynn, Norfolk. Outlining the assignment, Alexander says: "we were nominated alongside a Germanpartner to carry out the foundation work. Because of the very demanding soil properties on the site, it is necessary to base all of the buildings on full displacement piles. In real terms, this means services amounting to 7000 piles with a diameter between 40 and 60 centimetres and a total length of 140 kilometres."
It is, he hopes, the first of many British developments that the company participates in. "Given the experiences we have gathered up until now, we definitely see further possibilities within the UK. Soil conditions are suitable for the piling systems we provide and, although we currently have minimal experience within the UK, we expect to be able to acquire projects for our concrete slipform paving techniques as well. We are certainly looking to introduce our core competences, such as special foundation works and concrete paving to the UK. We are also in contact with several international contractors and planners, who are all aware of our capabilities."
Lofty ambitions, but, you sense, more than achievable given past evidence. Looking forward, Alexander is understandably positive about the future of Hilti&Jehle. "We have a highly motivated team here who are trained to deal with any new challenges that they face. That means we have the ability to react to new trends in the industry. As an innovative company we always keep a close eye on market developments and new business chances. If the right opportunities were to arise, we would obviously be interested. Over the next few years, the main aim of the business is to expand our operations in general, while keeping an eye on the British market," he concludes.
Arno Kriss
Phone: 00435522345435
Mobile: 00436643812658
Fax: 004355227969435
Email: arno.kriss@hilti-jehle.at