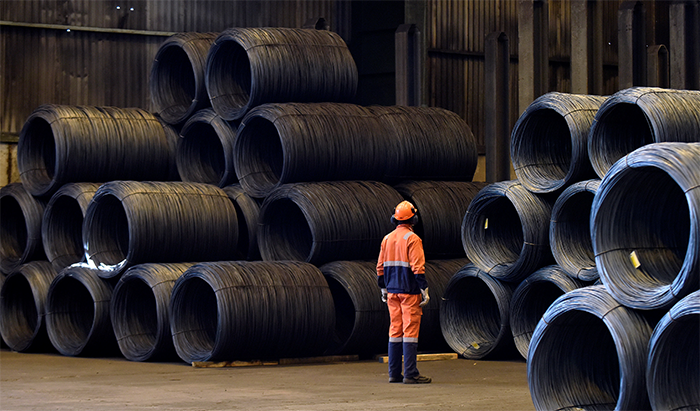 How Celsa Steel UK is becoming a leader in sustainability for the construction industry
Real steel
With more than 9000 employees and a turnover of over €5 billion, Celsa Group is the second largest recycler and manufacturer of long products in Europe. The family-owned company, with over 50 years' experience in the steel industry, has pushed itself to become one of the most diversified and integrated producers of reinforcement steel within the construction industry.
Celsa Group produces eight million tonnes of steel per annum from its melt shops based in Spain, the UK, Poland, Norway, and France. In addition to this, it also owns and operates downstream fabricators and upstream scrap operations. This month, Construction & Civil Engineering hears from the Head of Sustainability and Strategy of its UK branch, Chris Hagg, about the development of the company's British footprint, and how it is determined to grow its operation.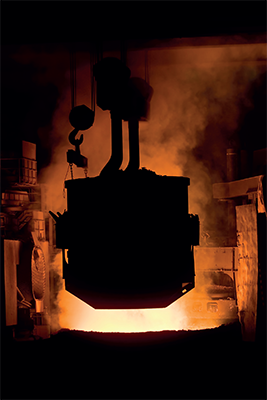 Celsa Steel UK (Celsa) has been producing in the UK for nearly 20 years, and is one of the largest recycling companies in the country. It produces all its products exclusively through an Electric Arc Furnace (EAF) process, using scrap metal as the raw material. Based in Cardiff, Wales, the business' EAF capability can produce over one million tonnes of steel per year. Adjacent to the steel production, Celsa also has its Rod & Bar Mill capable of producing 900,000 tonnes per year of reinforcing and wire rod products, and its Sections Mill capable of producing 350,000 tonnes per year of merchant bar and sections. At its facilities in Cardiff, Celsa employs over 900 people, and has an annual revenue of over £500 million.
"All Celsa's products contain 98 per cent recycled content and conform to the latest British Standards," Chris states. "Information relating to quality assurance, test certificates, properties of the steel, and deliveries can be supplied digitally, directly to the customer. An additional benefit that we provide is all our rebar output is grade B 500 C, nuclear grade, suitable for nuclear power station construction, as well as multiple iconic projects throughout the UK. Our rebar is easily recognisable with UK stamped on every bar."
Keeping in step with the company's recycling initiative, there are a variety of strategies in place for the business to remain committed to sustainability. Chris acknowledges that in many instances, particularly given the cost requirements of the construction industry, this is not an easy task. However, Celsa incorporates innovation to ensure that it contributes to minimizing its carbon footprint. "We are a very energy intensive company with low margins for our products," he insists. "However, we are always looking for ways to improve our energy efficiency, productivity, and cost effectiveness. We have many continuous improvement projects in place to reduce the amount of both electricity and gas used, such as hot charging, energy recuperation, oxygen enrichment, and a new SVC.
"We are already a low-carbon steel producer with emissions that are less than a quarter of alternative steelmaking routes," he adds. "Our decarbonisation pathway is clear. To reduce our direct scope one emissions, we need to have an alternative to natural gas for our reheating furnaces in particular. Currently, it appears the most likely alternative is hydrogen, and we are in discussions with a number of potential hydrogen suppliers. Eliminating our carbon emissions from natural gas would reduce our emissions by over 60 per cent. Our scope two emissions are dependent upon decarbonisation of the national grid or alternative arrangements (for example, Power Purchase Agreements) for provision of renewable electricity. We have identified our scope three emissions, and they will be worked on in conjunction with suppliers in the future."
The pandemic hit the construction industry particularly hard. Fortunately, Celsa is equipped with a dedicated and hardworking team, and was able to pivot quickly to ensure the security of its operation. "Unlike many business in the UK, Celsa did not cease working during the pandemic," Chris reflects. "Whilst demand for our products was immediately affected, and for a period of time it was only a third of our normal rate, the resilience and loyalty of our workforce meant that we were able to continue production.
"Having provided all those who were capable of working from home with the necessary resources a full week in advance of the national lockdown, we were well prepared to continue," he adds. "Unfortunately, the impact on our business was such that we needed intervention to be able to support everyone. We were immensely grateful for the government's financial help, which came in the form of a loan under the bespoke arrangement of the Birch Scheme for the exceptional circumstances of 'a company of strategic importance'."
Despite these challenges Chris acknowledges that Celsa did not compromise on quality and project delivery for its customers. "We continually consult with our clients and ultimate end users about potential new requirements," he says. "The construction industry has often been slow to adopt new standards and opportunities to innovate. We remain ready and willing to offer higher strengths grades and new sizes for projects."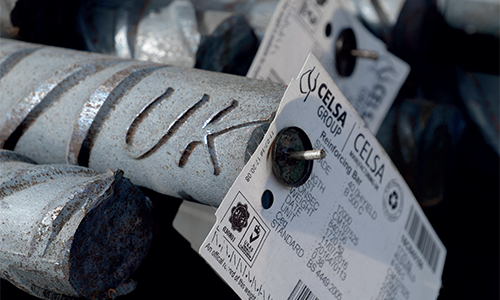 In conjunction with this, the business is also proud of the team with which it works. Celsa's company culture is one that is committed to the growth and development of its people. The business has invested substantially in training and development to ensure that it prioritises the safety, wellbeing, and vocational growth of each individual within the business. As a result, it has crafted a dynamic group that has served as the cornerstone of its overall prosperity.
Part of the company's success is also driven by the excellent relationships maintained within its supply network. The synergy in this regard has meant that products can reach the company's customers in pristine condition and in a timely manner. Commitment to this goal has meant that the business is able to fulfil projects to the best of its ability. "The most successful contracts are those where the supply chain is consulted and aligned," Chris argues. "In recent experience, the most progressive have been major projects where there was great dialogue between us, our partners, and customers to achieve optimum results."
As businesses adopt best strategies to help navigate their supply chain difficulties, Celsa remains on course for a positive result in 2022. This has been a successful journey for the company. However, it has not been without its challenges, and currently, according to Chris, the largest is the turbulence of the supply chain, both in terms of raw materials and energy. "Because we are committed to improve our circularity, we want better segregation of materials within the scrap we receive, so we can separate out the non-ferrous (aluminium, copper, rare earths) from the ferrous scrap suitable for our production," he explains.
Chris expresses that there are some exciting developments in the pipeline that will serve as a fantastic springboard for the company's continued growth. "We are looking at the best opportunities to help increase our economic stability," he concludes. "From my perspective, it is important that the UK Government fulfils its promise to address the disparity between electricity costs in the UK and near competitors. Once this has been resolved, that will place us in a stronger position to secure our longevity. Beyond that, when I think about our five-year plan, we are determined to further reduce our carbon footprint in the coming years to supply a near net zero product to the construction market."
www.celsauk.com