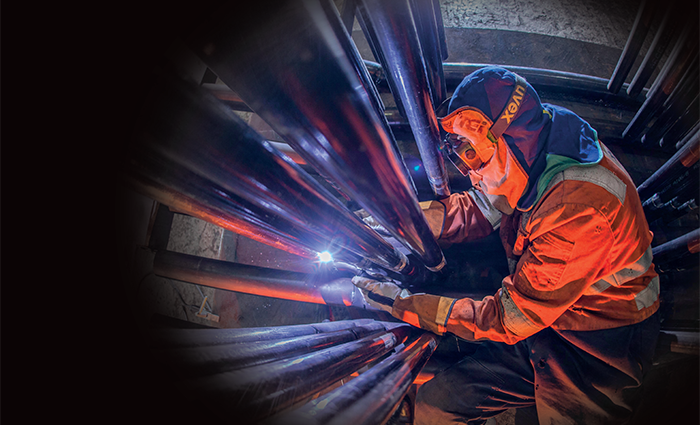 How TEi's more than 150-year story is informing its model for sustained success
A rich history, a prosperous future
Though TEi has been trading under its three-letter moniker since 2004, the company's history goes much further back. In the 1980s and through into the 1990s, the company was what we might call an amalgamation; multiple engineering companies, including well-respected names such as Greens Economisers, The Senior Group, and Foster Wheeler, came together as one overall entity in the engineering and construction sector. Therefore, as a company that unites these various commercial and historical strands, TEi can actually trace its formation all the way back to 1845 as the original Greens Wakefield.
The founder of that company, Edward Green, patented the Economiser boiler and, up until this very day, TEi continues to design, fabricate, and install the product and its various pressure parts. With a strong presence in Wakefield, a city in West Yorkshire, UK, which is made up of a head office, metallurgical laboratory, and numerous workshops, the Greens-now-TEi name has been and remains a key one in the local community.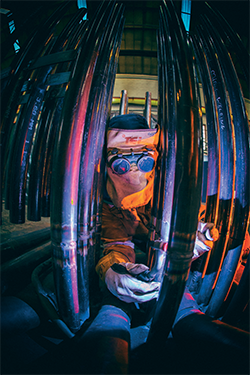 Today, the company is recognised as a leading specialist welding company with experience in major construction turnarounds, turnkey project management, and repair and maintenance frameworks. A broad overview of the services offered by TEi is as follows: a nationwide operations division providing on-site project delivery and client support; a UKAS-accredited metallurgical laboratory offering on-site assessment and lab-based mechanical testing; a heat exchanger division to support on-site eddy current testing of shell and tube heat exchangers, workshop refurbishments, and on-site explosive cleaning; and a technical services division comprised of an in-house design team that supplies pressure vessel design, piping design, pipe flexibility analysis, structural steel design, and on-site inspection.
Then there is TEi's fabrication workshop, which is EN1090-accredited and has the capability to be tailored to any project requirements. It is predominantly utilised to support the firm's major contracts and projects. Next up, and rounding out an overview of services offered, is TEi's EN3834-2-accredited welder training school, which is primarily used for training and qualifying core welders. However, the school can also be utilised for external clients to produce welding procedure qualifications and to train and qualify welders in specific techniques.
With more than 150 years' service to the energy, process, manufacturing, and construction industries, it is clear that TEi, particularly through its training school, intends to give back to the next generation of professionals and tradespeople. "TEi is a service organisation," begins Alan Waddington, Managing Director at TEi, who recently sat down with Construction & Civil Engineering to offer our readers an insight into the longstanding company. "As such our people are our strongest asset. We have a staff headcount of approximately 250 (which can increase during high demand).
"Even though the numbers are fairly high, employees often describe TEi as feeling more like a family-type of company, and one in which people are treated with respect and due care," he goes on. "Our culture is based upon team effort with consultation and collaboration in effect across management, all the way from the shop floor spokespeople to our safety representatives. Moreover, we utilise an internal committee network and questionnaires, which are delivered to employees across the organisation to help us gauge a consensus of opinion. We consistently invest in training across all levels of management, appraise performance, set objectives, and reward good performance. If TEi succeeds, then collectively we will reap the benefits of that success."
At no point was a strong, unified workforce more important than during the Covid-19 pandemic and the disjointed, unnerving world it created for employees and businesses alike. As TEi services the energy and petrochemical industries, its personnel were considered key workers and subsequently the company was fortunate enough to continue trading. As Alan elaborates: "The pandemic did present us with the issues of lockdown and a restriction in working at office locations, however we kept going. Strict site protocols were put in place to ensure the health and safety of our employees on contract sites.
"All main operational support services are controlled from our head and regional offices, and therefore implementing working from home effectively was certainly a learning curve for us, but one that was embraced quickly and, in the end, ensured that our operations continued," he explains. "During the lockdown, we invested in and improved IT and office equipment for all staff at TEi. One simple thing we did was utilise Office365 to better enable flexibility in both software and hardware. This has ensured we can continue with our flexible working and has benefitted our ability to react to both market and national issues with little disruption to the business."
Commercial dynamism of this kind is always important in times of adversity, but for TEi it has seemingly become a new way of life – and that has paid dividends. Since the pandemic, the firm has seen various new framework contracts established with key clients like Drax, EPUKI, ExxonMobil, Uniper, and RWE – just to name a few. "We work closely with all clients and our repeat custom and framework agreements stand as a testament to the strong client relationships we hold throughout the UK and across the majority of the country's prominent energy infrastructure assets," notes Alan. "This year has seen us successfully deliver large contracts at the PX Chemicals Park, plus installation of a US Boiler System, and work on major outages for Triton Power.
"So, in short, some major milestones for us – and there is still a good part of the year left to go," he says. "We have also been instrumental in installing Original Equipment Manufacturer (OEM) apparatus for existing gas stations, bringing them back online to ensure national supply meets demand. In addition, we have been working with major clients to enable sites that facilitate the government's upcoming Net Zero drive for carbon sequestration and hydrogen production in the East Coast Cluster.
As mentioned previously, an ethos of constant improvement is essential to TEi's company outlook. It is for this reason that the firm runs its own training school, encouraging future generations to see an exciting new career path in an industry that they might have otherwise overlooked.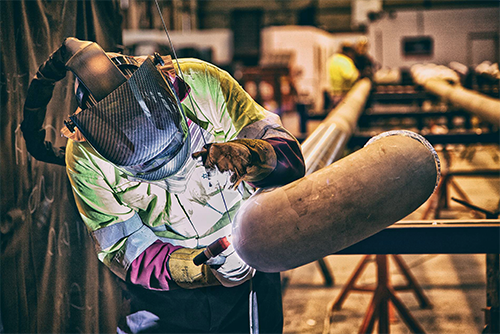 Yet TEi also wants to improve its own standards, always looking at methods of bettering its services and output for clients. "We continuously look to improve our productivity on-site and, as such, we have developed numerous strong relationships with industry renowned institutes including The Welding Institute (TWI) and welding specialist contractors," expounds Alan. "In turn, this helps to ensure we are utilising the best available technologies and consumables to deliver a quality product to our customers. Furthermore, our welding school acts as a Research and Development (R&D)base for welding trials, often with project mock-ups created to make sure the best technology is utilised and trialled before TEi reaches site."
The company has also developed an internal web-based application to help administer sections of its Integrated Management System (IMS). As Alan goes on to explain: "The application assists our site teams in producing timesheets and purchase orders to improve the processing time for our head office's purchasing and accounts departments. The application can also give us real-time costs allotted to contracts and it provides us with a performance dashboard. Now, however, our attention is turning to a number of energy efficiency schemes involving waste heat recovery technology.
"With the current instability in the energy market and the high demand, that is now more important than ever," he concludes. "TEi remains a strong prospect within the UK energy market. The availability and sourcing of skilled labour has proven difficult in 2022, and this will likely continue in the near future. However, we will look to invest in the development of our core capabilities to minimise the effects of this. We strongly believe there are growth opportunities to be had in the UK and abroad in the next five years – and we intend to take them."
www.tei.co.uk