Howarth Windows & Doors is one of the UK's leading manufacturers of high performance, sustainably focused softwood windows
Unlocking success
Howarth Windows & Doors is one of the UK's leading manufacturers of high performance, sustainably focused softwood windows. Its extensive and innovative range is the preferred choice of architects, housing developers, contractors, specifiers and merchants nationwide
Howarth is based in North Lincolnshire, and while the group was founded in 1840, the windows and doors division has a more recent start date of 1985. Despite its relative youth, Howarth Windows and Doors still has a depth of experience in the industry. The company and its group have both recently met milestones, which general manager Alan Shearer discussed: "It was the 175th anniversary of the group, and this also coincided with Howarth Windows and Doors 30th year in operation. In order to mark it there were a number of events – we did our first golf day, where we invited customers around to join in, but there are many things going on. One that the company particularly got involved in was that we tried to raise as much money as possible for charity as we could in the time frame. This is something that we often try to do, and the group has an appointed charity called Caudwell Children."


Quite often the hallmark of a company with a positive future is whether it uses its finance to reinvest into the business, and Howarth has engaged in a large investment into its facilities, which Alan pointed out: "We have put down a two million pound extension to our factory which opened in January. In order to maximise its uses we have brought new people in to utilise this asset. It has increased our capacity already, but as it settles in will benefit us to even greater extents, but in fact we are already seeing efficiency benefits from it. Now that it is finally up and running the main focus of our activities is to get the most out of it, which will be in the form of efficiencies, cost savings, and improved output."
The improvements to the facilities at Howarth was something that Alan continued to shed light on: "It is a massive statement of intent, and the investment we have put down is with the aim of giving us a 35 per cent increase in turnover in the coming next two to three years, and there is continued investment going on around the site – in all sectors of the business. We will continue to extend the facilities and grow the turnover in the coming years. We have survived the recession positively – we have come out the other end and made investments for the future."
The group has also received attention from an awards event, which Alan talked about: "The group was recognised by the Yorkshire Business Awards, for enterprise – this was due to the fact that so far we have had six generations of the same family running the company."
Howarth provides its customers with a number of products, from a selection of windows that includes flush casement, casement windows, sliding sash, and cavity closers. Within its doors section, the company makes single doors, French doors, plus sliding and folding doors. All of these products are made from sustainable timber, and everything the company manufactures is made to an exceptional standard.
Howarth is always striving to create new and improved products for its customers, and Alan focused on one in particular: "We have been focusing mostly on the sliding sash range of products. There are essentially two types of sliding sash cord windows, one is called a modern spring balance, but there is also the old style box that can use a rope and a pulley.  We are trying to bring out a new product which gives you the benefits of both, and that is going to be launched late 2016."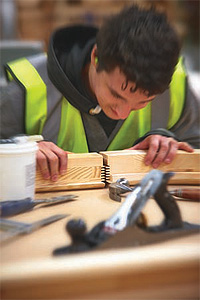 Another aspect to the products that Howarth is pioneering is around two initiatives, the first of which Alan elaborated about: "There is a scheme called Life Time Homes, it means that it has to be accessible – windows should be able to be opened by people in wheelchairs – and traditionally the sash window has not been suitable for that. However, we are now close to launching a Life Time Homes compliant sliding sash cord window, which we think will be the first in the UK."
The other initiative that Alan discussed is called document Q that address the security standards of windows: "We have had Secure by Design compliance for two to three years now – and we continue to welcome this scheme. Secure by Design is when you have got windows on the ground floor or first floor and are easily accessible and we make them intrinsically more secure. We have standardised Secure by Design across our range – this initiative was set up by the police in order to try and reduce crime. It is designed to slow people getting in and make it more difficult, we also put in laminated glass so it goes off with a big bang if broken – all of this helps to deter."
The company works with wood, and therefore sustainability is also a key part of Howarth, as Alan discussed: "Timber is a very sustainable material to use, if you want to be environmentally friendly, what you want do is use trees – as long as it comes from a sustainable forest – because when you replant them it means there is a constant replacement with younger trees. These actually take more carbon out of the atmosphere than older trees. So if you treat trees as a crop then you would take them and use them in your building materials, but would also maintain a supply of what you are using, so therefore you will ensure that new trees are planted, and this means you help the environment. This is further demonstrated by Howarth's partnership with the British Woodworking Federation, and the Wood Window Alliance."
Howarth is in a strong position going forward, it already has a track record of success, and recently improved its facilities, all of which is on top of the awards it has won. It has a clear commitment to its customers and to sustainability, and with all of this in mind, it is no wonder that Alan presented an ambitious plan for the future: "Our plan for the next 12 months is to settle the new investment – allowing us to continue to grow and develop. We have historically been a business of around seven or eight million pounds, but we are intending to take our turnover to 12 or 13 million pounds over the next three years." Howarth has everything in place to fulfill its growth, and will likely be providing high quality windows and doors to its customers for many more decades to come.
Howarth Windows and Doors
Services: Manufacturer of high performance timber framed windows and doors