Offering tower crane and hoist packages that are tailored to customers needs, HTC Plant Ltd provides manpower and equipment with a real head for heights
Reaching new heights
Offering tower crane and hoist packages that are tailored to customers needs, HTC Plant Ltd provides manpower and equipment with a real head for heights
Backed by its owners Harrington Group, HTC was formed from the acquisition of the tower crane division of Hewden Stuart PLC in 2002. With a fleet of 100 or so assets and a presence in the industry of around 40 years, a strong platform existed to grow the company to a standing where today the fleet consists of over 230 cranes, working all over the UK. In 2007 it acquired the hoist division of Hewden, further expanding the capabilities of the business with additional workforce, equipment and depot locations.Additionally, it operates two mobile crane units, predominantly for its own operations, although flexibility is a key strength of the company.
HTC is the agent for the German manufactured Wolff cranes, a highly regarded top end product, recognised as worth the additional expense it attracts. "We offer a very good brand that benefits
from a high free-standing height. One of the major advantages is that it does not require tying in to potentially weak structures. It is an excellent example of German engineering, both high in quality and reliability. The equipment is robust, strong and lasts a long time," says David Holder, managing director.
Highlighting that confidence in the equipment, HTC is looking to procure several new cranes with a much taller reach, as David points out: "The new units will take us up to 230 metres. We have got some high profile jobs coming up and there are many more available to win. Securing such contracts will require a massive investment in tower sections to reach new heights." The company is heavily involved in projects in the UK market, but through close connections with projects that its parent company fronts, it is active in the Middle East region, working from a facility in Dubai where since 2009 it has operated ten cranes and up to six hoists.
Discussing the conditions within the UK market over the past year, David explains that in his opinion the market has dramatically lifted, with several new orders within the UK, adding: "As the market improves, the financial conditions are starting to catch, and we have quoted some quite healthy rates for 2015. At the moment we are still continuing to fill in on work, which was won cheaply back in 2012/2013, but as that completes over the coming months we will be able to move onto something with a more substantial and robust rate, enabling us to invest in more stronger, more capable equipment, upping our age profile a little bit. Buoyancy is present across quite a few sectors, including residential, high rise, commercial office space, and some infrastructure projects."
With much of the recent vertical expansion in the northern territories complete, the bulk of HTC's focus is being channelled to within the M25. However, in the past its portfolio of work has consisted of projects within the energy sector, and building on that experience the business remains hopeful that it will achieve growth in that sector too. "We are trying to expand into the energy sector, which we see as a market offering a good quality of work at attractive rates and although we already work for and have contact with petrochemical companies both on and offshore, we do not do as much as we would like, but our equipment is well suited to a number of activities essential to operations," explains David. One of HTC's units has a unique system incorporated for repairing flare stacks, which has in the past proved a great success, with clients showing interest for future activities.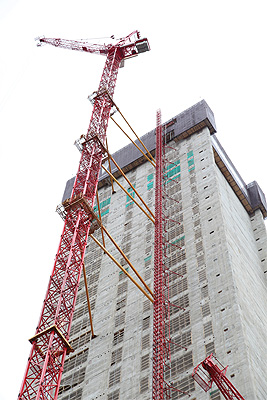 The current portfolio of projects includes many high profile projects such as those at AWE Aldermaston where over the past four years the company has undertaken a number of activities. Beyond that, projects such as Westfield shopping centre in Sheperds Bush, residential projects in Stratford Village in the international quarter, refurbishment works at London Bridge Station, and a six crane project in Nova Victoria have all bolstered the expertise of the business.
Innovation plays a key role in the company's progression and is an ongoing activity. Working closely with its manufacturer, HTC ensures new models are designed to serve the needs of its customers, whilst ensuring lower power requirements, greater capacity and flexibility. Work within the high rise block is one thing that HTC pays particular attention to, and offering free standing solutions enables clients to build structures without intrusive tie ins so that they can waterproof the building much more quickly. Through innovation HTC is also able to promote safety, developing a climbing platform for when erection staff are attaching tie collars to give a safe place of work and reduce the risk of items falling.
"Our greatest strength is the reliability of our product, but this is heavily backed up by our expertise. We have got long standing members of staff who have been with us for many years, gaining a vast amount of experience in complicated projects that entail activities such as high-rise climbing and tying. We are able to supply operators, supervisors, signallers and appointed persons, providing a whole lifting package should a customer want it." Focused on safety, the business recently obtained 18001 accreditation, complementing the pride it takes in using its achievements in best practice to assist in steering the safety of the tower crane industry.
HTC Plant is a CITB registered training centre and delivers tailored training packages to all areas of the industry. As well as training facilities in Sheffield it has a facility in Cheshire where it provides CPCS tower crane operators, slinger signalers and appointed persons training, which will allow the company to further control the quality of training delivered to potential candidates wishing to enter the company or industry. "We are looking at expanding that aspect, and we will drive this through our accredited test centres and providing opportunity to train operators on site.
"Each year we run an apprenticeship scheme, employing four novices, where following training they are paired up with regular operators to gain experience and ultimately go out into the field on their own. So far this has proved a great success and through opening it to friends and family of existing employees we have generated a wealth of loyalty within the business. In the coming years that will be further expanded, as well as continuing to offer internal and external courses for numerous signalling and marshalling qualifications," says David.
Strategy is a card David regularly plays in ensuring positive development of the business, and following expansion over the last decade the goal of establishing an optimum level in terms of fleet size has been reached. Drawing to a conclusion, David highlights the steps ahead: "Adaption of the fleet will be an ongoing method that guarantees we continue to increase our capabilities, and as new equipment is purchased, through our established contact list we will sell the older items, ensuring that our operational capabilities are not affected. Ultimately we are driven to succeed within the tower cranes market and our goal is to select the best products for our customers and do the best job possible. The focus for HTC has always been the level of service we provide, in pre-planning, erection and dismantle, and that remains true."
HTC PLANT LTD
Services: Complete tower crane and hoist packages