The sight of red Wolff tower cranes is a familiar one across London's skyline, and is a constant reminder of the successful partnership that culminated in the formation of HTC Wolffkran back in 2015
Towering above the competition
The sight of red Wolff tower cranes is a familiar one across London's skyline, and is a constant reminder of the successful partnership that culminated in the formation of HTC Wolffkran back in 2015
It was in May 2015 that German premium tower crane manufacturer Wolffkran announced its acquisition of the UK tower crane rental company HTC Plant Ltd (HTC). The truth is, however, that HTC had been synonymous with the Wolffkran tower crane for more than 40 years prior. In fact, at the time of the acquisition, HTC possessed a fleet of over 200 of these cranes, as well as a staff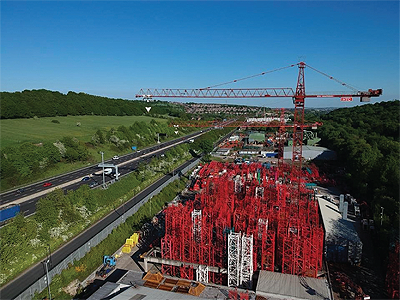 of 370 crane experts and more than 50 years of industry experience. These qualities meant that HTC would perfectly complement the global growth of Wolffkran, and thus HTC Wolffkran was formed.
"The Wolffkran range of tower cranes is seen as one of the very best and strongest in the world, and having this product behind us is a massive selling point for our business," begins HTC Wolffkran's Managing Director, Richard Coughtrey. "Today, we enjoy direct access to new equipment, world class service support and over 100 years' worth of experience with the product, enabling us to offer a unique reliability guarantee to our customers.
"We employ some of the finest people within our industry – including tower crane operators, supervisors, appointed persons, erectors, service technicians, engineers and back office staff – who have been with the business for many years and have a special degree of expertise when it comes to complex projects. Our teams allow us to provide our customers with a complete lifting package, as well as innovative engineering solutions that are tailored to specific requirements."
The company's core customer base comprises of leading, blue chip construction companies in the UK, and includes the likes of Mace, The Kier Group, Multiplex Construction, Bam Construction and Skanska, to name a few. These companies actively seek the type of work that fits with HTC Wolffkran's strengths, namely complex, high rise structures, requiring substantial engineering solutions. They are also companies that share the same values, particularly in terms of health and safety, which HTC Wolffkran considers to be its number one priority each and every day as it strives to lead and shape this topic within the tower crane industry.
Newer, efficient models
"We find that we have to continually be innovative with our engineering solutions when it comes to the aforementioned complex projects in order to deliver on our customers' requirements for time, cost and lifting capacities," Richard explains. "Space is often at a premium, particularly in city centre locations and we have to ensure that the tower crane solution is not too invasive on the project. The superior free-standing height of our project enables our customers to build structures without the intrusive ties, enabling the building to be waterproofed much quicker. For our part, we have to be nimble, and demonstrate flexibility and innovation in our approach, and we see this as one of our key strengths!"
The Wolffkran range of hydraulic luffing tower cranes is particularly sought after and recognised as being the best in the business, offering excellent lifting capabilities, high function speeds and delivering class-leading reliability when compared to competing models. "The 166B and 355B models are running at high utilisation rates at present, and the new generation of CLEAR tower cranes – particularly the new Wolff 6020 – are also proving to be very popular in the UK," Richard details. "The business is continually investing in its tower crane fleet in order to deliver newer, more efficient models that better suit the needs of our customers.
London success
"In recent times, for example, we have invested heavily in tower sections to ensure availability not only of the crane top, but to also guarantee that we can meet the customer's requirements on tower height and configuration. Additionally, we own two Grove mobile cranes, which we renew on a three-year cycle, which enables greater flexibility in our crane installation and dismantling operation. We are also planning to make a significant investment in our yard and facilities in the coming years in order to provide a world-class base for our operations."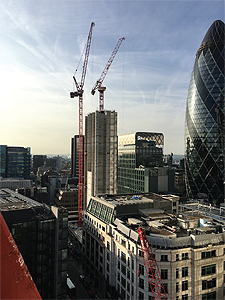 Today, a high proportion – approximately 70 per cent to be exact – of the work undertaken by HTC Wolffkran remains located within the greater London area. Here, the company has become well versed in handling the various challenges posed by working in and around the capital, from the various TFL rules and regulations it must abide by to the issue of limited space to operate within. As a result, it boasts a significant presence within the city where it has successfully delivered iconic buildings, landmarks and stadiums of the highest calibre.
New regions
The remaining 30 per cent of the company's activities are spread across the rest of the UK, where, over the last few months, it has seen a number of regions, such as Leeds, Manchester and Birmingham, experience a significant increase in construction projects not seen since the last recession. "We are seeing a wide variety of projects appearing across these regions, ranging from student accommodation and high rise residential buildings to infrastructure projects and hospitals," Richard adds. "Manchester seems to be establishing itself as one of the fastest growing European cities, where residential projects are at the forefront of construction, while in Leeds it is a similar picture, with office space and student accommodation construction at high levels. Meanwhile, Birmingham continues to hit new heights through redevelopment and re-purposing, with preparation for HS2 and the 2022 Commonwealth Games influencing the start of new projects."
Customer service
Following a slightly subdued first quarter of 2019 – which owes much of that to both the cyclical nature of the industry in the winter months and ongoing Brexit uncertainty – the company has seen a significant upturn in interest in the second quarter, and with a sales pipeline that extends well into 2020, HTC Wolffkran can continue to tender for high profile projects with justified confidence.
"Since Wolffkran purchased the business back in 2015, it has gone from strength to strength," Richard enthuses. "Our strategy going forward revolves around continuous improvement in all aspects of the business. Our customers and their requirements are continually evolving and we must evolve with them. As such, we will carry on investing and adapting our fleet to meet demand. Meanwhile, customer service will always be key, and we must ensure that we never lose sight of providing the best products and services possible."
HTC Wolffkran
Services: Tower cranes, lifting equipment and accessories