The ability of Hurks' group of companies to collaborate has resulted in more than 100 years of client satisfaction and has helped shape the urban landscape of the Netherlands, and beyond
Building a brighter future
The ability of Hurks' group of companies to collaborate has resulted in more than 100 years of client satisfaction and has helped shape the urban landscape of the Netherlands, and beyond
"In 2016," explains Koen Waijers, Director of Hurks Precast, "Hurks celebrated its 100-year anniversary, which obviously was a big milestone for us." Quite the significant milestone indeed, but one that was extremely wellearned, what with Hurks having gained a reputation for being a reliable, proactive and financially sound partner, one that has helped its clients to realise their expectations for more than a century.
Embracing all of the fundamental disciplines that make up the building chain, Hurks' activities are spread across three main divisions; construction and real estate development, pre-cast and aluminium façade production, and trading. Hurks' head office, and the hub for its construction and real estate businesses, is located in Eindhoven, with satellite offices in Amsterdam and Utrecht. Elsewhere within the Netherlands the company has pre-cast production plants in Tilburg and Veldhoven, the latter also hosting Hurks' façade and aluminium windows and glazing plant, while Hurks Precast also has an office in London. Across the group of companies Hurks employs a total of approximately 700 people.
Over the years, the company has gained considerable experience and knowledge within the key fields of the residential and non-residential construction industry, making it a true European market leader when it comes to urban development, the construction of complex projects and transformations. "In London, we are currently involved in several important projects," Koen continues, "including London City Island and Royal Wharf, both of which are situated in the East of the city." The former involves the construction of prefab residential towers with a total of 1750 units, while Royal Wharf features over 3300 homes spread across a 40- acre site. Both of these projects are taking shape in one of the capital cities fastest growing areas of urban development.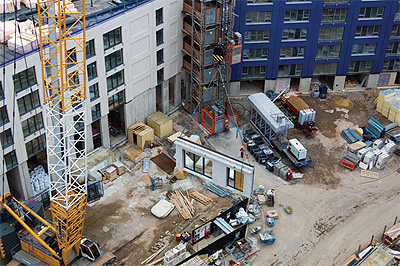 "Meanwhile in the Netherlands," states Rick van Heumen, Managing Director of Hurks Construction and Real Estate Development, "we are active across a broad range of projects. These include the Shell Technology Centre Amsterdam (STCA), which involves the construction of a brand-new laboratory wing on the grounds of the research centre, as well as several major retail and residential, office, parking and hospital facilities. We are also currently in the midst of the construction of a 49,000-square metre food production facility for Danone Nutricia Early Life Nutrition. Upon completion, this facility will supply baby food products to more than 80 countries, including China where they are in extremely high demand, and we anticipate first production to commence in Q2 2018."
One source of the company's vast portfolio of projects is a boom in the residential property market in cities such as Amsterdam, Rotterdam and Utrecht. With the growth of these population centres also comes the need for key services like hospitals and schools, and amenities such as car parks and retail complexes, thus presenting increased opportunities for Hurks to capitalise on.
"We have worked hard over the years to differentiate ourselves from other like-minded companies," Ricks goes on. "We have always been, and will remain, a family company that works for and with each other, and one that revolves around our core values of family, independence and constructiveness."
Complementing the company's values are its unique systems and innovations. A particularly good example of this is the company's Da Vinci House concept. "With Da Vinci House," Koen states, "the company has combined its years of experience in developing and building homes to create a smart, tailor-made engineering tool that provides a high level of efficiency when it comes to the designing, building and organising of residential properties. Working with a configurator, Da Vinci House makes a swift and detailed analysis of the client's requirements and requests, and generates a digital building information model of the property's expected finish, its cost and its level of sustainability." "Another example is Hurks' prefabricated system, where complete buildings are constructed off-site and assembled on site. The system consists of pre-casted walls, floors, cores, stair flights and landings and the façade elements. The latter are integrated parts of the structure, such as balcony brackets, plenum boxes, etc. The Hurks' aluminium windows & glazing are fitted at the plants. This results in faster construction on site, creating a wind- a watertight structure and façade without the use of scaffolds."
With contracts throughout its home markets, the efforts of Hurks and its companies will now be on not only consolidating the work it has, but also extending its geographic reach and its capacity. "We have a respected and trusted reputation when it comes to delivering large, complex projects and we want to capitalise on growth in our core market segments," Rick says.
"Outside of our present markets we are witnessing increased demand for the type of work that we specialise in, for example a requirement for new prison complexes, in countries like Hungary and Romania," Koen concludes. "There are also opportunities that we are starting to identify in areas like Scandinavia that will undoubtedly benefit from Hurks' unparalleled ability to deliver quality, profitable projects."
Hurks Group
Services: Building development and construction