Since its inception in Denmark in 1959, Hydrema has expanded its core customer base within the local agricultural industry to become an international group with a broad network of sales and service facilities based in six countries
Digging deeper
Since its inception in Denmark in 1959, Hydrema has expanded its core customer base within the local agricultural industry to become an international group with a broad network of sales and service facilities based in six countries
Discussing the company's growth, marketing manager Mads Peter Olesen begins: "We were founded in 1959 here in Denmark; back then Hydrema was mainly focused on agriculture attachments, which helped the agricultural customers to avoid all the hand shovelling. Back then our product was an excavator that was planted on a tractor and it was around this time that our founder realised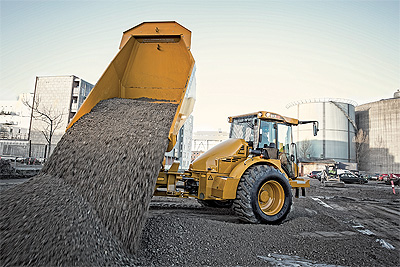 he was skilled with hydraulics, so we grew from that and expanded into a wider machine range that targeted not only agriculture but construction, civil engineering to military clients too. This development resulted in our progression from a local manufacturer of attachments on machines to an international group with our own wholly produced machine range.
"Today we have around 400 employees, are based in six countries and boast an almost global set up, so it has been a big transformation for the company from one man to a fairly largescale organisation. We develop, manufacture and sell hightechnology earth moving machinery, and provide after sales and service. A large percentage of the machine is produced by us, so we have a high level of in-house production."
Committed to providing equipment that meets the specific needs of customers in all markets, the company has flexible production facilities, a modern research & development department and sales and marketing offices in place to ensure complete satisfaction. Products include military and flood defence machines, backhoe loaders, which are particularly well-known in Scandinavia, and wheeled excavators, which have recently set a new standard in the market with the MX series. Combining ultra-compact wheeled excavators with the latest technology, the MX14, MX16 and MX18 models are more compact than similar machines on the market and provide superior performance.
However, it is Hydrema's dump trucks that generate the most sales on a global scale, as Mads notes: "We sell two types of dump trucks, the most popular being the compact ten tonne 912, which was introduced in 1983 and was originally mainly used on golf course construction projects due to the low ground pressure. Today it is developing a stronger market presence and we see several new opportunities for the dump truck to be used in other industries where there is a tight space or if a customer needs to drive on roads fully loaded. This is also a great rental machine and is often seen as a rental machine in many UK sites."
Well known for its robustness, agility and ease-of-use, the articulated and compact 912 dump truck offers superior durability, performance and excellent operating qualities year on year. Following the new emission regulations that have come into effect, Hydrema has enhanced virtually all of its product range including the 912, which now boasts the 912E series. Available in a wide range of machine configurations, such as the Multitip with 180 degrees tipping, Multichassis for multible body attachments, or as a Rail machine, the series provides many different options to customers.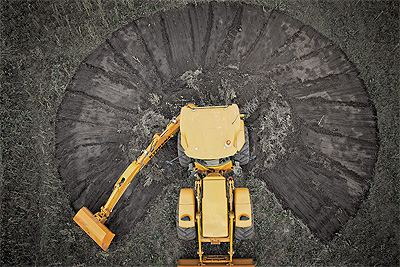 "With 16 different machine possibilities within the 912E series, we have the largest range of machine configurations ever, which supports the fact we are finding more and more possibilities for this product. It could for example be used on rails, or as a utility truck with a flat bed going to remote oil sites; this is our main international product this year and has been well received by the market. Although it over the years has become our most popular product, the new 912E series now has 20 per cent stronger engine power than it did previously and modifications have been made to the body too, which is causing the product to generate further demand," enthuses Mads.
Moreover, the spacious and adjustable 912E series provides operators with increased comfort thanks to high visibility, a soft touch interior and reduced vibration from liquid filled engine suspension points. There is also an air conditioning system and a highly user friendly computer, which provides the operator with a 6.5 inch flat screen PC monitor that can also work as a rearview camera when the machine reverses. "We are happy to see that the safety and environmental focus is increasing within the public and private sectors," says Mads. "It means companies are searching for innovative solutions to help secure positive working environments for machine operators while also taking the environment into account, whether that be focusing on low emission, fuel consumption reduction or the impact on the body from working in a machine all day."
He continues: "We have completed some studies with universities in Denmark to help minimise body impact on operators using our machines; it costs more to develop a product this way, but the outcome is worth it. Years ago most rental customers would buy the cheapest configuration of dump trucks, but as operators begin to demand more comfort this is a major selling point not only for our customers in construction and civil engineering, but for the rental industry too."
With its innovative, state-of-the-art products and passion for providing the best quality, comfort and efficiency to customers, the future looks positive for Hydrema as companies begin to search for the best possible solution in a competitive and growing industry. "We have a good set up in production and sales, so our aim is to enhance and support the sales network globally. Which means we can continue to support our clients and grow on a global scale. We may be a relatively small company, but we have big ambitions," concludes Mads.
Hydrema Group
Services: Develops, manufactures and markets earth-moving equipment