Digitising precast
Further growth across Belgium and the UK accompanied i-Theses throughout 2019, with the software developer set for another year of busy new developments and order management
Reflecting on the year that has just passed, Rony Verlee – CEO Sales & Marketing at i-Theses – does not hide his satisfaction with the extraordinary 2019 the software developer had. A well-
established partner to the precast concrete industry, the Belgian company had a fantastic 12 months in which the orders for its products kept coming through. So much so that it decided to postpone its entry into the French market, due to the overload of work it was faced with both in its native Belgium and in the UK. In fact, i-Theses has had such an overwhelming success this side of the Channel that it is now the undisputed leader in offering software solutions for hollow core flooring.
As a business with a mission to penetrate every single segment of the precast concrete industry with its tools, however, the company is now focused on extending its offering and developing new solutions regarding precast beams and columns. Rony gives us some more details on what the company has been working on in the past months: "We are now ready to launch a new drawing application that enables the design of T-beam floors. What is special about this product, is that it is based on AutoCAD, which is a type of solution that is in high demand in the UK at the moment. It has not been available in the market so far and applications have not been BIM-integrated. We are about to fill this gap and introduce an integrated calculation option that adheres to the Eurocode standards.
"Over time, we have successfully won over all the main UK precast companies that are involved in floor production, and they are all using our PrecastOffice software for the hollow core. We have developed planning applications for this part of the process and are now keen on doing the same for T-beam," he continues. "We already have the design package ready and we will shortly be able to automatically generate quotations out of a drawing. In addition, we plan on launching applications to support production planning and stock management. Ultimately, we are aiming to provide solutions that cover the entire production process, from the very first enquiry right through to delivery and invoicing. This will happen gradually over time both for T-beam structures and for the new module we are releasing for precast stairs later in 2020.
"The main advantage of integrating calculation and BIM is that it saves designers a lot of time," Rony maintains. "Although the database is 3D, the users can design the floors in a 2D view and, therefore, the new product is very easy to use. As it is based on AutoCAD, it is compatible with DWG and other formats such as DXF or PDF. Existing solutions do not offer this option, which means you have to redraw/rework the whole thing and that is very time-consuming."
Rony also points out that there is a universal requirement from customers for software that is easy to work with and that allows integration with BIM. "When BIM first appeared, everybody was talking about it, but nobody was using or implementing. As this is changing dramatically, there is a clear need from people who utilise it to be able to connect it with a range of software applications. It will definitely take a few more years before this turns into a mainstream requirement, but a positive start is made and PreCastOffice is ready to support this.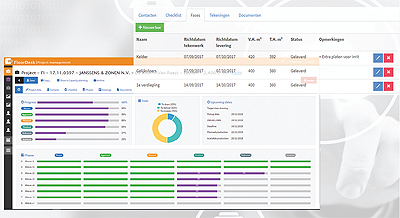 Skills required
Web-based applications are growing in demand when you take into consideration the rise of artificial intelligence (AI), Internet of Things (IoT), cloud computing, big data analytics, and the increasing digitalisation, among other components that characterise Industry 4.0. "We live in a world where it is perfectly possible to access loads of data and consult it anywhere you are on any type of device – be it a tablet, a laptop, or a mobile phone – provided that you have an Internet connection. It is all about making best use of the numbers you can have on your fingertips, which will enable you to check the status of any project in real time and compare metrics over a period of time, to better inform your decision-making process in the future," Rony explains.
"The challenge to the development of all these solutions, is finding the right people who can do that," he admits. "We have had to limit our growth in a way for the time being, because it is hard to find highly-skilled developers that will help us to expand further by means of creating the solutions there is market aspiration for. It is a very specific technology we are working with, which requires particular skills.
Bringing the web-based modules discussed above into the UK market will be i-Theses' main priority for 2020. This is happening step by step, though, with the company requiring some extra time to launch its various applications, such as the iTs ProjectManager or the PlanDesk Capacity planner. "This should be more than enough to keep us busy throughout the new year," Rony adds. "If in the meantime, we manage to set up a presence in France, then all the better. We are generally looking into our other neighbouring countries like Germany and the Netherlands for further expansion. We are actually already fully booked for the entire first half of 2020 for development, which promises another eventful year for the company," he concludes.
i-Theses
http://www2.i-theses.com/en/
Services: Software solutions for the precast industry