Having spent the last 12 months being rewarded for its efforts in making its business and products more sustainable, Ibstock Brick is now moving onto the next stage of its sustainability journey
Cementing a sustainable legacy
Having spent the last 12 months being rewarded for its efforts in making its business and products more sustainable, Ibstock Brick is now moving onto the next stage of its sustainability journey
Boasting 19 manufacturing sites spread around the UK and a network of 23 active quarries located close to its manufacturing plants, Ibstock Brick possesses the largest brick production capacity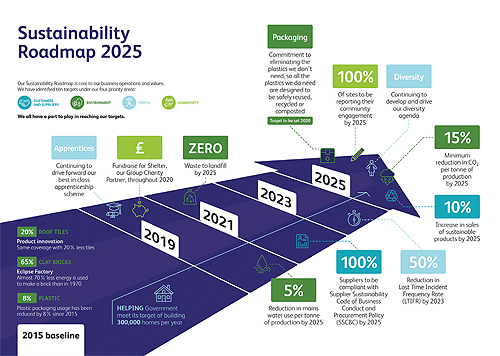 in the country. With a lineage that can be traced all the way back to the early 1800s and a plethora of projects successfully completed over the decades, it comes as little surprise that in 2019 the brick maker continues to sustain its earnings while others in the industry falter.
"In the year since we last featured within Construction & Civil Engineering, we have experienced a period of steady growth, during which we have focused our efforts on doing what we know we do best, which is manufacturing quality brick products," begins Ibstock Brick's Group Sustainability Manager, Michael McGowan MSc. Indeed, in its most recently released financial results, the wider Ibstock group revealed that revenues from its continuing operations rose by six per cent year-on-year in the six months to 30 June, 2019.
For Michael, 2019 has been a significant year personally, as it was back in February that he assumed his role of Group Sustainability Manager, having previously served as Quality, Environmental & Energy Manager at Ibstock Brick. Regarded as a leader in the field of sustainable manufacturing, Michael is responsible for the strategic leadership of sustainability across all of the brands that sit within the Ibstock portfolio.
Truth be told, the concept of sustainability has long been embedded within the business culture of Ibstock, and has resulted in its various businesses picking up a number of industry awards and recognition from its peers. In 2019 alone, Ibstock Brick has been named as the winner of the 'Energy Efficiency' category at the edie Sustainability Leaders Awards 2019 (the UK's largest and most prestigious sustainability awards event), has become the recipient of the 'Most Ethical/Sustainable Manufacturer of the Year' prize at the Made in the Midlands Awards, and was also presented with the latter accolade at the country-wide Made in the UK Awards in Coventry in June.
Big milestone
Amongst the actions cited by the above awards bodies as examples of the group's work in recent months was the commissioning of Ibstock Brick's new Eclipse factory in Leicestershire – one of the largest and most efficient brick factories in Europe – and of a new kiln at its Lodge Lane site. It has also received credit for its efforts to upgrade LED technology at ten of its factories, resulting in energy savings of up to 65 per cent, and for putting into place systems that allow over 60 per cent of the water used in its production processes to come from non-mains sources such as recycled water or boreholes.
As well as driving environmental efficiencies, innovation and best practice in key areas such as waste, energy and carbon reduction, he has also been tasked with leading a team focused on the development of a new corporate social responsibility roadmap. The result of this work is the introduction of the group's Sustainability Roadmap 2025. "This is a particularly big milestone for the business, as it marks the first time that we have publicly set out our group-wide targets," Michael explains. "We have always considered ourselves to be a truly responsible business, and as a market leader in sustainability in our field we always want to ensure that we retain this lead. One of the ways in which this can be achieved is by setting ourselves clear, long-term goals, which will be delivered by the core asset of our whole operation – our people."
There are four core objective areas that make up the Sustainability Roadmap, these being Customers and Suppliers, People, Environment, and Communities. "If we start with to pursue our target of making sure that, by 2025, 100 per cent of our suppliers will meet our sustainability code of business conduct, which is something we have introduced in the last year."
On the people front, the group knows that it is essential to the success of its operations that it maintains a safe and healthy workplace, one built on the implementation of a 'zero harm' philosophy where workplace health, wellbeing, social inclusion and diversity is allowed to prosper. "During the second half of 2018, our Health and Safety and HR teams worked together to formulate an employee wellbeing programme – Working Towards Your Health and Wellbeing – which aims to raise awareness of key issues and encourages our people to openly discuss any that they have been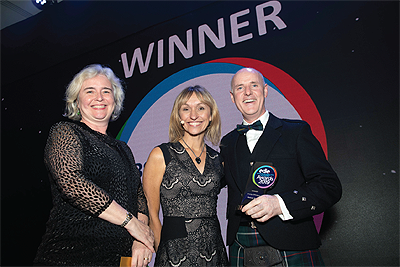 affected by," Michael adds. "This programme has proven itself to be invaluable over the course of 2019, and we look forward to taking it into 2020 and beyond."
Environmental initiatives
In the category relating to the environment, targets include achieving zero waste to landfill from its operations, a further five per cent reduction in mains water use per tonne of production, and a 15 per cent reduction in CO2 per tonne of production. Assisting in making these goals attainable will be other initiatives such as a multi-million-pound investment in various energy efficiency projects.
Lastly, as a business, Ibstock is committed to making a positive contribution to the communities that surround it, and part of its Sustainability Roadmap revolves around building long-term local relations, supporting local projects and inspiring young people. "On the community side of things, we have also selected Shelter – the housing and homelessness charity – as our latest charity partner," Michael reveals. "Together, we have been working to raise awareness and vital funds to support people who are experiencing homelessness and bad housing, and we look forward to advancing the phenomenal traction that we have already gained as we head into 2020."
Remaining both sustainable and efficient as a business is a major aim for the Ibstock group, which is why it is committed to reinvesting a significant percentage of its revenues back into its various programmes. "We have a whole host of fantastic actions in the pipeline, targeting things like driving down our carbon output, further improving our wellbeing and safety efforts, and eliminating the plastics we don't need so that what we do use can be designed to be safely reused or recycled," Michael enthuses. "There are certainly a lot of challenges that will accompany this work, but the most important thing is that we are all hugely motivated and ready to achieve the ambitions that we have set out!"
Ibstock Brick
Services: Brick manufacturing