Producing a rich variety of aesthetically appealing brick ranges, Ibstock Brick has recently opened the world's most modern brick factory in Leicester
Not just another brick in the wall
Producing a rich variety of aesthetically appealing brick ranges, Ibstock Brick has recently opened the world's most modern brick factory in Leicester
Staying true to its policy of investing heavily in the business, in order to deliver strong returns and support the growth in the market, one of the world's leading producers of building bricks – Ibstock Brick – recently completed its impressive Eclipse factory in Leicester, whose construction cost around £55 million. "It is the most modern brick factory in the world, covering an area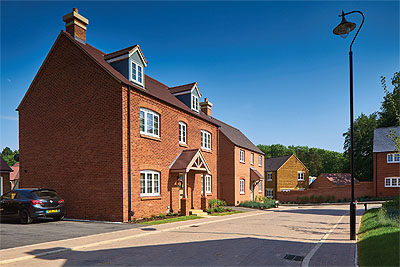 equalling that of six football pitches, and boasting a capacity of producing 100 million bricks per year," the company's Operations Director, Darren Bowkett proudly begins. "The site," he continues, "is unusual, as it has clays on-site, which can fire red, buff, and cream. It can produce three different textures and also has the ability to use many sands and stains to create a large number of colours, which gives us the confidence that we will have the capability to react to our customers' needs for many years to come."
Having already started production at full steam, the Eclipse factory is manufacturing two of the most prominent brick types made by Ibstock Brick – the Leicester Multi Red and the Leicester Weathered Red. These are currently being used in two major projects the business is working on. The Leicester Multi Red product is helping shape the appearance of a new build housing scheme in Leicester, while the Leicester Weathered Red bricks are playing a vital role in making the Ash Gardens complex in Towcester an attractive place for its future residents.
Being completely state-of-theart presupposes that only the latest technology available has been installed across the factory to make Eclipse as efficient as possible. "For example, control technology is used throughout the process to ensure quick resolution we have also placed translucent panels to facilitate that," Darren continues. As discussed earlier, the factory recycles waste heat and has already achieved very low levels of waste, also recycling any defective bricks.
"The significant investment in the Eclipse factory will positively affect local economy, as well," Darren points out. "Besides opening over 50 direct jobs at the facility itself, many of which are taken by local people, we also support a number of other indirect jobs at the companies that supply Eclipse. We are proud of being actively involved in the life of our local community. Shortly after the formal opening of the factory in June, we hosted an open day in late September to thank the surrounding community and our employees for their support of the project over the last three years. It pleased us immensely that over 400 people attended the event, for which we had prepared a factory tour and a whole lot of other activities, to showcase what we do here and its importance for the whole area," he discusses.
In another considerable factory investment project that started in 2017 and was completed in March this year, Ibstock Brick upgraded its Lodge Lane facility in Cannock for the sum of £7.6 million. The move included the introduction of a new kiln and was done with the idea of boosting production by up to eight million bricks a year. Known for manufacturing four types of blue brick – with its most popular being the Staffordshire Slate Blue Smooth – in 65mm, 73mm, and solids, the facility also has a specials department, which makes a variety of shaped bricks, including sills, plinths, bullnose, and chamfered.
Cost savings
By building the Eclipse factory and redeveloping some of its existing factories across the UK, Ibstock Brick has made a clear statement of intent that it wants to lead on the innovation front. Darren details: "An example of such innovation could be the development of European colours and textures and we are eager to work more closely with architects, so we can create various truly unique building façades. Taking a look into the building systems field, our ambition is to be leaders in the development of non-combustible products, with Mechslip being a great example of that."
Launched into the market this summer, the mechanically fixed cladding system is the first of its kind to use real Ibstock Brick. It was developed in conjunction with Ash & Lacy (A&L) and features
Ibstock Brick's clay slips and A&L's unique aluminium support rails. Designed to provide substantial cost savings compared to similar systems, Mechslip is also capable of delivering the flexibility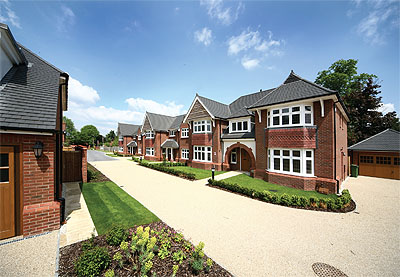 and aesthetic appeal of real brick in a fraction of the time.
Ibstock Brick has been selected to work on a significant number of building programmes in recent times, across an impressive array of sectors, such as commercial, education, housing, healthcare, leisure, retail, and new build. Whilst a detailed account of its case studies is available on the company's website (https://www.ibstockbrick.co.uk/case-studies/), it is worth highlighting one or two of the more ingenious buildings, Ibstock Brick has provided its products for.
Impressive projects
One such construction is the 14-storey Music Box – a mixed-use development incorporating a campus for the London College of Contemporary Media (LCCM) and 55 residential units, including on-site affordable housing. On Ibstock Brick's part, the use of brick had to reflect the robust character of the surrounding area with its white colour underlining the building's unique identity. The three-dimensional projecting brickwork pattern, which required special bricks glazed on all visible surfaces, reads like a sheet of musical notes across the page, providing relief, rhythm and interest. To add to its character and slip a historical link in the building's soul, the pattern resembles Eric Clapton's guitar riff from Cream's song 'White Room'.
Equally impressive has been Ibstock Brick's involvement in the construction of Putney's Oasis Academy. A combination of high-quality standard and multi-hued glazed brickwork contributed to the stimulating and unique façade of the building, providing an inspiring environment to aid the pupils' educational and social development.
Product recognition
Providing evidence for its enviable multifunctionality, the company received a whopping 23 nominations for the Brick Awards 2018. These are spread across a wide range of projects, clearly demonstrating the breadth available within the business' product catalogue. The winners will be announced at a ceremony held on 8th November at the Hilton Park Lane in London, with multiple projects being shortlisted for more than one category. Ibstock Brick's work at the University Arms Hotel deserved a nomination in three separate categories – Commercial; Refurbishment; and Craftsmanship; while three other schemes received two nominations apiece – 40 Beak Street (Commercial and Craftsmanship); Royal Albert Wharf (Large Housing Development and Urban Regeneration); and the George Davies Centre (Education and Innovation).
Ibstock Brick has a proven track record of strategic investments and the business intends on staying on the same path to ensure its future growth. Plans for sizable organic investments notwithstanding, the company also wishes to be viewed as a reference for transformation in the construction sector. Darren concludes: "We believe that, as an industry leader, we need to lead the way in developing supply chain efficiencies to support our customers and industry partners. What is more, we need to do this by operating at the highest levels of health and safety, which will guarantee our continued success in the coming years."
Ibstock Brick
Services: Brick manufacturing