Icopal UK works with professionals across the construction industry to identify the needs and problems of its customers
Product excellence
Icopal UK works with professionals across the construction industry to identify the needs and problems of its customers
With a clear vision to continuously expand its products and services, Icopal is focused on providing its customers with a complete system and package for building envelope protection. The group leverages its research and development capabilities and existing global coverage in order to achieve this. Icopal's success is based on having this global reach, yet developing local businesses that are free to act within the local market.
From its UK headquarters in Manchester and through its national network of over 2000 stockists, Icopal UK offers the UK's most complete range of construction membranes, support services and insurancebacked guarantees. The company is part of the Icopal group – the largest manufacturer of roofing and building membranes in the world, with 29 manufacturing plants in the UK, mainland Europe and the US.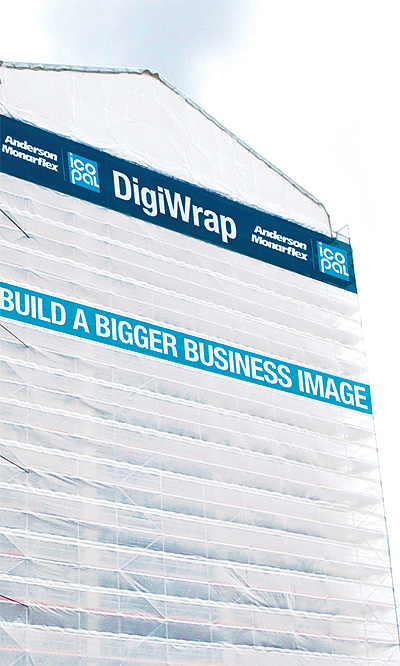 Through its three divisions – Anderson Monarflex, Monarflex Acoustic Systems and Monarflex Geomembranes, Icopal UK provides close support to its customers across UK and Ireland. As a group, Icopal invests considerably in the development of new and innovative products, which bring something new to both its clients and the industry.
One of the most exciting products the company's Anderson Monarflex brand has recently launched on the market is DigiWrap. Jim Mathieson, managing director for Icopal UK comments: "This system is within our printed scaffold sheeting range – we have a number of patented products in this area but this product boasts new advances in printing technology, whilst reducing costs for our customers. We are now receiving a significant amount of interest in the system."
Smart thinking from Monarflex has led to the introduction of DigiWrap, where 42 metre-wide photo-quality images can be printed on a one-off basis and within seven to ten days, on high quality scaffolding sheets. In addition to shielding the labour force and building from the elements, DigiWrap enhances the view and the reputation of the advertiser. Another benefit of the system is that it represents excellent value compared to the cost of renting 48-sheet poster sites or printing and hanging banners.
The Anderson Monarflex brand has been very busy in 2007, not only with the development of DigiWrap, but it has also launched a new-look builders merchants range. This range of roofing and structural waterproofing solutions has brought together all the builders' merchants' products that were previously sold under various brands and rebranded them under the popular and proven Anderson Monarflex name. The range includes a new roofing shingles range, SafeSeal – a selfadhesive waterproofing system, TerraDek – a timber-decking tile for the Roofgard adjustable support system, and breather membranes for pitched roofs.
Neil Harrison, technical and marketing director for Icopal UK explains: "The new builders merchants range was launched at Interbuild this year. We have worked very closely with builders merchants to help identify the gaps in our product range, and now we are able to offer a complete package. The reaction from people at Interbuild was very positive, especially with the new roofing shingles. Clients are now able to come to us and receive a one-stopshop service."
With so much going on at Icopal UK currently, it is difficult to mention every single development. One of the more important areas for the company at the moment is its focus on the environment. "Currently we are concentrating on making our operations more efficient and reducing our energy consumption," Jim comments.
Neil continues: "As a result, we have reduced our energy usage by 2150 tonnes of gas and 250 tonnes of electricity. Consequently, this has reduced our energy costs by approximately 30 per cent. We have also recently spent around £100,000 on an efficient hot oil heater, replaced motors with energy efficient alternatives, and invested in new gas-powered forklift trucks, therefore reducing CO2 emissions.
"In addition to this, over the last year, we have consolidated our delivery dispatch locations. We have opened two new warehouses, one in Cumbernauld in Scotland, and the other in Manchester. These add to our existing facility in Crawley, near Gatwick. We are now well placed to make deliveries in the north, south and the Midlands. As a result, we have reduced the amount of deliveries we need to make because we can now consolidate loads," Neil adds.
By keeping a close eye on the market – its trends and needs – Icopal manages to continue to develop products, which are unrivalled in the marketplace. As evidence of this, the company has received a number of awards over the years, which have recognised its products' outstanding benefits. Recently, Icopal received four awards at the Reinforced Bitumen Membrane (RBM) awards organised by the Flat Roofing Alliance (FRA).
Icopal's new profiles pyrobar waterproofing system walked away with the Product Excellence Award, while the company's products helped contractor Richard Soan Roofing Services win Best Refurbishment Project up to 1000 metre square, and Roofscape (NW) Ltd to second place in Best Refurbishment Project over 1000 metre square.
Jim concludes: "The secret to our success is focus, attention to detail and close customer relationships. These key strengths allow us to continue driving our product innovation, which keeps us at the forefront of the construction market."