ilke Homes is pioneering modular home building and offsite construction by using modern methods to deliver high-quality, energy-efficient homes in half the time of a traditional new build
Property pioneers
ilke Homes is pioneering modular home building and offsite construction by using modern methods to deliver high-quality, energy-efficient homes in half the time of a traditional new build
The UK is in the midst of a housing shortage. That is a fact that few, if any, people will argue and resolving this issue is one of the great challenges currently facing the construction industry in this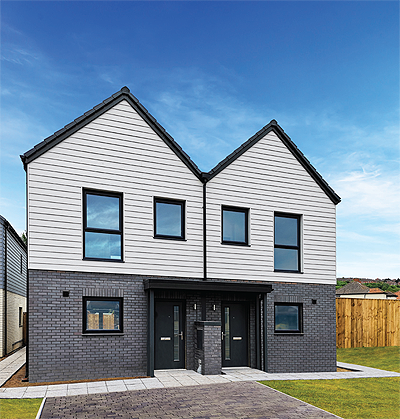 country. The importance of the issue is such that local authorities, house builders and developers are increasingly turning to innovative solutions providers to meet demand. One of those companies that is working to revolutionise the world of housing is ilke Homes which, by using modern construction methods, is delivering precision-engineered modular homes to provide additional capacity to the housebuilding sector.
The genesis of ilke Homes – which was incorporated as a standalone business in 2017 – comes from an amalgamation of the modular manufacturing expertise of Algeco (one of the largest modular space businesses in the world) and the UK residential construction skills of Keepmoat Homes. A leading offsite construction partner using volumetric manufacturing built on a digital platform, it can install up to six high quality, energy efficient homes per day onto its customers' development sites at faster rate, at a lower cost, and with a better build quality than traditional methods.
"At the heart of what we strive to do as a business is a desire to not only produce homes at a speed that we believe is key to addressing the housing shortage in the UK, but to produce homes that meet the quality standards and expectations that people expect in the 21st century," begins ilke Homes' Executive Chairman, Dave Sheridan. "Through our connection with Keepmoat Homes and our design heritage, we have a strong understanding of the things that homeowners want, and we apply this knowledge throughout our design-led and customer-led approach. Meanwhile, the precision and quality that we are able to deliver during the manufacturing phase means that said customers encounter fewer defects or snags down the line."
ilke Homes delivered its first two homes in December 2018. In the 12 months since this has risen to more than 100 and, as one can imagine, a number of important lessons have been learnt along the way. Indeed, those first homes took some 46 days to travel down the company's factory lines to the point where they were ready to be installed to site. Today, this process takes no more than seven days!
"We have learnt an awful lot about delivery and installation, and also about how to manage a site more efficiently," Dave explains. "We have worked hard to bring together the best of construction, manufacturing and engineering to efficiently deliver modular homes to site, and we have learnt to work closely with the relevant utility companies to ensure that we have homes up and fit for living as soon as possible."
Vote of confidence
ilke Homes' range of house types is designed to serve the needs of modern living through flexible layouts, coupled with a variety of external finishes. "We offer nine base products, each of which can be dressed in a range of both traditional and contemporary external finishes with rooflines to suit the local vernacular. This provides for over 100 different potential outcomes," Dave continues. "It is certainly a unique feature of the company that, while at one time we are working to standardise the steel design of our homes, we can also take the time to incorporate more unique
internal features such as en-suite bathrooms, high-design kitchens, open or closed plan layouts or large feature windows that appeal to the buyers of today."
It is fair to say that the activities of the company have caught increasing numbers of eyes over the past 12 months. A great example of this was in evidence back in May 2019, when Places for People – one of the UK's leading place making organisations – announced a pioneering joint venture with ilke Homes to deliver hundreds of modular homes. In the largest deal yet for Britain's modular housing sector, Places for People will purchase 750 units from the company, including 500 for sites it already owns and 250 for new schemes it will partner on to develop affordable and market-priced housing.
"The executive team of Places for People share our belief that the only way to the deliver the volume of homes that the UK requires is to adopt modern methods of construction (MMC)," Dave adds. "By partnering with a proven modular business in the shape of ilke Homes, it is able to place its faith in a reliable supply chain that will accelerate the delivery of its homes, cut costs, but still provide its customers with unrivalled choice and quality. This agreement with Places for People is a huge vote of confidence in modular housing, and represents a true win-win for all parties involved."
Healthy pipeline
The exciting news did not end there for the company, however, with November bringing with it confirmation of a £30 million investment from Homes England to boost its factory's production capacity. The deal is the first time that the UK government agency has ever invested directly into a modular housing factory, and as a result of the additional capital ilke Homes will be able to boost production capacity to 2000 homes a year by 2020. "Homes England has proven itself to be another great supporter of MMC, and it sees our factory as being a route to accelerate housing delivery and to bridging the gap that currently exists in delivering volume of housing," Dave adds. "It has a huge amount of faith in our product and vision, and this capital will allow us to invest in the things we need in order to push the envelope even further on what we can deliver in the future."
When it comes to the immediate future, the company's next goal is to reach 1000 homes delivered, a feat that it looks well on track to achieve in 2020 with a healthy pipeline of work ahead of it. "In addition to reaching that milestone, we also want to make certain that we have the two factory shifts working efficiently and to ensure a regular heartbeat throughout said facility, before then scaling up to the challenges we are set," Dave enthuses. "Within five years, we want to be producing over 3000 homes per year – taking us into the top ten housebuilders in the country, and in ten years' time we want to be at 10,000 homes-plus. As far as making that a reality, we are well on track in terms of building up the volumes necessary, in terms of re-skilling the factory, and ramping up production. When all put together, it makes for a really exciting period of time for us."
ilke Homes
Services: Leading offsite construction partner