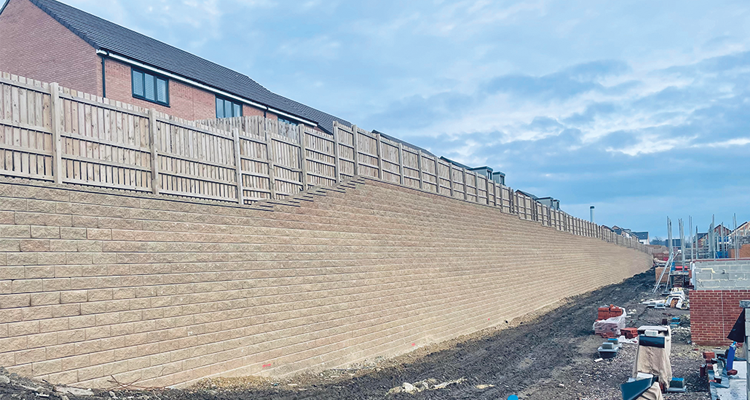 In just ten years, HMH Civils Ltd has grown exponentially to take one of the top spots in its sector
In 2013, John Hughes, Mick Hammond and Gerard May, joined forces to establish HMH Civils Ltd (HMH). John's background lies in plot works, roads and sewers, and specialist retaining structures, as does Mick's. Gerard, meanwhile, specialises in the operational and financial aspects of the business. Over the last ten years, the company has grown to become a key player in the North East, Humberside and Yorkshire, with its combined turnover rising from £7 million to £40 million by the fourth year of trading.
As part of a reshuffle in 2019, Gerard purchased the majority of the shares within the group and stepped into his current role as Group Managing Director. Working in tandem with John as Managing Director, the pair managed to drive the company's turnover up to £56 million in 2021. Since then, however, they have concentrated on developing other divisions within the group and allowed the civils segment's turnover to drop back down to around £45 million.
"HMH operates with the ethos of a family-owned business," Gerard opens. "We have an excellent retention rate, due to the respect and care that we show our staff. As a group, we do a considerable amount of charity work, particularly for autism groups, cancer research, and the British heart and Red Sky Foundations. We take great pride in the excellent working relationships we have built over the years with our customers. The company, at present, has over 300 people out in the field and just shy of 30 in our head office in Stockton."
In moderating the organisation's activities to maintain a steady, yet slightly lower turnover, Gerard is thinking about the bigger picture. "We're not really interested in driving the quantitative work for pure finance, HMH is all about quality and delivery. We want to go the extra mile to provide our clients with the services that they deserve and give them the wow factor. £40 million to £45 million is our turnover target, as it's far more important to us not to stretch ourselves to the point where the quality of work starts to slip."
Reputation for reliability
In offering its civil engineering expertise in roads and sewers, retaining wall structures and groundworks services, the organisation has built up an excellent reputation for reliability among its industry peers. "We have done a lot of work for Vistry Partnerships and Keepmoat Homes on a number of locations around the North East. These include the Kirkleatham development out near Redcar, the Brackenhoe project in Middlesbrough and the regeneration scheme in Scotswood, Newcastle. In addition to these organisations, we work for various other major house builders.
In 2017, HMH teamed up with Retain on The Rise housing development in Scotswood, Newcastle, to deliver nine-metre-high retaining walls with a combined length of more than a kilometre. The structures will create a series of terraces along the Tyneside Valley for the construction of new homes and are the largest in the North of England. "Geogrid system designs have been steadily improving over the years, which means we're able to build them higher and higher," Gerard explains. "The Scotswood regeneration has been hugely successful. It was previously a rundown housing estate, which has been transformed into a highly desirable area, with almost 85 per cent of the homes going to private market sales and the remaining 15 per cent to social housing providers."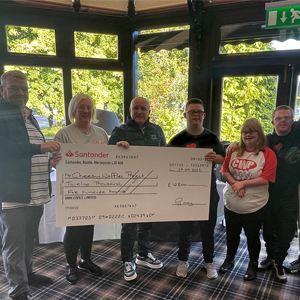 Community culture
Regarding internal working relationships, Gerard cites the experience he gained on his journey from joiner to construction director as invaluable. "Once you go into your own business, you can handpick the best features of the other management structures you have worked under to create the ultimate company culture. With HMH we strike the perfect balance between a family-owned mentality and corporate professionalism. We don't interview on ability alone; one of our main focuses is whether an individual will fit into our culture and become a valuable team player.
HMH is as passionate about its wider community as it is its corporate culture. Indeed, Gerard raised £5000 for The Red Sky Foundation by taking part in a CEO sleep-out in the Stadium of Light in 2022. In addition to this, HMH successfully fundraised £12,000 for Cheesy Waffles, an autism charity in Durham, as Gerard says: "When you see how these foundations support those in need, it's worth every bit of effort that we can afford to spare.
"Additionally, we strive to support and retain our valuable staff, as they are responsible for our continued success," he concludes. "We promote personal growth through training and in-house promotion. It's not just about financial renumeration, people want to achieve greater things for themselves and enjoy a better work life balance. We are also developing the youngsters though our apprenticeship schemes. We can not only enrich them professionally but also help develop them into the next generation of civil engineering professionals for the future."