Infrastructure Gateway Limited (IGL) works on behalf of some of the UK's largest house builders to procure water, gas and electricity mains and services
Being the best
Infrastructure Gateway Limited (IGL) works on behalf of some of the UK's largest house builders to procure water, gas and electricity mains and services
When a development company is working on a project that requires new utilities services, it has two options. It can ask the local utilities company to install the pipework/cable, or it can choose its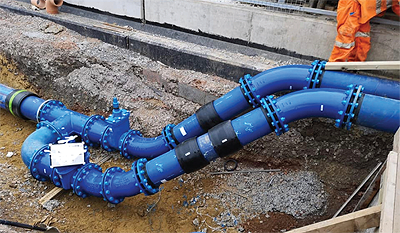 own contractor to do the work, which is known as Self-Lay.
When electing for the second option, increasing numbers of blue-chip house builders and developers are approaching Infrastructure Gateway (IGL) – an expert in Self-Lay, and a key Self-Lay organisation that offers project management from inception to construction. IGL offers a flexible, high-quality service, and thanks to its strong focus on consistent delivery, it has maintained and grown its position to become one of the biggest Self-Lay organisations in the UK.
"First and foremost, our core business – is water networks," began IGL's Managing Director, Steven Draper. "We are unique in the fact we have so much water expertise within our company as most multi-utility companies struggle with this aspect.
"Competition was introduced into the water industry via the Water Industry Registration Scheme (WIRS) over a decade ago, and we at IGL were only the third company in the country to explore this arena back in 2008. Since that time, we have always striven to stay ahead of the curve in order to deliver the most up-to-date packages to our customers and stay in front of our developer demands. We are WIRS accredited for all works in England, and our geographic focus in the Midlands is a great advantage with the major water companies, and we now have a proven track record of consistent delivery with the foremost players in the development market," he added.
While 2019 was characterised by political uncertainty in the UK, IGL hasn't found this has negatively affected the business – in fact, Steven reports seeing 'good confidence' in the construction and housing sectors with many large, high-profile projects still progressing. Furthermore, since the General Election in December 2019, the market has showed increasing levels of activity.
"The market regulator for the water industry (OFWAT) is really pushing ahead with opening up competition in what is historically a monopoly market. There are more companies entering the Self-Lay and multi-utility market with increasing numbers of companies moving into ownership of water, energy and telecoms networks," added Steven. "We are keeping an open philosophy on partnerships with clients and incumbents to give our developer customers all the benefits of adopting private network operators should they need more flexibility. With new adoption codes and simpler charging rules coming into force in April 2020 we are planning to offer more contestable activities than ever before to our clients to improve to service they get."
Total quality
With water Self-Lay as the core activity for the business, it also installs gas, electricity and fibre networks, and what unites them all is the company's dedication to quality. "From when the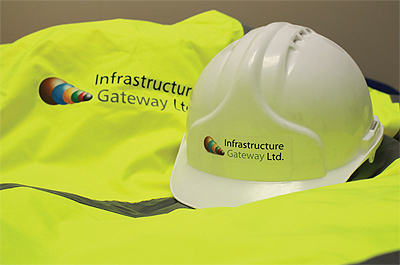 company was founded, we have always seen delivering quality as our primary goal," confirmed Steven. "It is not just about quality in the sense of manufacturing quality either, it is about a quality as a level of service – and the amount of repeat work that we get from a relatively small base of developers bears out our success in this area."
"From an operational perspective, it is fundamentally about making commitments and keeping those commitments," emphasised IGL Operations Director, Matthew Taylor. "The developers need to do an awful lot of other activities that depend on our work, so they have to be confident that we are going to turn up when we commit to doing so, and we are going to get the job done right first time, so they can crack on with the rest of the work they need to do; and that is what we mean by the quality of service that we offer."
"Helping our clients achieve their targets is our priority," Ben Brownbill, IGL's Technical Director, takes over the conversation. "Over the last 12-18 months we have picked up projects for our clients, where the previous operator had failed to deliver its commitments and we've stepped in to keep the project on track. This is even in the case where the projects are not some that we would have typically walked into, but we have taken them on to help our clients."
Another feature of the unique, client-centric approach taken by IGL is the small team that works in the background, and whose job it is to prevent problems before they arise. This sets IGL apart from its competitors who are much more reactive. "We would rather work on avoiding issues in the first place. That is fairly different in this industry, even though it is pretty obvious, but not a lot of people actually do it – they would rather stick to the mantra that 'we will always solve your problems when they arise.' But, wouldn't it be nice if the client didn't have to deal with the problems in the first place?" asked Steven.
"Our team monitors our developer's information, their CML details and everything they do to make sure that they don't miss anything. This is to make sure that our clients don't miss their dates, and the end-user, the house buyer, still gets their house on time!"
Indeed, it would be fair to say that IGL has created an entire company culture that reinforces this focus on quality and value. "We also invest in the right IT solutions, with technology such as AI and robotic process automation, and these choices are all based around how we can just keep adding value to the process," Matt continued.
Controlled growth
Steven went on to explain the further benefits of these investments. "In the early stages of 2020 enhancing these solutions will let us free up the existing staff to increase value, rather than doing input jobs. So, rather than increasing the level of staff, we can improve the people we already have. We already have a strong core of incredibly knowledgeable staff of which we are very proud, but when it comes to bringing new people into the business, there is no shelf out there in a recruitment agency where you can go and pick up someone who is proficient in utilities. It doesn't work like that, rather you have to employ new entrants into the market and train them, which usually takes a good 18 months. It has taken time to perfect the water aspect of our business, so we have to take the necessary steps to recruit highly skilled and experienced people to support the move into adjacent service lines.
"We always work to improve upon our offer, and alongside water, gas and electricity, we are now getting involved with other markets such as fibre. We recognise that this will be a necessity for our clients, and we have been looking at it now for about 18 months, completing several projects, and we will probably edge forward on this in 2020. Houses still need to be built, and following the recent election we expect a fast start to 2020, so we are gearing up for another year of growth.
"We have no plans to be the next national multi-conglomerate utilities company, rather it is about organic growth. I would like to continue in that way, as we like the things we do and we want to walk before we run. Therefore, we always look to grow into new service lines in a controlled way. We concentrate on doing what we do really well and never overstretch ourselves purely in the interest of growth."
Ben added: "We want to serve those key players in the market, maintain our quality levels and be respected as a key quality player ourselves."
Steven concluded with some thoughts for the future: "We will continue to take pride in offering our best to our clients and to the market! Whatever the external influences are, what will remain constant is our focus and discipline around the areas where we know we can make a real difference."
Infrastructure Gateway
Services: Utility company, specialising in water, with additional services in gas, electricity and fibre