Innovaré Systems adopts an agile position in a construction industry that demands innovative and cost effective solutions
The flexible approach
Innovaré Systems adopts an agile position in a construction industry that demands innovative and cost effective solutions
Innovaré Systems is a specialist structural insulated panel (SIP) solutions provider, offering expertise from design and engineering, through manufacturing to delivery and installation. SIPs are perfectly suited to today's pressured environment where speed of delivery, cost effectiveness and energy efficiency all pose major challenges to the build of any project. The lightweight prefabricated panels provide high structural and insulation performance, which leads to a very quick onsite installation process, and Innovaré has been successful in delivering solutions to a range of industries from social housing to education.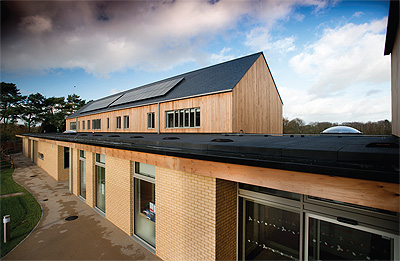 The company was first founded in 2005 to provide SIPs to the UK construction industry as part of a supply chain buying in panels from the continent. Two years later it took the decision to open up its own 33,000 square foot manufacturing plant in Coventry. Timing wasn't the best and a year later the construction industry was hit by the recession and a challenging period ensued with the business doing its best to provide work to a number of different market segments. However, as the economy strengthened, so too did Innovaré and a strategic review in 2013 led to the decision to focus more prominently on the education sector with a more defined, valueadding approach to its service.
"It obviously took a bit of time to get set up and establish a market position, but over the last 12 months we have delivered over 50 school projects alongside numerous different further and higher education projects as well," explains Managing Director, Pete Blunt. "This new approach is based around a value proposition, offering rightfirst- time and on-time delivery, creating partnerships with key customers and suppliers, and adding a level of innovation to push forward and understand technical requirements and add value throughout the process. It's all about making it easier for everyone, particularly in these financially challenging times."
With a current annual manufacturing capacity of 50,000 square metres of SIPs, Innovaré occupies a strong position in the market, and this renewed value proposition is a key part of having achieved this success. "The flexibility and adaptability of the company is a major strength of ours," Pete continues. "We have spent a lot of time and money on our technical capability but also on understanding the requirements of the industries. This allows us to see how we can flex our solutions to meet these needs. A lot of offsite construction is driven by standardisation, but this never quite fits with the industry requirements, particularly when it comes to architecture, so whilst we've tried to standardise some elements it is important that we maintain our flexibility as much as possible."
Illustrating this innovative and flexible approach is Innovaré's occupation in the education segment, by far its most active market. Pete explains that having been involved in so many projects now the company has quickly understood that functionality and design is higher on the priority list that the actual structure. "The internal environment of the classroom is the most important feature of a school build, so it's important that we understand day lighting, ventilation, thermal comfort and so on," he says. "Therefore, we've changed our strategy here to give as much flexibility to M&E, window and building service subcontractors as possible, so they can optimise their solutions without our structure getting in the way."
Recent school project examples also serve to demonstrate the speed advantage of SIP construction. The company has recently finshed a three-storey secondary school, complete with large hall and atrium and formed from two super blocks of 6200 square metres and 7100 square metres. By applying this flexible yet optimised delivery approach combined with the company's strength of understanding within the sector, structural work was completed by Innovaré in just 13 weeks. In addition, a small 200 square metre primary school extension was recently completed in just a day.
As a manufacturing company supplying into the construction industry as an offsite constructor, Innovaré has had to develop a unique strategy to cope with challenging and ever changing demands. "Based in the West Midlands we're surrounded by the automotive industry and we've tried to implement lean manufacturing strategies to the process that we operate," Pete explains. "However, over the last year it has become quite evident that we need to be able to run with a much more agile methodology to cope with the industry's peaks and troughs and also the different requirements from projects. In this environment being able to provide quick turnarounds and fast onsite delivery is key."
Investing into its technical capabilities as well as its workforce will be a key part of Innovaré's strategy as it moves forward. Pete points out that whilst financial pressures are putting strains on the construction industry at present, the opportunity to push offsite methods and innovation into the industry is evident. "There is a skills gap coming up, which, combined with a growing understanding for offsite construction methods, is very positive for us," he outlines. "As we continue to grow and understand different requirements more we are constantly looking at new innovations and opportunities that we can develop in the market. It's an exciting time and by trying to maintain that innovative and flexible culture, which is underpinned by the quality of people that we have in the business, we have a massive opportunity."
In this respect then Innovaré will continue to deliver on the value proposition that has defined its recent success. By developing key partnerships with both customers and suppliers, expanding its technical and delivery capabilities, as well as moving into new, larger premises over the next 18 months, the company looks set to achieve its vision of being a trusted partner for any energy efficient project. As it looks ahead sustainable and organic growth will be the vehicle for continued success, and this solid commitment to flexibility and innovation will be a very focused driver.
Innovaré Systems
Services: The UK's only SIP solutions provider to design, engineer, manufacture, deliver and install offsite manufactured systems