International Tunnelling and Underground Space Association
When it comes to encouraging and promoting the use of subsurface space, the International Tunnelling and Underground Space Association (ITA) is the world's most experienced resource
The third dimension
When it comes to encouraging and promoting the use of subsurface space, the International Tunnelling and Underground Space Association (ITA) is the world's most experienced resource
Established in 1974 and celebrating its 40th anniversary this year, the ITA was created to support the use of the subsurface space for the benefit of public, environment and sustainable development and to endorse advances in planning, design, construction, and safety construction of tunnels and underground spaces.
Formed by 19 countries, today it has 71 member nations and 310 corporate or individual affiliate members. As Olivier Vion, executive director of the ITA explained, these members take the form of associations, where each association represents a country. "We function as a UN body, with UN status, and that means each country gets one vote, regardless of the size of the population they represent," he said.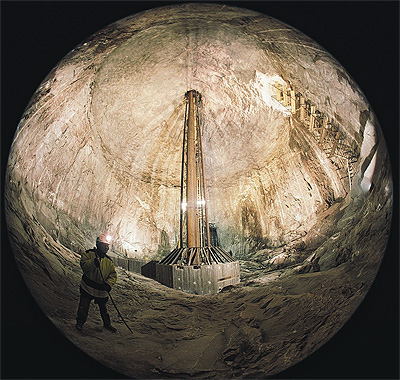 One of the major benefits of being a member of the ITA is access to an enormous range of information and experience. Said Olivier: "Our main purpose is to share technical knowledge between different parties and countries. This can be from places that have been building tunnels for centuries to ones that are just beginning or even haven't built any tunnels yet. This knowledge exchange is facilitated through technical working groups that cover different topics, and can include members from any member country."
Another benefit to members is that the entire supply chain of tunnelling and underground space is represented through ITA membership, from design and economics all the way through to planning, engineering, contracting and supplies, and all these roles participate in working groups. Furthermore, member nations can create a working group on a subject that is particularly of interest or relevance to them, or one on which they are looking for an international perspective.
Soren Eskesen, ITA president, noted that while some of the topics for these working groups have stayed the same since the ITA was established, some have finished and new ones started "There is no limit to the number of working groups we can introduce, except practically," he said "At the moment there are 14 active working groups, and in addition we now have committees, and these differ because the participants are companies rather than countries. We have four committees: safety, training, the use of underground space and new technology."
While of course safety is a top priority, Olivier highlighted the fact that training and recruitment are getting a lot of scrutiny at the moment and this is likely to continue, especially as the amount of global underground projects continues to grow: "Many countries lack enough skilled people in this area and we have seen that in the UK on the Crossrail project, where they have had to create a lot of training programmes, and that will continue with HS2. Indeed, this is the case in many countries as the total market for underground work continues to increase.
"The main market is China, but Europe, the US and South America are all seeing a lot of projects on the horizon and to deliver these we need to have more skilled people such as engineers, but also blue collar workers.
"This is why we are so actively working on our committee on training, and why we are organising training sessions all over the world." Since it was established, the training committee has reached several milestones, including the creation of the concept of the ITA University Network, aiming to facilitate training and education actions, the exchange of students and professors, and the interaction of research; the creation of Training Sections (short-courses), the endorsement of Professional Master Courses on Tunnelling at international and national levels; and the creation of a task force on Training and Education to study the perspectives of these actions for the future of the ITA and how to implement and co-ordinate them.
It is clear that the ITA is a highly regarded and influential organisation, and the findings and conclusions of its working groups and committees have far reaching effects. Olivier noted this was especially true in the safety arena: "Our safety working group is recognised worldwide for producing guidelines that are used by many countries," he confirmed. "ITA COSUF is the Centre of Excellence for worldwide exchange of information and know-how regarding safety and security of underground facilities in operation."
Design challenges
As cities become more congested and the population increases, underground tunnelling and the use of subspace offers designers and planners an option of expansion that is sustainable and can offer better quality of life. Soren noted: "When you move areas like traffic underground you also move the noise and dust. It can also help to continue a growing economy as if a city gets too congested it may not be able to expand where it needs to – one solution to this is to consider the underground space."
This inevitably brings design challenges, but this again is an area where ITA has a vast repertoire of experience and is one often discussed at the Association's annual conference. Soren explained that this event has become an ideal place to not only visit suppliers at the exhibition side, but to network and learn from colleagues and new contacts: "At our conference the papers and technical solutions are often presented by designers, but the reason our conference is so successful is because it brings these people and contractors and owners together in a very useful knowledge exchange," he said.
Over the four decades the ITA has been in existence it has witnessed many changes, in areas including technology, learning and safety. As Olivier highlighted: "Thanks to an incredible evolution of equipment and technology, it is now possible to build facilities and tunnels that could not have been constructed 30 or 40 years ago." Soren agreed: "It's true to say that the 'easy' tunnels have already been built," he added. But as evolving nations start to create their own underground solutions, and first world countries share the wisdom of their experience, the next 40 years of tunnelling and subspace look set to be as exciting and innovative as those that came before.
ITA's next event is the World Tunnel Congress 2014 (WTC2014), which will be held in the city of Foz do Iguaçu/Iguassu Falls, Brazil, from May 9th to 15th, 2014. Focusing on 'Tunnels for Better Living', WTC 2014 will discuss and illustrate the importance of tunnels, especially in big cities, as solutions for traffic jams, flooding, transportation, environmental conservation and also for saving surface areas for nobler uses, such as leisure and human relations.
WTC 2014 will host a large meeting of the Brazilian and international technical community, involving a spectrum of participants – public managers, builders, designers, equipment suppliers, engineering service companies, professors, professionals and students. Together, tunnel experts will discuss and put forward solutions that are most appropriate and used on a global scale.
WTC will also be the place for many ITA activities, meetings of WGs and Committees' activity groups, and the ITA General Assembly, which is also going to see the launch of a Young Members Group, designed to attract a younger audience to the ITA.
For more information on WTC 2014, visit: http://www.wtc2014.com.br/.