By striving to offer a complete one-stop-shop, J. Reddington has become an important player in the UK construction industry
A concrete future
By striving to offer a complete one-stop-shop, J. Reddington has become an important player in the UK construction industry
J. Reddington Ltd was founded by John Reddington in 1996, and is one of the leading UK's concrete frame contractors. The company originally specialised in reinforced concrete works but it has now grown to offer a complete construction service for concrete structures. The organisation offers a wide range of services on a 'construct only' or 'design and construct' basis. Furthermore, the business has considerable experience in working with clients from an outline feasibility stage through to detail design.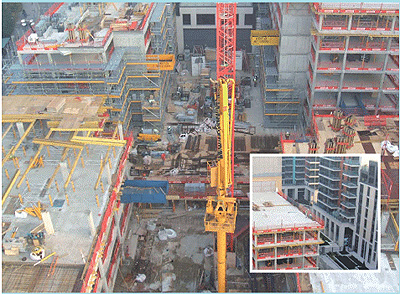 Kevin Keegan, commercial director for the organisation comments: "Our philosophy is to take control of as much of the project as possible using our in-house plant and equipment, and directly employed labour. We offer our clients the ability to erect a complete structure – from the foundations up to the roof slabs." As part of this philosophy, J. Reddington has formed specialist subsidiary companies for piling works, tower crane hire, concrete pump hire, reinforcement fabrication and full-build services as a main contractor.
Midgard Ltd offers clients and main contractors a 'shell and core' or turnkey service. Miller Piling undertakes foundation pilings using CFA, rotary, displacement and driven techniques. In addition, London Tower Crane Hire and Sales has a large hire fleet approaching 200 cranes of various types, from small selferecting cranes to 400 metre tonne luffing-jib cranes. This subsidiary is the UK's sales representative of Saez Cranes and Fushun Yongmao of China.
Furthermore, London Concrete Pumping operates a fleet of 12 lorry-mounted pumps and 30 static pumps. This division also operates separate placing booms and can provide pumps for sale as well as for hire. Finally, Thames Reinforcements supplies cut and bent reinforcement from its purpose-built production unit in Sheerness, Kent. This plant has a capacity of 100,000 tonnes per annum, thanks to its state-of-the-art machinery, which was installed during 2006 and 2007. This subsidiary is also able to offer a fabrication service, particularly for the piling industry.
Kevin comments: "These subsidiaries have come about as a result of our forward thinking attitude. We are not afraid to take on new services – our clients appreciate this, which is evident from the number of repeat orders we receive. A new area we are currently in the early stages of is main contract operations. One very large project we are working on at the moment is Imperial Wharf."
Imperial Wharf, a prime regeneration scheme of world-class importance, has already won numerous awards for planning and design and is fast becoming London'spremier riverside address. St George plc is creating this impressive mixed-use development on the Fulham/Chelsea borders in South West London.
With an overall project value of £300m, phased construction began in May 2000 and is due for completion in 2011. Imperial Wharf will provide 1800 luxury apartments, restaurants and shops within this mixed tenure development of 282,500 square feet on a 32-acre site. J. Reddington has been appointed as main contractor for the project, and is responsible for the construction of the concrete shell and cores to blocks C and H of the development.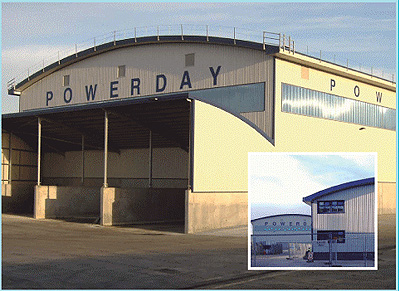 Aside from this contract, the company is also working on a number of challenging projects throughout the London area. Kevin explains: "We are currently working on a large 800 unit residential development beside Canary Wharf. This contract is worth approximately £25m and we have been awarded the design and construction of the entire structure. We have also recently completed a hotel for the Grange Hotel Group, and we are now working on a second development for this business."
In addition to operating mainly in London and the South East, the company can undertake work outside of this area where its clients demand it. Kevin comments: "The market is very strong at the moment and we can see plenty of opportunities in the London area, especially in the residential and private sector. The main challenge we are facing is the uncertainty within the industry. Although we are very busy, we fear the market is going to slow down in the future, with regards to new developments. To help us overcome this, we will be looking to different areas, such as education and health. Therefore, over the next few years we will probably be venturing into government funded work rather than operating mainly in the private market."
He concludes: "Looking to the future, we plan to expand the main contract side of the business. We see this as a better way of securing work for the whole organisation as we can offer a complete package, which means there will be jobs for all of our subsidiary companies. We are building an extremely strong team in this area and we believe it will help the overall business to continue growing."