James Jones & Sons operates six UK sawmills alongside its Timber Systems Division
The right support
James Jones & Sons operates six UK sawmills alongside its Timber Systems Division
Established in 1905, James Jones & Sons is the second largest saw miller in the UK and is a family run business committed to excellence in customer service, quality products and superior engineering.Wood is harvested and processed for specific markets and end users, including the construction, palletwood, packaging and fencing sectors.
Its Timber Systems Division manufactures structurally engineered timber i-joists, namely the JJI-Joist, combining high-grade softwood with an engineered composite panel. These building components are used in commercial and residential construction as load bearing or non-load bearing members for roofs, walls and floors.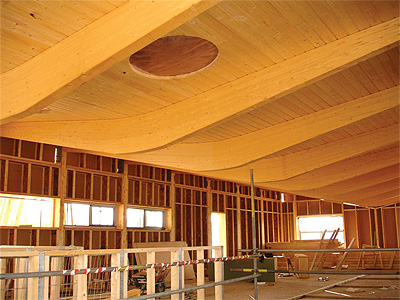 A JJI-Joist offers many performance James Jones & Sons advantages over conventional timber sections such as a superior strength to weight ratio that enables longer spans, lighter and easier handling with eased edges, and a composition that resists shrinking and warping. The company's founder, James Jones, began trading in timber and allied products during the mid 1800s and since being incorporated in 1905, the business has grown both organically and through acquisitions. It has continued to update its sawmills and treatment plants over the past century, and today it utilises some of the most modern wood processing techniques in existence in Europe.
James Jones has enjoyed a long and progressive history in the timber market, as general manager of the division, Brian Roberston, explains: "James Jones is a traditional saw milling company that's been around for 170 years serving the UK market. About a decade ago, we could see that solid timber was under threat from engineered wood products imported from the US, so in 1998 we set up the Timber Systems Division to look at such products. The manufacturing operation started in 1999 when we spoke with builders to find out what they wanted.We discovered that working with US measurements could be a problem for them so we decided, as a UK company, to produce UK sizes for UK markets.We set up a distribution network and employed design technicians, technical sales personnel and software support. Throughout our development, we have taken on board the James Jones motto – 'commitment to quality and service' – and subsequently earned an excellent reputation in both areas."
Brian has witnessed significant changes in the marketplace and the nature of the business over the past few years: "In 1998 we started with just me and now our department employs 70 people and is a multi-million pound division of James Jones, which is just short of 500 employees. Looking at our sector, the market south of the Scottish border is predominantly masonry-built construction, but with strong growth in the timber frame sector, whereas in Scotland, timber frame has a much bigger market share. Until recently most JJIJoists were used in domestic flooring applications where we control around a third of the market. In the past few years I have seen growth in several new areas – flat roofing and larger projects such as hospitals and nursing homes are becoming a larger percentage of our business. There are changes to building regulations relating to energy usage filtering in slowly and we're seeing i-joists being used more as we build thicker walls. A generic timber frame wall is between 89 and 145 millimetres thick but we're building houses with walls that are between 220 and 300 millimetres thick. Thicker walls utilising JJI-Joists reduce coldbridging and allow more insulation to be added thus reducing the houses' energy requirements whilst minimising the weight of the wall panel. Preventing heat loss is going to become incredibly important in future and the concept has great market potential, especially as timber is such a good insulator."
Another key area of interest to the company is JJ-Intelliroof, which Brian thinks has massive potential: "We're focusing on utilising the JJI-Joists in attic roof systems in place of the traditional attic truss and our new product JJ-Intelliroof is quite radical. Two years ago we were asked by a large building organisation to turn our attention to attics because their traditional methods were seen as taking too long to erect and could cause problems with health and safety so we developed a panellised system with everything manufactured in the factory and shipped to the site in panels, as opposed to being constructed on-site. In trials so far we have put three wind and waterproof roofs on in one day when a traditional roof can take up to five weeks, so there are obvious advantages. The actual attic roof panels are fully insulated so the whole area within the roof triangle becomes a usable space, and we're now planning large-scale trials.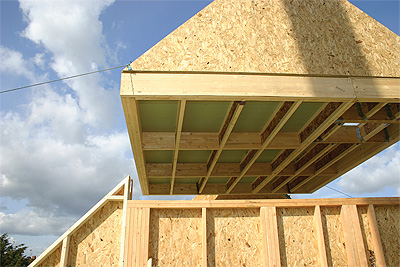 "It's a modern method of construction because we're taking construction off the building site, where materials are exposed to the elements, and putting it in factories. Quality and cost control is vastly improved so we see this process being used a great deal in the future."
Its commitment to offering innovative products is one of James Jones' main strengths, as is its flexibility in meeting clients' needs. "Previously we imported finger-jointed timber from Sweden at a great cost but now we import high quality timber and finger joint it ourselves, which gives us a great deal of flexibility that none of our competitors have," explains Brian. "Instead of just making the eight, nine, ten and twelve metre standard lengths, which is already pretty accommodating, we produce the exact length that the customer wants if the order is big enough.We're trying to convey this benefit of working with us to our end users – by using exact pieces clients can reduce wastage and unnecessary offcuts. We've just announced plans for a new finger jointing line to be launched at the tail end of this year or early next year."
James Jones is also strong with regards to environmental concerns, as Brian reveals: "We were the first, and quite possibly the only, i-joist company to have both BRE environmental profiling and a full FSC chain of custody.We are audited, not just on our products but on the company, on how we manufacture, where we buy our raw materials from, and so forth. Environmental credentials are becoming increasingly important so we invest resources in improving our carbon footprint and have a quality and environmental manager who focuses purely on that area."
In addition to its strong home-market presence, James Jones is a major shareholder in Stella-Jones Incorporated, one of Canada and the US's largest wood preserving companies. "Whilst James Jones is a traditional UK business, we're a multinational organisation as well, with a joint venture in Canada with Stella-Jones. In 2007 we also started a joint venture with Binder Holz of Austria, a company that supplies us with Glulam as part of our i-joist package, and set up Binder-Jones to offer BBS Panels, a cross-laminated solid timber product. It's similar to plywood but comes in much larger panels from 60-300 millimetres thick and up to 13 metres in length.With these panels it's possible to build an entire building although we see it being used in the UK for specific elements in the initial stages. A panelised timber system utilising BBS would be suitable for companies such as Tesco and Asda who are trying to improve their environmental crudentials by using timber in their construction projects."
The company has plans to invest in both state-of-the-art technology for its traditional saw milling business and developing more innovative products. "We'll be looking at, among other areas, our distribution network and end-user builders, as well as exploring energy and environmental opportunities," Brian comments. "The building industry is under threat as a result of economical pressures so it's important that we live by our motto of quality and service in order to succeed. The biggest challenge we face is excelling at what we do, so we listen to customers to keep aware of what's happening."
In thinking about the secret to James Jones' success, Brian concludes: "It's important to move with the times, or even advance ahead into cutting edge engineering and technology.We've been blessed with our employees across the whole company, from the factory floor to designers to technical sales people. Our superb workforce is an integral part of our success story and I'm proud that we have such an excellent bunch of people who strive to keep the company moving forward."