As the market leader in Europe for the rental and sale of steel modular bridges, pontoons, roros and ferries, Janson Bridging has the experience and know-how to deliver the best possible solution for its customers permanent, temporary or emergency requirements
Forming connections
As the market leader in Europe for the rental and sale of steel modular bridges, pontoons, roros and ferries, Janson Bridging has the experience and know-how to deliver the best possible solution for its customers permanent, temporary or emergency requirements
The definitive, full service expert in modular steel bridges, pontoon systems, roros and ferries for both civil and military purposes, Janson Bridging offers its innovative solutions on a rent, buy or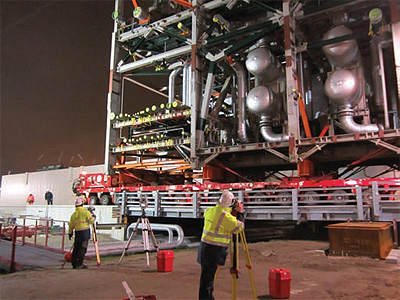 finance basis. Thanks to more than 20,000 tonnes of stock in-house, the company is ready and able to provide a fast, reliable and high quality solution, with engineers happy to further assist clients with any structural/ technical issues and standards.
Excelling in knowledge, experience, stock and flexibility, Janson Bridging has gained an enviable portfolio of clients and a diverse backlog of successfully completed complex projects.
Discussing the company's growth is Paul Hill, Managing Director at Janson Bridging: "We started 40 years ago in Holland and have since grown to become the largest stock holder of modular bridging in the world. We operate in a number of countries, such as the UK, Germany, Holland, France and Belgium where we have permanent bases and are able to operate globally. Over a number of years we have grown organically and are now also one of the world's leading modular bridging companies, so not a bad place to be!"
He continues: "In terms of our core products and services, we are known within the bridging world for our modular bridging capabilities, which are both portable and quick to use. To deliver this service, we have three core systems, beam bridges, panel bridges and plate girder bridges, which are used particularly within the rental market. Beyond that, we have in-house engineering, which includes modular designs for portable steel bridges that work to 100 metre spans, as well as designs for modular ferries, roro facilities at harbours and plastic bridges.
"Our three core bridges are in stock and can be set up anywhere at any time, while the other solutions are bespoke; while this may cause challenges for other companies, we have a quick turnaround time as we have the IP on the product and existing design. With this in place we have a 90 per cent solution for someone so it is a matter of adding the remaining ten per cent. Thanks to our collaborative attitude, which works well with big infrastructure schemes, we can get in at the early stages of a project to understand what customers want and help ensure they gain the best possible solution by undertaking some tweaks and looking at specific issues. Other companies are two years behind on this curve as they have to work on the R&D for the project to reach the point that we start at."
Looking in more detail at Janson Bridging's core product range, the company's beam bridge sections are designed for temporary and permanent use in situations wherever shortspan bridges up to a maximum length of 21 metres are required for general traffic. With a special coupling system and integrated lifting lugs, the pre-assembled Janson beam bridges can be installed quickly, which saves on time and money. The ideal system for spanning over roads or waterways as soon as the capacity of an existing bridge is temporarily insufficient, the Eurocode compliant bridge's low profile also reduced the need for long approach ramps.
Recent projects for the company include the turnkey delivery and installation, alongside all related civil works, of 463 composite (steel – concrete) beam bridges. "This is a project that the Sri Lankan government has undertaken to change their economic landscape by opening up other rural parts of the country for development. Our role in this strategy is the building of more than 400 bridges to connect these rural parts together, which will not only provide economic benefits but will also mean children can go to school without undertaking a huge detour when floods are there. These new bridges also mean people will no longer be crossing bridges that were already in place but quite dangerous."
Meanwhile, the company's panel bridges are designed for temporary and permanent use wherever bridges with a span of up to 80 metres for general traffic are required. The system is based on the original Bailey Bridge concept and uses trusses assembled from modular panels. Furthermore, individual components are designed to be constructed using light tools, which enable the panel bridge to be installed on sites that inaccessible to heavy equipment vehicles and cranes.
Designed for temporary or permanent use, particularly in areas of heavy traffic where free spans of up to 40 metres are required, the plate girder bridges are designed and manufactured for rapid and simple construction. The bridge sections are transported to the building site, lifted into position and bolted to create a complete bridge in minimal construction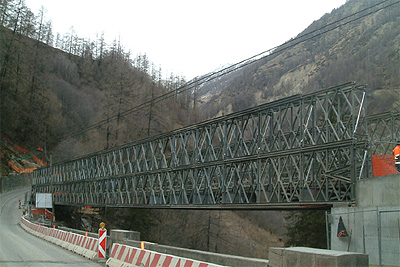 time. Moreover, the plate girder bridges can be connected longitudinally or laterally and offer a vast range of spans and road widths.
Alongside these three bridge options are the Truss bridge and pedestrian bridge range. The former is a bridge intended for permanent use that was particularly developed for rural locations where infrastructure and transport facilities are limited as well as for emergencies caused by catastrophic natural events such as floods and earthquake; it is also used for peacekeeping operations. Pedestrian bridges, on the other hand, consist of two systems: the Janson pedestrian bridge system and the Janson pedestrian Truss bridge system. The panel bridge is designed for temporary and permanent use wherever light traffic bridges with a span of up to 61 metres are required, while the Truss bridge system was designed for permanent use wherever pedestrian bridges with a span of up to 48 metres are required. For this bridge, all components are bolted together using standard fasteners.
The company recently worked on the delivery of a 225 metre double lane Truss bridge in three spans of 75 metres each, which also included two side external pedestrian walkways. Designed and produced in The Netherlands and shipped to Saronbrug Paramaribo, Surinam, for the Ministry of Public Works of Surinam, the bridge was then installed alongside the concrete deck by local contractors.
"The original bridge had a central support that was taken out by a ship that was blown down the river during a hurricane or typhoon, which caused the bridge to collapse. Within six months of that happening we had designed, fabricated, shipped, built and opened the new 220 metre bridge for the customer, which, in terms of engineering capabilities, was a huge feat that stems from us having portable steel bridge designs in-house," says Paul.
He continues: "We operate both on an international and national scale, with big projects currently underway in South East Asia, Africa and the Americas as well as our core market of Europe where we are very busy in the UK and Germany. The north of Europe is currently outperforming the south, with big infrastructure schemes a general trend in this area making us phenomenally busy. In terms of Europe, we have a contract with the Belgian military where we supply bridging equipment so the military doesn't have to hold large amounts of stock itself and can instead dip into our stock as and when they need it. We probably have the amount of stockholding that is double that of any other company in the world when it comes to what we do, and we are not sitting on a lot of stock, which says a lot about demand at the moment!"
In the UK market, the company is working on the A14 Highways England scheme, where it is looking at delivering nine bridges that will include everything from a 13.5 metre bridge to 61 metre bridges that will be able to handle the weight of dump trucks to a 55 metre bridge that is going to be built over the carriage way. "Other recent modular bridge projects include being involved in Heathrow Terminal 5, for which we delivered bridges that enabled the dump trucks to go over the perimeter road, as well as emergency flood projects in Warrington," says Paul. "Our collaborative way of working and innovation is highly beneficial to customers as we will always seek to find the best solution. For example, if there is an earthworks programme, we have the knowhow to perhaps make the bridge three times wider so there is then two-way traffic, which ensures the project will be complete in one summer instead of three. We can take years off a programme and have the flexibility to get stock at short notice in case things happen and requirements change."
One example of Janson Bridging's innovative nature shines in a project the company undertook in Ghana, where a bridge was originally the plan but proved to be impossible. "The bridge would have been over a mile long and there were too many issues with buildinga temporary bridge while an existing bridge was refurbished. In response to this, we developed a modular ferry solution that goes on shipping containers with integrated engine units and so on; it was fully tested with maritime certificates to take people so we are transporting residents back and forth over this lake in Ghana over the 2.5 years it will take for the original bridge to be rebuilt," highlights Paul. "You would expect us to build a bridge, but we looked at the situation and came up with a better solution that cost less and was quicker."
Moving forward, the company is anticipating increased demand as the HS2 scheme gets underway and Highways England continues with its commitment to one of its biggest spends. On top of this, there are major utility and rail programmes taking place as well as civil and infrastructure schemes that are ongoing, which puts Janson Bridging in an enviable position over the coming years.
"It is a matter of making sure that people know what we can do and for us to try and understand their needs so we can adjust stock levels and the type of stock we hold for our UK customers accordingly. By working in this way and delivering a collaborative approach to the projects we are involved in we can meet our clients' demands. We want to be actively involved and innovative so we can flesh out how we can help each customer individually as opposed to thinking in a more traditional manner," Paul concludes.
Janson Bridging
Services: Largest modular bridge manufacturer and bridge building firm