With over a century's experience, Jarvis Group has developed a robust, fully integrated service offering to ensure it remains successful in an ever-changing market
Group effort
With over a century's experience, Jarvis Group has developed a robust, fully integrated service offering to ensure it remains successful in an ever-changing market
Founded in 1905 by Ernest Charles Jarvis, Harpenden based Jarvis Group is a privately owned multidisciplined construction group offering a one-stop-shop service from development contracting, through mechanical and engineering (M&E), and environmental services to bespoke joinery. Today the company approaches a turnover of over £60 million, consistently delivering in excess of 250 private and affordable dwellings per annum in the last ten years. As well as this it has constructed new schools, healthcare facilities and community projects along with lower value projects delivered by its special works department. With its services spread across Jarvis Contracting, Jarvis M&E, Jarvis Commercial and Jarvis Homes, the company has grown to become a well-established and well-respected construction business within the UK industry. The company also has a strong retail offering, building new stores and internal fit-outs for some of the UK's largest retailers.
Mark Doyle, CEO of Jarvis, comments on the market's current supply demands: "With supply not currently meeting demand, supply costs are spiralling, and this has sadly resulted in casualties in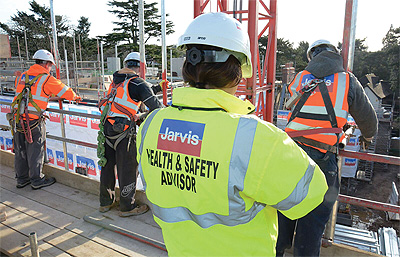 the construction market where contractors have secured contracts on historic rates that they simply cannot deliver on." He goes on to explain what has enabled Jarvis to thrive in the current market. "We are fortunate that we are not as exposed to the chronic shortages that are being experienced, as we have the ability to self-deliver much of our work using our direct labour force and in-house service offerings, providing some insulation from the volatility of market pricing. Our strategy was also not to secure lengthy contracts and we therefore do not have the legacy issues that some of our peers are burdened with. This places Jarvis in a very positive position to service the client base and with our breadth of expertise, we believe that we can provide our clients with a truly holistic experience."
Beyond this, the strengths of Jarvis lay in quality, its people and the service it provides. "Every contractor boasts about the level of quality it achieves," notes Mark. "But Jarvis genuinely delivers time and time again and it is the biggest area of feedback that we receive commenting on the high standards that our site teams deliver and this is largely a result of the high levels of control that we can achieve using in-house resources, coupled with a stable and high quality supply chain." This focus on quality also translates into a focus on people, as Jarvis places significant value on its highly trained and loyal workforce. Importantly, it has developed a tried and tested supplier network, which is vetted for its health and safety, and quality performance, to draw on supplier skills to supplement its own trade staff.
The result of this is a keen and trusted workforce, which allows excellent service standards to permeate throughout the company at every level. "People like working with Jarvis," adds Mark. "During the very testing times of the downturn, the business did not change its personality and remains extremely 'user-friendly'. This has meant that both our clients and supply chain have continued to work with us, providing strong business relationships and a real understanding which results in the high levels of quality that are consistently achieved by our teams."
Testament to Jarvis' strengths and ability to offer a fully integrated, one-stop service is a number of projects in and around the company's home Harpenden area. "The Gleneagle Manor project is a great example of what the company can achieve by utilising all parts of the group," highlights Mark. "The client is Jarvis' own development business and the works are being delivered by its independent construction division. The project is to build 26 stunning apartments across two separate blocks and will create a beautiful landmark in Harpenden. This is an extremely 'high end' development with all of the new apartments sold early in the construction process and each being bespokely constructed to individual customer's requirements. Using our in-house M&E services division, Jarvis have been able to respond quickly to changes in our customer requirements, which have largely been around enhancements to lighting and intelligent electrical installations as well as personalisation of kitchens and bathrooms."
Further illustrating Jarvis' strong current position, it has recently secured contracts such as the new Phase II facility for local children's charity, The Pace Centre, a commercial-to-residential conversion in Hemel Hempstead, and the new Richmond Hill SEN School in Luton. An initial appointment to design and build a very unique five bedroom zero carbon home in Bovingdon also serves to prove the company's competency in environmental construction. Something that Mark is keen to express: "We have a separate green energy division providing cost-effective propositions within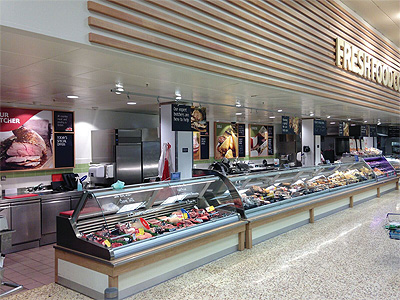 our M&E services," he emphasises. "With the green agenda in most organisations' strategies, our experts can provide practical propositions to help not only make our clients more environmentally efficient by reduction in carbon but this generally provides significant commercial benefits because of the government support that is often available and our teams can provide guidance on access to finance and funding."
Despite a challenging market with the supply shortage, the company is positive about the future. Mark also points out that the company has market leading experience in the retail sector and its ability to react to change puts it in a good position as the retail market evolves. The approaching general election also looks set to open up a number of opportunities for Jarvis. "The leading parties are committing to address the much publicised housing shortage, as well as improving healthcare and education provision. These are all core markets for Jarvis," he says.
Looking forward, the next 12 months are very much defined by investment. "It is important that we do not become complacent and continually strive to better our service," Mark explains. Investment plans will contribute to M&E expansion, enhanced by IT systems and expanding BIM (Building Information Modelling) capability. Staff also occupy a position of investment focus as Jarvis is keen to provide opportunities for the next generation of construction professionals through staff development, apprenticeships and training opportunities. Long term, Jarvis's strategy is to build on what it has already achieved. "We will do this through careful expansion of our regular client base and our traditional geographical area," concludes Mark. By remaining committed to quality and service, Jarvis sets its sights on steady but meaningful expansion, and its ability to respond positively to challenging market conditions puts it in a strong position to secure success as it moves forward.
Jarvis Group
Services: Construction group specialising in residential and commercial/industrial builds