By merging high quality homes that are constructed using traditional methods and an exceptional service, family run business Jelson Holdings has built a solid foundation for further growth
A strong foundation
By merging high quality homes that are constructed using traditional methods and an exceptional service, family run business Jelson Holdings has built a solid foundation for further growth
First established in 1889, Leicesterbased family-runJelson Holdings has maintained the commitment of its ancestors to continue delivering exceptional service, straightforward pricing and high quality homes for more than 125 years. With craftsmanship still playing an integral role in operations, Jelson Holdings integrates the latest technology with its joinery shop, where kitchen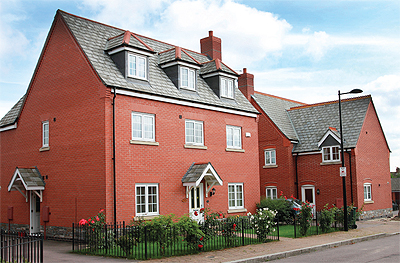 components, windows and staircases are manufactured specifically for each property. Moreover, plumbers and electricians are employed inhouse to ensure the highest levels of quality control.
"Jelson Holdings are predominantly house builders with an emphasis on traditionally built quality construction," begins James Jelley, Operations Director at Jelson Holdings. "We started operating as undertakers and shop fitters before evolving onto housing and have continued to grow to the position we are in today. We have a number of other companies within our establishment, such as Meynall Plant Hire, Goscote Electrics, East Goscote Plumbers, Interfuse Blocks; Cornerhouse Car Garage in Bulkington, East Goscote Services Car Garage in East Goscote, Acresford Sand and Gravel and Beedles Golf Course. In addition to these companies, we have an agricultural aspect to the company, due to regularly farming our land supply. The milestones of establishing each and every company within Jelson Holdings stands out in our history and we aim to continue this process and expand further in the future."
Focused on tradition, yet never shying away from innovation, Jelson Holdings has developed a solid reputation as a company that does what it takes to provide a service in the best possible way. This sense of tradition naturally extends to customer service, with clients treated with respect and as an individual throughout the process; this service even extends beyond moving in day, with the company scheduling a six-month inspection to deal with any minor issues purchasers may experience.
"We pride ourselves on our traditional built quality homes;a strong selling point for our houses is our construction of traditional internal block walls throughout each house, which we produce ourselves at the company Interfuse. We feel it is important to provide a house that will withstand the test of time. We also own our joinery shop, where we produce items specifically for each property, and we still, to this day, provide wet plastering as opposed to 'dot and dab' plastering; this in itself seems to be a rarity in modern housing," says James.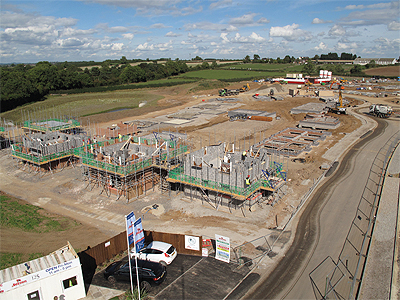 He continues: "We also utilise the latest technologies and construction methods to ensure our homes meet and exceed the current standards. For example, we have recently started using TGI joints with glulam beams in order to provide a neat and tidy finish to our first fixed stage; this saves time and provides a safer working environment for our tradesmen. On top of this, we provide a good standard of insulation, carpets and ceramic tiling throughout and offer a ten-year NHBC warranty. Furthermore, we are five star rated NHBC builders due to having our own maintenance team who carry out maintenance on all of our sold plots after six months." By operating in this way, Jelson Holdings aims to provide customers with confidence that they have been provided a reliable and reassured service through an open and straightforward way of doing business.
Proud to 'build homes better', every Jelson home not only uses solid brick throughout a property, it also uses the latest standard of roof, wall and floor insulation and combines this with high-spec heating systems for lower fuel bills. Additionally, the company uses energy-efficient double-glazed windows and patio doors, and skimmed and emulsioned plasterboard ceilings for a superior and attractive finish; it also has carpets and floor coverings fitted as standard in many of its homes.
As a community minded, customer-orientated company, Jelson Holdings plays a key part in the communities it operates in, whether this is Leicestershire's heartland or throughout the East Midlands. One example of this commitment to creating communities is the Jelson Academy, which has an annual intake of apprentices and helps young individuals in the local community to excel in a future career in the building industry. "We currently have apprenticeships in bricklaying, joinery, plastering, plumbing and electrics. Our apprentices work on site with tradesmen throughout the regular working week and then spend time at college on a day release basis," explains James. "It is vital for the construction sector to bring young operatives into the industry, and Jelson Holdings are doing all we can to address this situation."
With the construction industry currently in a strong position within the East Midlands, Jelson Holdings will continue to focus on meeting production targets while also seeking opportunities to expand the business in a manner that doesn't sacrifice quality. "Our vision is to increase our production output at a rate that we can still deliver our houses with the same quality that we always pride ourselves on," concludes James.
Jelson Holdings
Services: House builders with an emphasis on traditionally built quality construction